Weather
Here's how much snow fell in Mass. on Wednesday
Boston saw just 1.9 inches.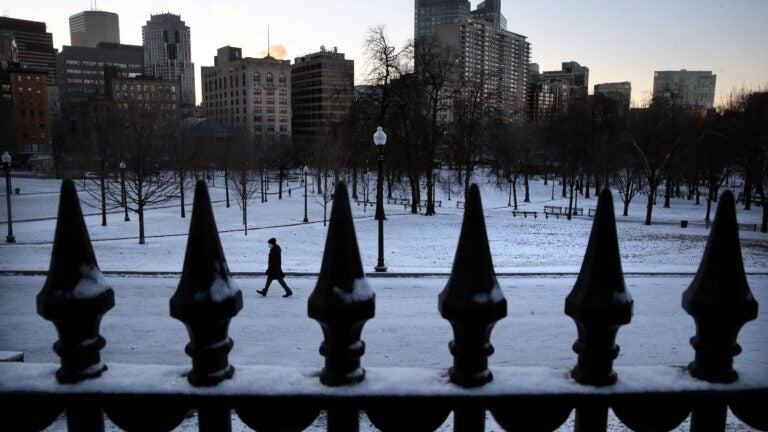 Most of Massachusetts saw just a few inches of accumulation from Wednesday's snowstorm, but some areas of the state saw more than 5.
Boston saw 1.9 inches, bringing the city's snow total for the whole season up to 53.8, according to the National Weather Service. Meanwhile, Conway saw 5.5 inches fall on Wednesday.
Below, the snowfall totals from Wednesday's winter weather reported to the service:
| | |
| --- | --- |
| BRISTOL COUNTY | |
| Dighton 3.3 NNW | 2″ |
| Norton 0.8 S | 2″ |
| 1 NE Attleborough | 1.6″ |
| Taunton 3.9 N | 1.5″ |
| Mansfield 2.4 ENE | 1.5″ |
| Mansfield | 1.5″ |
| Norton 1.8 NNE | 1.4″ |
| Norton West | 1.4″ |
| NWS Boston/Norton | 1.4″ |
| Rehoboth 2.1 N | 1.3″ |
| Acushnet | 1.3″ |
| 2 SSE New Bedford | 1″ |
| ESSEX COUNTY | |
| Andover 0.6 E | 4.5″ |
| 1 N Methuen | 4.5″ |
| North Andover 0.3 NW | 4.2″ |
| Newburyport 1.1 SE | 4″ |
| Topsfield | 4″ |
| Groveland 0.8 S | 3.6″ |
| Haverhill 0.7 N | 3.6″ |
| Newburyport 1.3 WNW | 3.5″ |
| Amesbury 1.2 N | 3.5″ |
| Newburyport 0.8 SW | 3.4″ |
| Saugus | 3″ |
| West Newbury 1.8 SSE | 2.7″ |
| Amesbury 2.6 WSW | 2.5″ |
| Newburyport 0.4 NNW | 2.5″ |
| Nahant 0.4 N | 2″ |
| Rockport 1.0 E | 1.2″ |
| FRANKLIN COUNTY | |
| Conway 3.4 WSW | 5.5″ |
| Conway 2.9 NW | 5″ |
| Montague 3.4 NNW | 5″ |
| Conway 1.2 E | 5″ |
| Rowe | 4.8″ |
| Sunderland 1.3 SE | 4.6″ |
| New Salem | 4.5″ |
| Greenfield | 4.2″ |
| Colrain 3.7 WNW | 4.1″ |
| Shelburne | 4″ |
| Buckland 1.8 ESE | 4″ |
| 2 NE Greenfield | 4″ |
| Greenfield 0.6 N | 4″ |
| Sunderland | 3.8″ |
| Bernardston 1.0 SW | 3.5″ |
| Shutesbury 2.9 SW | 3″ |
| HAMPDEN COUNTY | |
| West Springfield 0.3 E | 3.6″ |
| Westfield 2.8 SE | 3.5″ |
| Agawam 1.1 SSW | 3.3″ |
| Hampden 2.0 NW | 3.2″ |
| HAMPSHIRE COUNTY | |
| Williamsburg 1.2 WSW | 4.3″ |
| 1 ENE Easthampton | 4″ |
| Easthampton 1.0 E | 4″ |
| 1 ENE Easthampton | 4″ |
| Easthampton 0.5 SW | 3.8″ |
| Northampton 0.4 S | 3.5″ |
| Westhampton 1.8 SW | 3.5″ |
| Northampton 0.6 ESE | 3.5″ |
| Amherst | 3.4″ |
| Belchertown | 3″ |
| 2 NNW Amherst | 3″ |
| MIDDLESEX COUNTY | |
| 2 SSE Dunstable | 4.5″ |
| 1 NNW Dracut | 4.3″ |
| 1 WNW Pepperell | 4.3″ |
| 2 N Chelmsford | 4.2″ |
| 3 ESE Tyngsboro | 4.1″ |
| 2 SW Tewksbury | 4″ |
| Tewksbury 3.6 SSE | 3.9″ |
| 2 SE Littleton | 3.9″ |
| Ayer | 3.8″ |
| Carlisle | 3.8″ |
| Acton 1.3 SW | 3.6″ |
| 2 SSW Carlisle | 3.6″ |
| Billerica 2.3 NNW | 3.5″ |
| Wilmington 2.2 WNW | 3.5″ |
| Littleton 2.8 NNW | 3.5″ |
| Reading 1.2 N | 3.5″ |
| Hudson | 3.5″ |
| 1 SSE Waltham | 3.5″ |
| Maynard 0.7 ESE | 3.4″ |
| 1 NNW Lexington | 3.4″ |
| Lexington 0.6 SW | 3.3″ |
| Lexington | 3.3″ |
| Hudson 1.4 NW | 3.2″ |
| Ayer 0.1 SW | 3.1″ |
| Lexington 2.1 ESE | 3″ |
| Framingham 2.0 NNE | 3″ |
| Lowell | 3″ |
| 1 NNW Wakefield | 3″ |
| Weston | 3″ |
| 1 N Ashland | 3″ |
| Holliston 0.7 W | 2.7″ |
| Sherborn 1.1 NW | 2.7″ |
| Lexington 0.3 NE | 2.5″ |
| Sudbury 3.6 W | 2.3″ |
| Natick 1.9 NNE | 2.2″ |
| Winchester 0.7 SE | 2.2″ |
| …Norfolk County… | |
| Norwood 1.3 NW | 2.6″ |
| Bellingham 2.4 S | 2.5″ |
| 1 SSE Franklin | 2.5″ |
| 1 SSE Millis | 2.5″ |
| 1 WNW Weymouth | 2.2″ |
| Bellingham 3.6 SSW | 2″ |
| Millis 2.0 SW | 1.8″ |
| Quincy 1.5 SSE | 1.6″ |
| Foxborough 3.1 E | 1.6″ |
| 1 ESE Randolph | 1.6″ |
| 2 S Weymouth | 1.4″ |
| PLYMOUTH COUNTY | |
| Kingston 3.3 WNW | 2.5″ |
| Carver 2.3 E | 1.5″ |
| 1 N Whitman | 1.3″ |
| Abington 1.2 NNE | 1.3″ |
| East Bridgewater 0.3 WSW | 1.2″ |
| East Bridgewater | 1.2″ |
| 1 W Duxbury | 1.1″ |
| Middleborough 3.5 SSE | 1.1″ |
| Lakeville | 1.1″ |
| Bridgewater 1.8 SE | 1″ |
| Marshfield 1.5 NNW | 1″ |
| Wareham 5.6 NE | 1″ |
| Bridgewater | 1″ |
| SUFFOLK COUNTY | |
| Boston 6.5 SW | 2.2″ |
| Logan AP | 1.9″ |
| WORCESTER COUNTY | |
| Ashburnham | 5.1″ |
| 1 SW Gardner | 4.8″ |
| 1 ESE Fitchburg | 4.8″ |
| Lunenburg 0.6 NE | 4.5″ |
| Sterling 4.3 NW | 4.5″ |
| Sterling | 4.5″ |
| 2 S Holden | 4.5″ |
| 1 SE Hubbardston | 4.5″ |
| 1 NNW Harvard | 4″ |
| Worcester AP | 4″ |
| Holden | 4″ |
| Warren 2.4 WSW | 3.9″ |
| 2 W Warren | 3.8″ |
| 1 SSW Sturbridge | 3.7″ |
| Westborough | 3.7″ |
| Hardwick | 3.6″ |
| Westminster 0.6 WSW | 3.6″ |
| Barre 1.4 NNE | 3.5″ |
| Holden 0.9 SSE | 3.5″ |
| 3 W Warren | 3.5″ |
| 1 NNE Grafton | 3.5″ |
| 1 ESE Boylston | 3.5″ |
| 1 NE Leominster | 3.5″ |
| Auburn 2.6 SW | 3.3″ |
| 1 WSW Leicester | 3.3″ |
| Auburn | 3.3″ |
| Douglas 1.9 NNE | 3.1″ |
| East Brimfield Lake | 3″ |
| Milford | 3″ |
| Buffumville Lake | 3″ |
| Shrewsbury | 3″ |
| 1 SE Sutton | 3″ |
| 2 W Webster | 3″ |
| Northborough 2.3 N | 2.9″ |
| Worcester 1.6 SE | 2.9″ |
| 2 WSW Whitinsville | 2.6″ |
| Leicester 2.4 ESE | 2.5″ |
Newsletter Signup
Stay up to date on all the latest news from Boston.com