Weather
What forecasters are saying about the sleet and freezing rain on Friday
"Use caution if traveling today."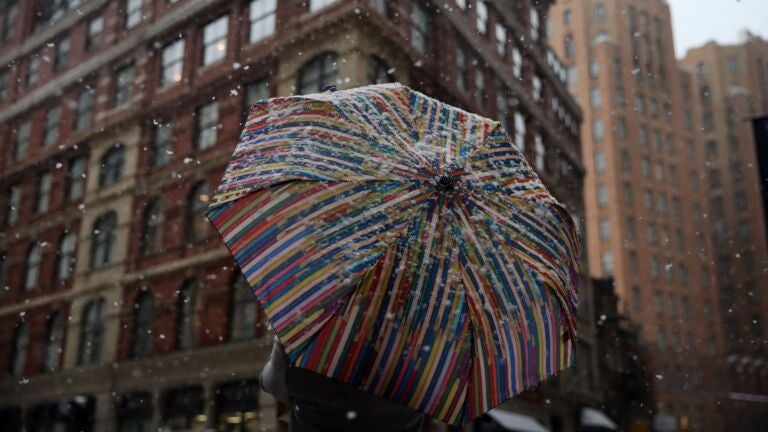 Forecasters and officials are warning about hazardous travel conditions Friday, as a storm brings a wintry mix of freezing rain, sleet, and some snow to Massachusetts.
The storm comes just under a week after a blizzard knocked out power to thousands and dropped more than 30 inches of snow in some parts of the state.
The National Weather Service is warning that rain will quickly changeover to freezing rain and sleet across Massachusetts as a flash freeze sees temperatures fall sharply into the 20s Friday morning into the early afternoon.
"This will result in icy road conditions as rain transitions to freezing rain and sleet," the service said. "Use caution if traveling today."
Much of the state is expected to see ice accumulation through the day.
"Sleet accumulations of 1-2 inches possible across northern MA with the most ice accretion likely south of the Pike where more freezing rain than sleet is expected," the service said. "Ice accumulations of 0.10-0.25″ is possible here including CT, RI and SE MA … A changeover to snow is possible across NW MA this afternoon before precipitation tapers off as leading edge of deeper cold air pushes south into this region, but not expecting any snow elsewhere."
The icy conditions have state officials urging Massachusetts residents to avoid travel on Friday if possible, and the forecast prompted several school districts, including Boston, to close for the day.
Because of the overnight rain preceding the freezing rain and sleet, the state Department of Transportation said road crews were unable to pre-treat the roads as is typically done before snow or sleet events.
"The morning commute will be especially treacherous, as the forecast calls for rain, sleet, freezing rain then snow and as temperatures drop quickly, we expect icing and a flash freeze," MassDOT Highway Administrator Jonathan Gulliver said in a statement. "Crews will be patrolling, but due to the nature of this storm, wet pavement could become icy quite quickly."
Below, what local forecasters are saying about the messy winter weather and how it is expected to impact Massachusetts on Friday.
National Weather Service: "Please exercise caution if you plan on travelling today, as roads will be slick."
Dave Epstein: "​​It's not going to be fun later this morning."
Chris Lambert, 7News: "Slick/icy travel expected to develop mid to late morning. Any untreated surface is iced over this afternoon."
Kelly Ann Cicalese, WCVB: "By 7 AM, we will start to see roads just north of the Mass Pike turning slick. By 10 AM, the potential for ice shifts south of the Mass Pike towards I-95."
Shiri Spear, Boston 25 News: "Freezing rain (AKA glaze) will continue to develop across southern #NewEngland this morning."
Terry Eliasen, WBZ: "Use caution on roadways, driveways in this area."
Newsletter Signup
Stay up to date on all the latest news from Boston.com