Travel
Boston.com readers share hiking trails discovered during the pandemic
"It's such a unique and beautiful place to wander."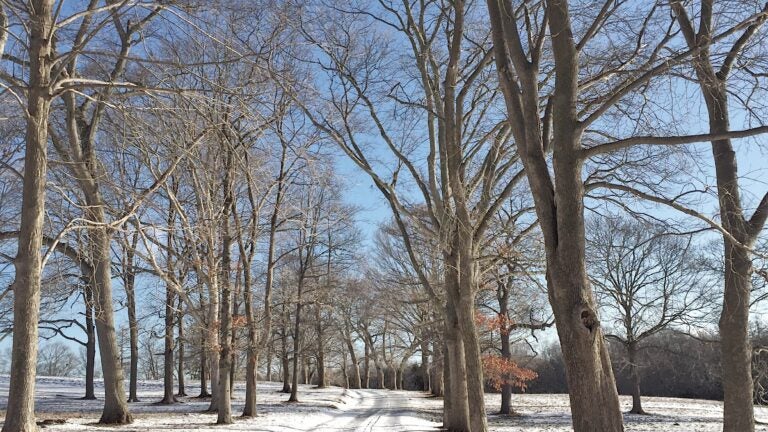 When we asked readers to share the Massachusetts hiking trails they've discovered during the coronavirus pandemic, descriptions of popular and lesser-known paths through beaches, mountains, and parks poured in.
The Blue Hills Reservation in Milton was the most mentioned of the 30 recommended spots to hike, specifically for its Skyline Loop trail, Houghton's Pond Loop, and Ponkapoag Pond Trail.
"One of my friends grew up in the area and has been coming here since he was a kid," wrote John from Somerville about Houghton's Pond. "He always talks about how special it is. Easy to see why. It was a great day for a socially distanced hike with friends. Wasn't too crowded since it was the off season. Great opportunity for reflection."
Some readers refused to share, with one writing, "If I share it then it will get too crowded…sorry."
The following is a list of trails readers have been enjoying and what some readers had to say.
The best hiking trails readers discovered during the pandemic
— Beach walk, Plum Island
— Beaver Brook Trail, Sharon
— Blue Hills Reservation, Milton
— Burrage Pond, Hanson
— Breakheart Reservation, Saugus
— Coggshall Park, Fitchburg
— F. Gilbert Hills State Forest, Foxborough
— Great Meadows National Wildlife Refuge, Concord
— Hawkins Woods Loop, Plainville
— Little Chauncy Trail, Westborough
— Massachusetts Water Resources Authority (MWRA) Aqueduct Trails, multiple locations
— Middlesex Fells Reservation's Skyline Trail, Medford
— Mill Pond, Westborough
— Mount Sugarloaf State Reservation, South Deerfield
— Myles Standish State Forest's East Head Reservoir Trail, Carver
— Oak Hill, Littleton
— Pegan Hill, Natick
— Rocky Woods, Medfield
— Spring Pond, Peabody
— Wachusett Mountain State Reservation's Semuhenna Trail Loop, Princeton
— Warner Trail, Sharon
— Walden Pond, Concord
— Wells State Park, Sturbridge
— Whipple Hill, Lexington
— Whitehall State Park, Hopkinton
— Willard's Woods, Lexington
— Willowdale State Forest, Ipswich
— Wollomonopoag Conservation Area, Wrentham
— Wompatuck State Park, Hingham
— World's End, Hingham
Here's what some readers had to say:
"[Coggshall Park] is awesome!" a reader wrote. "There are some great trails around a small and beautiful lake. We love the wildlife — we saw snakes, turtles, ducks, geese, and frogs on our last visit."
"Located amongst beautiful farms, this lesser-known trail offers all types of activities (cross country skiing, snow shoeing). It also has a disc golf course. Plan ahead because it is increasing in popularity and can become busy on the weekends," a reader wrote of Hawkins Woods Loop in Plainville.
"Great family-friendly hike. We did this hike the weekend before Thanksgiving to get into the Thanksgiving spirit. It was fun to look for the markers on the self-guided interpretive map, which provided interesting information about the biodiversity and history of the area. The trail is along the reservoir most of the way. The view of the reservoir is beautiful and we saw a heron on the water," a reader wrote of Carver's Myles Standish State Forest's East Head Reservoir Trail.
"I chose Oak Hill in Littleton because of the incredible features there. There is an overlook where the towns east of Littleton (and, on a clear day, the Boston skyline) are visible, and there is a striking chasm carved out by a glacial lake," James Kolak wrote.
"It's a little off the main trails up and down the mountain and traverses a beautiful old hemlock stand. Really gorgeous corner of a lovely mountain!" a reader wrote of Wachusett Mountain State Reservation's Semuhenna Trail Loop in Princeton.
"I completed short sections of the trail almost daily back when COVID-19 first hit the state in March. It was a great way to get out and explore an underutilized trail without worrying about running into crowds of people," a reader wrote of Warner Trail in Sharon.
"There are wonderful hiking trails with limited elevation. In winter, snow shoeing is a great option," wrote another reader of Wells State Park in Sturbridge.
"There is a good winter view from Whipple Hill itself, the highest point in Lexington," a reader wrote. "There are old stone walls, the remains of a 1952 Packard and an old stone foundation. On the east end is the Wright-Locke Farm that has been there since 1638."
"Recently stayed at a hotel in Lexington and discovered a wonderful place with hiking trails at Willard's Woods. Very nice, check it out! Definitely beautiful scenery and breathtaking sights, picture taking areas all around, enjoy!" Jerry Schaefer wrote.
"World's End feels so magical. It's such a unique and beautiful place to wander," @ellierae27 wrote.
Responses have been lightly edited for clarity.