Travel
54 things to see and do while driving down the New England coast
Map out your road trip along the coast of Massachusetts, Rhode Island, and Connecticut.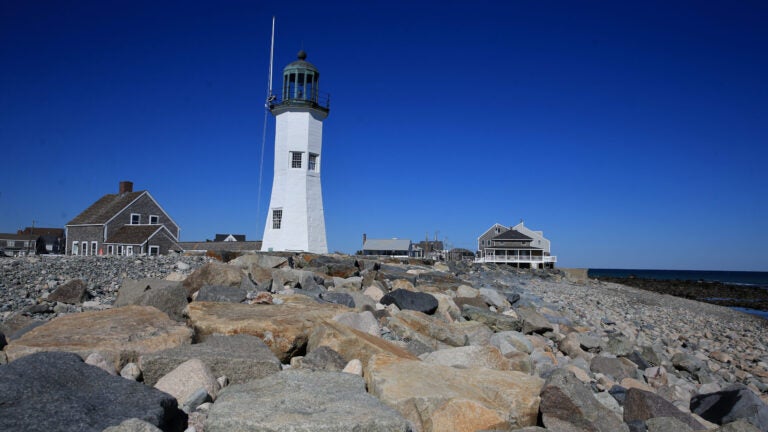 If your New England road trip takes you along the coastline south of Boston, the places to visit are practically endless.
That's why we asked New England travel experts for great places to eat, explore, and tour while driving down the coast, so you can whittle down the choices before you gas up.
Here are six local experts' picks for great places to check out along the South Shore of Massachusetts, along with Cape Cod, Rhode Island, and Connecticut.
Massachusetts
"Our area is so eclectic and there's just so much we offer," said Ashley Wojtunik, tourism and marketing coordinator for the Southeastern Massachusetts Visitors Bureau. "We have so much history and so much art and culture."
Wojtunik and Paula Fisher, interim director for the Plymouth County Convention & Visitors Bureau, said these spots along the Massachusetts coast are well worth a stop.
You can hike the trails and feed the animals at this free park, which is maintained by the North Attleborough Park and Recreation Department. "It has a lot of trails and a lot of statues there," Wojtunik said. "There's a playground for the kids." (Elmwood St., North Attleboro)
You can step back in time while visiting the Revolutionary-era Fort Phoenix in Fairhaven. "It's really cool," Wojtunik said. "It has a cannon there." You can also walk along the Fairhaven-New Bedford hurricane barrier out into the harbor. (Green Street, Fairhaven)
This is a must-stop for burger lovers, according to Wojtunik. "They have a really eclectic menu of different burger options," she said. The burger menu includes everything from a breakfast cheeseburger with sausage, bacon, and maple mayo to a peanut butter bacon cheeseburger to a "Yankees Suck Cheeseburger" made of fried mac and cheese, cilantro-ranch dressing, onions, lettuce, and tomato. (288 Union St., New Bedford)
You'll get up close with whale skeletons and step aboard the Lagoda, a 89-foot half-scale model of the whaling bark, which is billed as the largest ship model in existence, at the New Bedford Whaling Museum in New Bedford. "Every year, they do a 'Moby Dick' read-a-thon, which is really neat," Wojtunik said. (18 Johnny Cake Hill, New Bedford)
Stand on a World War II ship at Battleship Cove in Fall River.
You can climb aboard the USS Massachusetts at Battleship Cove, the maritime museum and war memorial in Fall River. "It's got a lot of cool naval history," Wojtunik said. (5 Water St., Fall River)
Located at the mouth of the Taunton River, the structure was built in 1881. "It's good for picture opportunities," Wojtunik said. (Catch a boat there from Borden Light Marina, 1 Ferry St., Fall River)
You can tour the house where the infamous 1892 hatchet murders of Fall River residents Abby and Andrew Borden took place. Their daughter, Lizzie Borden, stood trial and was acquitted. The tours run daily year round. If you have the nerve, you can even spend the night. "Every year, they get people from across the country that check it out," Wojtunik said. (230 2nd St., Fall River)
At the Hull Lifesaving Museum, located inside the restored 19th century Point Allerton US Lifesaving Station, you'll discover the methods once used for saving lives at sea. "It commemorates the life saving of people out on the ocean, out in vessels, prior to the formation of the Coast Guard," Fisher said. "It brings that history to life and shows how it was done." (1117 Nantasket Ave., Hull)
When Hollywood was searching for a quintessential New England village to film "The Witches of Eastwick" in the summer of 1986, it settled on Cohasset, in part, because of its picturesque common area. "It's a beautiful common, it really is," Fisher said. (43 Highland Ave., Cohasset)
Catch a flick at Loring Hall Cinema, an old-fashioned movie house in Hingham.
If you visit on Tuesday, movies cost just $5. "It's just a nice, old-fashioned theater," Fisher said of the building, which dates to 1852. "I just think that's kind of a neat stop in the center of Hingham." (65 Main St., Hingham)
You can take some very New England photos of Scituate Light, which was built in 1810 and activated in 1811. "It's a beautiful little lighthouse with the keeper's cottage still attached to it," Fisher said. "So that's part of the charm there." (100 Lighthouse Road, Scituate)
Wander through a 19th century home at The Daniel Webster Estate in Marshfield.
The country home of Daniel Webster, an orator and statesman who died in 1852, burned down in 1878, and his daughter-in-law oversaw the construction of the current Queen Ann-style home in 1880. The estate includes 14 acres of lawns and woodlands. "It's a really pretty home," Fisher said. "They have events throughout the year." (238 Webster St., Marshfield)
Dine at Solstice, a restaurant inside an old train station in Kingston.
The architecture at this renovated 19th century train station is part of the draw. Nibble on duck, steak, or salmon inside a dining room furnished with antique brick. "It's architecturally lovely," Fisher said. (63 Summer St., Kingston)
Peer at 17th century pilgrim artifacts at the Plymouth Hall Museum.
This museum, which opened in 1824, is billed as the oldest continuously operated public museum in the country. "Peregrine White, he was the first English baby born here in New England. His baby cradle is there," Fisher said. "I love it, because at the very bottom of it where the little babies would have been kicking their feet, it is worn out. That's really cool." (75 Court St., Plymouth)
Eat fresh seafood while overlooking historic Plymouth Harbor at Wood's Seafood.
You can get your seafood fix year round at Wood's Seafood, where lobster, clams, scallops, oysters, and shrimp are eaten overlooking historic Plymouth Harbor. "I love Wood's Seafood for its totally casual atmosphere," Fisher said. "The prices are great, and they're selling fresh seafood and lobsters in one half of the building, and there's dining in the other half." (1 Town Wharf, Plymouth)
While visiting Pilgrim Memorial State Park, you can take plenty of photos of Plymouth Rock. The rock draws visitors to the park 365 days a year, Fisher said. Get there early in the day for another treat: "The sunrises are spectacular," Fisher said. (79 Water St., Plymouth)
You can walk through Plymouth Colony as it was in 1627 at this living history museum. "Visitors really do feel like they stepped back in time at the plantation," Fisher said. "It's done very, very well." (137 Warren Ave., Plymouth)
Cape Cod
Cape Cod, which Bill DeSousa, a publicist for the Cape Cod Chamber of Commerce, calls an "American peninsula of endless wonder and beauty," is comprised of 559 miles of coastline full of great places to explore.
DeSousa recommended the following coastal stops along the Cape.
The 280-acre Four Ponds Conservation Area is a popular spot for dog-walkers, mountain bikers, and snowshoers. It includes four man-made ponds surrounded by forest. "I found it so beautiful," DeSousa said. "To be surrounded by all of these beautiful bodies of water, each completely different." (Barlows Landing Road, Pocasset area of Bourne)
Enjoy spectacular views while walking the Sandwich Boardwalk.
When you stroll along the world-famous 1,350-foot Sandwich Boardwalk, named one of the top 10 American boardwalks by National Geographic, you'll spy dunes, marshes, and wildlife as you cross Mill Creek to Town Neck Beach on Cape Cod Bay. "It is one of the most iconic places on the Cape," DeSousa said. "It has a beautiful arch and it's quite scenic." (Jarves Street, Sandwich)
Down a lobster roll at Quahog Republic in Falmouth.
This seafood restaurant, which has four locations along the South Shore and Cape Cod — including in Falmouth — is a favorite among local lobster roll lovers. "The first time I ever had a lobster roll was there," DeSousa said. "No one has beat it yet." (97 Spring Bars Road, Falmouth)
Indulge in some retail therapy at Mashpee Commons.
You can buy a new outfit, get a massage, dine out, check out an art gallery, go bowling, see a movie, and even play miniature golf. You'll find it all at Mashpee Commons. "It's truly one-stop shopping," DeSousa said. "If you're a shopper, this is the place for you." (22 Steeple St., Mashpee)
Stroll the Bass Hole Boardwalk at Gray's Beach in Yarmouth.
If you're looking for a scenic place to go outdoors, head to Bass Hole Boardwalk. "It's a great place for sunsets," DeSousa said. "It's a great place for a Sunday afternoon stroll any time of year." (Trail entrance on Center Street, Yarmouth)
Antique shoppers will find jewelry, books, furniture, glass, art, and more at Antique Center of Cape Cod, billed as the area's largest showroom of antiques. It's open year-round. "They always have something quite unusual out there," he said. (243 Route 6A, Dennis)
Stock up on lavender products at the Cape Cod Lavender Farm in Harwich.
This family-owned lavender farm, set on 12 acres and surrounded by 75 acres of conservation land, is open year-round and sells more than 20 different lavender products made from its 7,000 plants. "After you finish there, you might want to go for a stroll through the conservation lands that are adjacent," he said. (Off Weston Woods Road, Harwich)
You can stroll by "Bird Alley," a large preserved bird collection, peer at turtles, lobsters, spider crabs, and more at the museum aquarium, find out about the inner workings of a bee hive, and then head outside for a hike. "It's a great place to take the kids," DeSousa said. "They have hikes out into the marsh. They also have a number of nature trails." (869 Main St., Brewster)
Dine at a 300 year-old estate at Chillingsworth in Brewster.
When you dine at Chillingsworth, you are eating inside the original structure of the 300-year-old Chillingsworth Foster Estate, surrounded by six acres of lawns and gardens. "It is French continental cuisine done beautifully," DeSousa said. "It is lovely inside. The service is impeccable." (2449 Main St., Brewster)
At the Chatham Marconi Maritime Center, guests learn about the evolution of wireless technology and the many antennas used since the station was constructed 104 years ago. "It is quite fascinating," DeSousa said. (831 Orleans Road, North Chatham)
Tours of this contemporary church built in a fourth-century style of architecture with its interior arches and columns take place nearly daily. "This was one of the most unexpected things I ever saw on the Cape," said DeSousa. "It is the most gorgeous building, I think, on the whole Cape." (5 Bay View Drive, Orleans)
Get to this French bakery right when it opens at 7 a.m. "You're pretty much going to be lucky and get some of the warm bread," said DeSousa. The bakery is open from Tuesday to Sunday. (15 LeCount Hollow Road, South Wellfleet)
You'll find more than 250 herbs, spices, and baking items, as well as dried fruits, nuts, coffee, tea, kitchen gadgets, and cookbooks at this retail spot. "If I need a spice, if I can't get it anywhere else, rest assured they have it," DeSousa said. (2 Shore Road, North Truro)
Enjoy communal dining at The Canteen in Provincetown.
The Canteen on bustling Commercial Street serves plenty of fresh, local seafood to patrons who eat together inside a 200-year-old communal dining room. "You're sitting at communal tables with people from all over the world," said DeSousa. "It's amazing." (225 Commercial St., Provincetown)
Rhode Island
Andrea McHugh, senior communications manager for Discover Newport, and Diane Patefield, marketing director for the South County Tourism Council, recommended the following coastal spots in America's smallest state.
"It's just a serene feeling when you come here," Patefield said. "You don't think about your cell phone. You don't think about what you have to do."
Looking for antiques, fine art, gourmet treats, and more? You'll find it all in the charming, 18th-century buildings at Tiverton Four Corners. "It's a historic New England village dating back 300 years," McHugh said. (Intersection of routes 177 and 179 in Tiverton)
Take your pooch to South Shore Beach in Little Compton.
This scenic beach is great year-round, McHugh said. (125 South Shore Road, Little Compton)
Ogle vintage automobiles at the Newport Car Museum in Portsmouth.
Peruse more than 70 vintage cars on display inside this 114,000-square-foot building. "I think what separates it from a typical museum is it doesn't have the barrier ropes," said McHugh. "The automobiles are very approachable." (1847 West Main Road, Portsmouth)
Sip wine and dine at Newport Vineyards in Middletown.
You can tour this vineyard and attend wine tastings year round. Make a day of it by eating lunch at the vineyard's Vineyard Cafe or dinner at Brix Restaurant. "They had a multi-million dollar renovation a few years ago, really making it more of a food and wine destination," said McHugh. (909 East Main Road, Middletown)
You can tour one of the following Gilded Age Newport mansions: The Breakers, The Elms, Marble House, Rosecliff, Chateau-sur-Mer, Isaac Bell House, Kingscote, Chepstow, and Hunter House. You can also tour the Green Animals Topiary Garden, the oldest topiary garden in the U.S..  (Various locations, Newport)
Snap photos of the third oldest lighthouse in the country: Beavertail Lighthouse in Jamestown.
Beavertail Lighthouse, built in 1856, is inside Beavertail State Park, known for its beautiful vistas along the New England coastline. "People drive far and wide to see Beavertail Lighthouse," said McHugh. "It's a beautiful place to take photos." (Beavertail Road, Jamestown)
Walk around Wickford, a small village in North Kingstown.
It's worth visiting the "quaint little historical village" of Wickford, Patefield said. The seaside village, established in 1709, has a "quintessential Main Street with the cute little shops," she said. (Main Street, North Kingstown)
Take your pick of fresh vegetables, plants, herbs, and more at this garden center, which is open from mid-March through December. "It's not only a place for locals to go to buy their plants and trees, but it's just a spectacular place to stroll around and view the gardens," Patefield said. (716 Mooresville Road, South Kingstown)
You can taste whiskey in an award-winning craft distillery, said Patefield. "Mike, the owner, will give you a tour, and you can have the flights of whisky and he'll tell you the distinction between each one," she said. (1425 Kingstown Road, South Kingstown)
Enjoy waterfront dining at the Coast Guard House in Narragansett.
This spot, named the best restaurant for waterfront dining in Rhode Island in 2018 by Yankee magazine, overlooks Narragansett Bay. "When you go into it, it looks like you are on a ship," Patefield said. (40 Ocean Road, Narragansett)
It's an interesting experience walking round The Fantastic Umbrella Factory, a 50-year-old 19th-century international bazaar in Charlestown, Patefield said. "They have these little shops with local artisans, " she said, where you'll find everything from clothes to toys to jewelry to plants. It's open all year. (4820 Old Post Road, Charlestown)
This 90-minute scenic cruise, which offers rides through Dec. 31, takes guests down the Pawcatuck River into Little Narragansett Bay to see the winter harbor seals. "You can view the seals sunning on the rocks," Patefield said. (Departs from Viking Marina at 19 Margin St., Westerly)
Connecticut
"There's such a great diversity of tourism experiences there," said Randy Fiveash, director of the Connecticut Office of Tourism. "Tourism in Connecticut is all about experiences."
Fiveash recommended the following stops along the Connecticut coast.
Meander around this 19th-century seafaring village, complete with historic vessels and maritime exhibits. "It's a working shipyard, " said Fiveash. "It's right on the water." (75 Greenmanville Ave., Mystic)
View the largest outdoor beluga whale exhibit in the U.S. at the Mystic Aquarium.
Hold a crab, feed a stingray, and check out jellyfish, sea lions, penguins, and other sea life at the Mystic Aquarium. The aquarium also boasts the largest outdoor beluga whale exhibit in America, at 750,000 gallons. "This is just an unbelievable place," Fiveash said. (55 Coogan Blvd., Mystic)
Visit the oldest steam powered cider mill in the country at BF Clyde's Cider Mill in Mystic.
Enjoy free tastings and watch cider-making demonstrations at BF Clyde's Cider Mill, the oldest steam-powered cider mill in the country. This winery produces cider, hard ciders, and apple wines. "I like their cider doughnuts," Fiveash said. (129 North Stonington Road, Mystic)
Eat seafood along the water at Fresh Salt Restaurant in Old Saybrook.
Head to the Fresh Salt Restaurant, located inside the Saybrook Point Inn & Spa, for great seafood, Fiveash said. "The Fresh Salt Restaurant is a very cool restaurant right there on the water," he said. (2 Bridge St., Old Saybrook)
The fun doesn't have to end after you complete your wine tasting at Chamard Vineyards, part of the
Connecticut Wine Trail
. "They feature The Bistro, a French-inspired 35-seat restaurant," Fiveash said. The farm-to-table restaurant offers a seasonal menu.
(115 Cow Hill Road, Clinton)
When the picking season is over, you can still shop at Bishop's Orchard, which is open all year. "They have a farm market and winery," Fiveash said. Wine tastings are offered seven days a week without an appointment. (1355 Boston Post Road, Guilford)
At Stony Creek Brewery, guests can watch the canning and bottling lines right from the taproom. "They're well known for their IPA beer," said Fiveash. "In the cooler months, they have a roaring fireplace in the tasting room, which is really cool." (5 Indian Neck Ave., Branford)
Admission to this museum, which boasts the oldest continuously running suburban trolley line in America, includes unlimited trips down the historic Branford Electric Railway Line on a streetcar. "You can take a scenic ride in a restored trolley car through the Branford salt marshes and then explore the museum," Fiveash said. (17 River St., East Haven)
You'll discover 82 acres of natural trails, bird sanctuaries, and an antique carousel that dates back to 1916 at this park along the Long Island Sound. "It's a very cool park," Fiveash said. Don't forget to take photos of the Five Mile Point Lighthouse. (2 Lighthouse Point Terrace, New Haven)
Get out and stretch your legs at seven miles of trails and boardwalks at the Connecticut Audubon Center's Larsen Wildlife Sanctuary. "Hundreds of bird species have been spotted there, as well as other wildlife, including deer," Fiveash said. (2325 Burr St., Fairfield)
View art at the Bruce Museum in Greenwich.
Peruse more than a dozen art, science, and natural history exhibits at this museum, which was originally built as a private home in 1853. "It's a very classy, great art museum," Fiveash said. (1 Museum Drive, Greenwich)