Travel
34 things to see and do while driving up the New England coast
Map out your road trip along the coast of Massachusetts, New Hampshire, and Maine.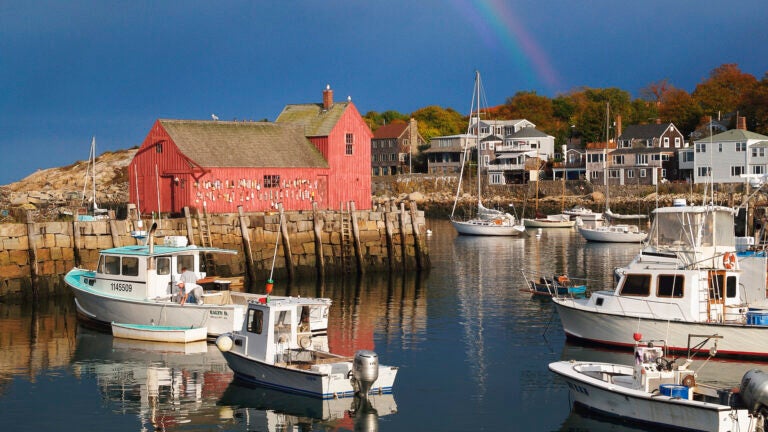 If your New England road trip takes you along the coastline north of Boston, the places to visit are practically endless.
That's why we asked New England travel experts for great places to eat, explore, and tour while driving up the coast, so you can whittle down the choices before you gas up.
Here are three experts' picks for places to stop along the North Shore of Massachusetts, as well as New Hampshire and Maine.
Massachusetts
Ann Marie Casey, executive director of the North of Boston Convention & Visitors Bureau, said a road trip along the Essex County Scenic Byway, a 90-mile roadway that links 14 communities from Lynn to Salisbury, is never a bad idea. 
Casey said you'll be glad you popped into these spots along the way.
Marblehead is "the quintessential New England village," Casey said. "In one little town, they have five yacht clubs." And you can see them all from The Landing Restaurant, where you can sit on the deck and enjoy the view while you eat. (81 Front St., Marblehead)
The House of the Seven Gables is a seaside mansion, built in 1668, that was the inspiration for Nathaniel Hawthorne's 1851 novel, according to Casey. "It's a tremendous tour," she said. "They have a secret staircase. It goes from a living room area all the way up to the quarters that the servants would stay in. … When you are in there, you feel like you are in a chimney." (115 Derby St., Salem)
Step into a 200-year-old Chinese house at the Peabody Essex Museum in Salem.
You can check out an authentic Chinese home at the Peabody Essex Museum in Salem. It's called the Yin Yu Tang. "It's actually a house they brought from China, and it's completely reassembled inside the museum," Casey said. "That's something definitely not to miss. When are you going to see something like that?" (161 Essex St., Salem)
Listen to your footsteps on Singing Beach in Manchester-by-the-Sea.
"They call it Singing Beach because they say when you walk on the beach, your feet make some type of singing noise," Casey said. People love visiting this beach when dogs are also allowed, she said; this year, pups are permitted to roam from Oct. 15 to April 14, 2020. (119 Beach St., Manchester-by-the-Sea)
This popular 8-foot-tall bronze statue of a fisherman standing at the wheel of his ship pays homage to local fishermen who lost their lives at sea. An inscription on the statue reads, "They that go down to the sea in ships, 1623-1923." "It's very poignant," Casey said. "They have all the names of the fishermen who have lost their lives at sea. It's a very special place." (Stacy Boulevard, Gloucester)
When you stop at the 60-year-old Gloucester House, which specializes in locally caught seafood, you'll want to meet owner Lenny Linquata, Casey said. "Their owner there is quite the character," she said. "He teaches people how to eat a lobster. He tells a lot of stories." (63 Rogers St., Gloucester)
Snap a photo of Motif No. 1 in Rockport.
You can take a selfie in front of Rockport's iconic red fishing shack on Bearskin Neck wharf, Motif No. 1. "It's referred to as the most often-painted building in America," Casey said. Afterward, have fun exploring the cute shops around the wharf. (Bearskin Neck, Rockport)
Fill your belly after a day of antiquing at Woodman's of Essex in Essex.
The award-winning Woodman's of Essex is a great spot to grab a bite, especially if you love seafood, Casey said. "They're a family business that has been in business for more than 100 years," she said. "They are great people. They are great restauranteurs. It's all about the guests for them. It's all about the hospitality." (121 Main St., Essex)
Wander inside The Great House on Castle Hill on the Crane Estate in Ipswich, a 59-room Stuart-style mansion built in 1928 as the summer home for Chicago industrialist Richard Crane. It sits on 2,100 scenic acres. "Touring the inside of it is wonderful," Casey said. "It's a don't-miss." (290 Argilla Road, Ipswich)
"One of the things I love that they do is they host vintage baseball," Casey said. "It's May through October. It's great. They come out like 'Field of Dreams,' in all the old gear, and they play. And Ipswich Ale [Brewery] is there, so you can get a beer while you watch them." Teams from the Essex Base Ball Association play ball using rules from 1860, when no gloves were used, pitchers pitched underhand, and an out is legal if a player catches the ball on a bounce. (5 Little's Lane, Newbury)
This nonprofit center for the arts offers year-round events at its 191-seat theater, Casey said. Take a look at the event calendar, which has everything from musicals to comedy to photographer lecture series. (Market Square, Newburyport)
Enjoy oceanfront dining at the Sea Glass Restaurant & Lounge in Salisbury, Casey said. "The entire facility has glass windows so you can see out on to the ocean," she said. "It's a great brunch spot. It's a great martini spot, too." (4 Oceanfront North, Salisbury)
New Hampshire
New Hampshire may have the shortest ocean coastline of any U.S. state, but it still packs a punch with restaurants and attractions, said Valerie Rochon, president of The Chamber Collaborative of Greater Portsmouth.
Here are some of her picks for where to visit during your Granite State road trip up the coast.
Eat on a deck overlooking the ocean at Sea Ketch in Hampton.
Enjoy scenic views with your meal at the Sea Ketch, located on the boardwalk in Hampton, Rochon said. The restaurant has been serving patrons since 1973. There often is live music on the deck on weekend nights. (127 Ocean Blvd., Hampton)
Spend time with a touch tank and hands-on science exhibits at the Seacoast Science Center, a nonprofit inside Odiorne Point State Park, Rochon said. The spot is also home to the Marine Mammal Rescue Team, which serves New Hampshire and northern Massachusetts. "It is a treasure trove of information about marine biology," she said. (570 Ocean Blvd., Rye)
This grand seaside hotel overlooking the ocean features two restaurants worth checking out, Rochon said. Guests at Latitudes, a bistro-style restaurant, dine by tall windows overlooking the marina. Salt Kitchen & Bar, which offers a seasonal menu with ingredients from the sea and garden as well as house-made pasta, has four dining areas: a chef's bar, a lounge, private enclaves for intimate parties, and the main dining room. (588 Wentworth Road, New Castle)
You'll find 32 acres of beach and green space at The Great Island Common in New Castle, which is open year-round. "It's incredibly picturesque," Rochon said. Look for a life-sized frame in the park. "There's sort of a cameo of a gentleman holding up a frame," she said. "And so you stand behind the frame and behind you are lighthouses, rocks, and beaches. … It's a great photo opportunity." (301 Wentworth Road, New Castle)
Sip a cocktail while gazing at the Piscataqua River from the deck of Old Ferry Landing in Portsmouth, Rochon said. Order the restaurant's famous rum drink called "Jimmy Juice," which is a special cocktail named after the owner's brother — the owner happens to be Jack Blalock, the mayor of Portsmouth. (10 Ceres St., Portsmouth)
The 10-acre Strawbery Banke Museum brings more than 300 years of American history to life, Rochon said. You can explore eight heritage gardens, 32 historic buildings, 30,000 artifacts, and take part in hands-on activities and programs led by costumed role players. (14 Hancock St., Portsmouth)
River House has sweeping river views, and it's also "well known for their seafood chowder," Rochon said, which its menu says is "brimming with lobster, scallops, shrimp, clams, and haddock." The restaurant has a year-round balcony, so you can slurp chowder with water views all year long. (53 Bow St., Portsmouth)
Hop on a boat for a 75-minute cruise in Portsmouth Harbor, where you'll learn 400 years of local and American history. "All of these tours are narrated historical tours," Rochon said. Get your camera ready aboard the harbor cruise for photo opps that include lighthouses, mansions, and historic forts. (64 Ceres St., Portsmouth
Maine
People often underestimate how much Maine has to offer, said Cheryl Delisle, a Maine native and tour manager for Dirigo Maine: A Step-On Guide Service.
Delisle, who builds tours for groups and individuals, recommended the following stops.
It feels like colonial Maine at the Museums of Old York. "It's several buildings in the York village — the tavern, the jail or the gaol, as they called it back then, and other buildings that are of historic significance of that village," said Delisle. (3 Lindsay Road, York Village) 
Casco Bay Lines, a year-round ferry service from Portland to the islands of Casco Bay, lets visitors see the bay on a working mail boat. It's called the Mailboat Run and carries passengers, mail, and freight daily to the islands of Casco Bay. Delisle called the tour "unusual" and said her customers are surprised when they learn about it. "It's inexpensive and goes out to the harbor and visits all the islands," Delisle said. (56 Commercial St., Portland)
Craft beer lovers can raise a pint at The Great Lost Bear, which was named the best beer bar in Maine in 2018 by craftbeer.com. "The food has always been great. They offer a variety of local beers. It's just a lovely place to go," Delisle said. (540 Forest Ave., Portland)
You don't have to be a student to study the Arctic at Bowdoin College, which is home to the Peary-MacMillan Arctic Museum and Arctic Studies Center. Current exhibits include "Threads of Change: Arctic Clothing and Identity in the North" and "A Resounding Beat: Music in the Inuit World." "It's a great little museum," Delisle said. (9500 College Station, Brunswick)
You can watch farmers milk more than 30 dairy cows, hike three miles of year-round trails, stroll through gardens, and camp on the waterfront between May and October at Wolfe's Neck Center for Agriculture and the Environment. "Wolfe's Neck Farm is really, really neat," Delisle said. (184 Burnett Road, Freeport)
The people of the Popham Colony of 1607 built the first English ship in North America, the Virginia, on Maine's Kennebec River. At Maine's First Ship, you can watch experts build a replica of the vessel. "It is a great opportunity to see the first ship built in the colonies," Delisle said. (27 Commercial St., Bath)
This family-owned restaurant — the one with the enormous lobster on its roof — has been dishing out local seafood since 1978. While cracking your claws, you can dine outside on the sundeck or sit inside and gaze out the window at Pleasant Cove. "I love their scallops," Delisle said. "They also do a great lobster mac and cheese." (161 Main St., Woolwich)
Newcastle Publick House has live music on Saturday nights and more than a dozen beers on draft. "I get two bowls of their seafood chowder, because to me it's the best," Delisle said. "And I bring them home." (52 Main St., Newcastle)
When you climb the 38-foot-tall Pemaquid Point Lighthouse, built in 1835, you're rewarded with magnificent views of Muscongus Bay. The lighthouse, open daily through Columbus Day, is located in Pemaquid Point Lighthouse Park. While there, you can also check out the Fishermen's Museum, located on the first floor of the lighthouse keeper's house. "You can actually rent the second floor," Delisle said. "It sleeps four. It is really neat." (3115 Bristol Road, New Harbor)
"It's a just a very picturesque, Maine Maine Maine Maine harbor," Delisle said. "It's just beautiful." (Rockport Harbor)
If you don't mind heights, head to Fort Knox State Historic Site to the Penobscot Narrows Bridge & Observatory. It's one of only four bridge observatories in the world and, at 420 feet, it's the tallest, Delisle said. "You can go up to the top of the observatory and see down the Penobscot River down to the bay," she said. (711 Fort Knox Road, Prospect)
The magnificent Acadia Park isn't just on Mount Desert Island, Delisle said. There's also Schoodic Point on the more secluded Schoodic Peninsula, the only part of the park located on the mainland. "It's a place that so many people miss when they go to Acadia National Park, they only think Bar Harbor," she said, adding that the area is known for its stunning views of the surf and Cadillac Mountain. (East Schoodic Drive, Acadia National Park, Winter Harbor)
See birds in the wild at Birdsacre Sanctuary in Ellsworth.
At Birdsacre Sanctuary, also called Stanwood Wildlife Sanctuary, you'll trace the steps of ornithologist Cordelia Stanwood and view birds such as hawks and owls on the 200 acres of protected wilderness. The sanctuary is open year-round from dusk to dawn. "People can go and actually tour the house of the woman who started it, and they can see the birds," Delisle said. "It's a really neat place." (289 High St., Ellsworth)
You can walk the grounds of an authentic reconstruction of a logging and milling community from the 1790s at the Maine Forest and Logging Museum in Bradley. "It preserves the history of forestry in Maine," Delisle said. "It's just a neat thing." While there, you can also tackle the museum's three hiking trails. (262 Government Road, Bradley)