This event has passed. Check out other things to do instead.
'Carry On' to Lowell to see classic progressive rockers Kansas
The ever-popular '70s arena fillers will entertain music fans at Lowell Memorial Auditorium on Dec. 11.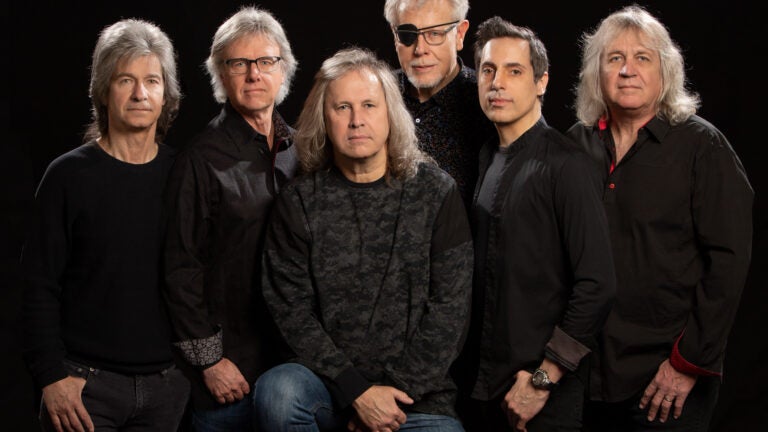 Although the word "progressive" is rarely mentioned in combination with the Sunflower State, that is where the most successful American group of that musical genre hailed from.
Progressive/art rock was primarily the bailiwick of British bands such as King Crimson, Genesis, Yes, Jethro Tull, and Emerson, Lake & Palmer when it became a viable commercial force in the early 1970s. It was not until the latter half of that decade that North American groups such the Canadian trio Rush and a sextant from Topeka became popular practitioners.
Formed in 1973, Kansas sold millions of copies of "Leftoverture" (1976) and "Point of Know Return" (1977), albums that housed the instantly identifiable singles "Carry On Wayward Son" and "Dust in the Wind." These two songs have kept Kansas familiar to generations of music fans. In addition to being in constant rotation on classic rock radio stations, one or the other can be heard or mentioned in a wide array of movies and TV shows.
"Dust in the Wind," for example, was quoted by the title characters of "Bill and Ted's Excellent Adventure." "Carry On Wayward Son" played over the recap at the beginning of the "Supernatural" season finale for 14 of 15 seasons that aired from 2006-2020. (It was also in season one's penultimate episode.) Furthermore, the title track of "Point of Know Return" is on the soundtrack—alongside entries by Johnny Cash, The Decemberists, The Pixies, etc.—to the movie "The Suicide Squad," which appeared in theaters this past August.
Of course, these classics are not the full extent of Kansas's appeal. Each of the albums that the band released between 1974 and 1980 eventually sold at least half a million copies. "Leftoverture," "Point of Know Return," and the 1984 compilation "The Best of Kansas" have each moved — according to the Recording Industry Association of America — more than 4 million units.
Recordings of new material have been few and far between since the 1990s (2020's "The Absence of Presence" was only their third album since 2000), but Kansas remains a popular live attraction. Moreover, the 2015 documentary "Kansas: Miracles Out of Nowhere" and an appearance on an episode of "The Big Interview with Dan Rather" three years later are indicative of continuing interest in the band.
The configuration that will visit Lowell Memorial Auditorium on Dec. 11 includes two lifelong stalwarts (guitarist Richard Williams and drummer Phil Ehart), two with more than 20 years of service each, and two who have joined within the past seven years.
Need weekend plans?
The best events in the city, delivered to your inbox