Food
This event has passed. Check out other things to do instead.
Play mad scientist at 'The Alice: An Immersive Cocktail Experience'
The boozy Mad Hatter's tea party will offer guests the chance to experiment with their drinks.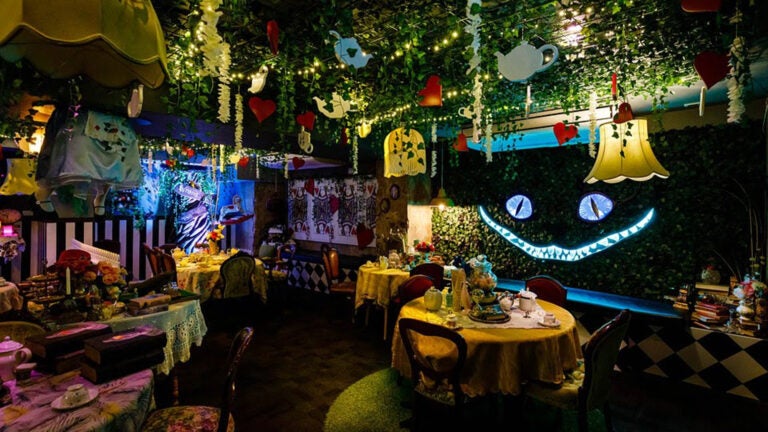 Pinkies up!
"The Alice: An Immersive Cocktail Experience" pops up at The Merchant from Feb. 17 to March 31, bringing a boozy Mad Hatter tea party to the downtown restaurant and bar.
Each ticket includes a 90-minute experience down the rabbit hole, where guests can create their own bespoke cocktails and enjoy an "Eat me!" cupcake, all while solving riddles, going on scavenger hunts, and interacting with the Mad Hatter, March Hare, and White Rabbit. A quick peek into the themed bar's social media pages shows lavishly decorated event spaces, with oversized hats, flamingos, and other props that can only be made for Instagram moments. Billowing smoke pours out of teacups, the smiling face of the Cheshire Cat grins eerily over tables filled with flowers, and Alice in Wonderland costumes are embraced by both staff and attendees. Curiouser and curiouser, indeed!
The event runs Wednesdays through Fridays at 5:30 p.m. to 7 p.m. and 7:30 p.m. to 9 p.m. On Saturdays and Sundays, sessions run from 1 p.m. to 2:30 p.m., 3 p.m. to 4:30 p.m., 5 p.m. to 6:30 p.m., 7 p.m. to 8:30 p.m., and 9 p.m. to 10:30 p.m.
Need weekend plans?
The best events in the city, delivered to your inbox