Food
This event has passed. Check out other things to do instead.
Maccabee Bar lights up Bow Market for Hanukkah
Boston's original Hanukkah-themed pop-up bar returns to Somerville with Latke Sour cocktails and more festive fun.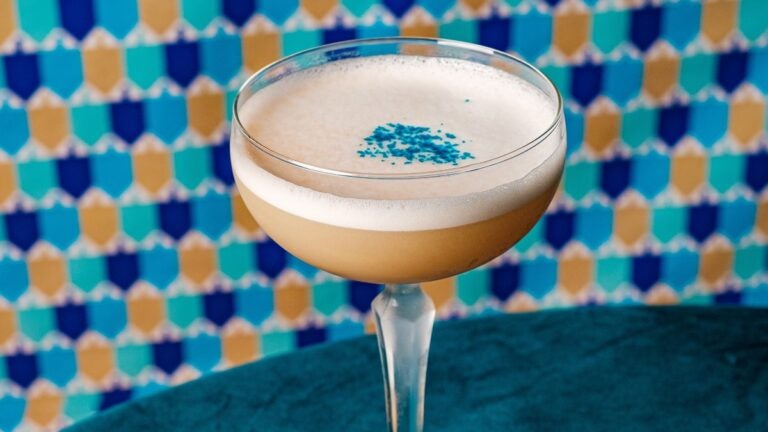 Boston bartender Naomi Levy spent years of holiday seasons shaking up Christmassy cocktails on the job and reveling in decked-out dining rooms across the city. But the Eastern Standard alum, currently the beverage director at Variety Bar at Bow Market, says she didn't identify with all the flavors and baubles, having grown up Jewish. So in 2018, Levy gifted her community Boston's first-ever Hanukkah-themed pop-up, Maccabee Bar. The two-week bar takeover returns to Bow Market this year, not only via the indoor dining experience at Variety Bar but also across the marketplace. From Monday, Nov. 29 through Sunday, Dec. 12, make a reservation at the second-floor Maccabee Bar or outdoors by a Bow Market fire pit to try Levy's cult-favorite cocktails like the Latke Sour (apple brandy, potato, lemon, and barrel-aged bitters), paired with Hanukkah specials from other Bow Market vendors, such as Saus latkes and Hooked Fish Shop house-cured lox. Resident Remnant Brewery has a special beer in the works, and Lionheart Confections — a pop-up by pastry chef Kate Holowchik slated to open up at downtown Boston's High Street Place food hall in 2022 — will have jelly doughnuts on the Maccabee Bar menu. The retail shops at Bow Market are also planning Hanukkah fun, so it's a great opportunity to shop locally, too. Reservations for Maccabee Bar are highly recommended and available every night of the residency. From the first night of Hanukkah through Dec. 12, Maccabee Bar is open Monday through Thursday from 5-10 p.m., Fridays from 4-11 p.m., Saturdays from 12:30 p.m.-11 p.m., and Sundays from 12:30 p.m.-9 p.m.
Need weekend plans?
The best events in the city, delivered to your inbox