Events
This event has passed. Check out other things to do instead.
How to get free Bluebikes in May
Additionally, anyone who takes advantage of a free Adventure Pass May 1, gets another free Adventure Pass to share with a friend any time.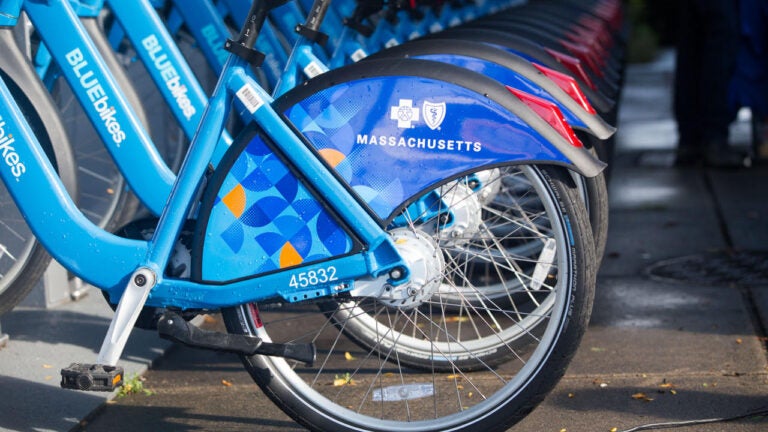 May 1, Blue Cross Blue Shield of Massachusetts begins its month-long campaign to sponsor free Bluebikes Adventure Passes every Sunday from any Bluebikes location.
Sunday also kicks off the start of Mental Health Awareness Month and National Bike Month, so Blue Cross will celebrate the entire month of May with free Sunday Bluebike rides, plus the chance to win free annual memberships. Additionally, anyone who takes advantage of a free Adventure Pass this Sunday, May 1, gets another free Adventure Pass to share with a friend any time.
With their National Bike Month and Mental Health Awareness Month initiative, "Miles for Mental Health," Blue Cross aims to show its support for the community's whole-body wellness. "Mental and physical health is fundamentally linked," said the Canadian Mental Health Association.
The World Health Organization (WHO) also emphasizes the link between mental and physical health. In a 2005 report, they define health as "a state of complete physical, mental and social well-being and not merely the absence of disease or infirmity… there is no health without mental health."
Not only do Bluebikes provide Boston-area residents with a convenient, emissions-free public transit alternative — but they also afford an easy way to incorporate exercise into a daily routine. Regular exercise, like biking, can release endorphins, improve sleep, and reduce stress levels, helping to increase both bodily and mental health.
"At Blue Cross, we're dedicated to improving the mental and physical health of our communities," said Jeff Bellows, the organization's vice president of corporate citizenship and public affairs, in a statement. "We're excited to provide an opportunity to get outside, experience the full benefits of biking, and focus on self-care and whole-body wellness."
May 1, folks can access the free Adventure Pass simply by heading to the Bluebikes app and hitting "Adventure Pass." On each subsequent Sunday in May, Adventure Passes can be accessed with the following codes:
May 8: BlueMiles08
May 15: BlueMiles15
May 22: BlueMiles22
May 29: BlueMiles29
In addition, folks who ride over 25 miles during the month of May will be entered into a raffle to win one of ten free annual memberships. Miles traveled will be estimated based on time ridden, assuming an average speed of 7.456 miles per hour.
Bluebikes is a publicly owned bikeshare system, while Blue Cross is their title sponsor. Bluebikes operates 4,000 bikes at 400 stations throughout 11 municipalities in Greater Boston: Arlington, Boston, Brookline, Cambridge, Chelsea, Everett, Newton, Revere, Salem, Somerville, and Watertown.
The bikeshare system is jointly owned and managed by Boston, Cambridge, Somerville, Brookline, Everett, and Salem. Since Bluebikes launched in 2018, they've continued to expand and upgrade, adding bikes and stations yearly.
Need weekend plans?
The best events in the city, delivered to your inbox