Events
This event has passed. Check out other things to do instead.
Help the Jimmy Fund by attending the Oldtime Baseball Game
The annual event will honor the life of former Red Sox reliever Jim Corsi while raising money for colorectal cancer care at Dana-Farber.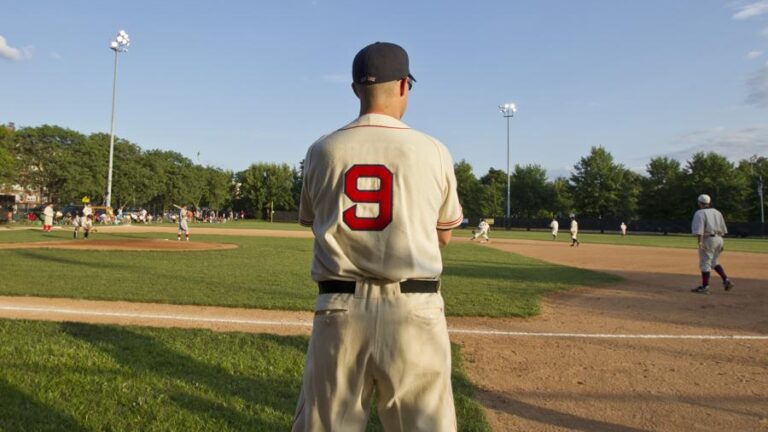 Since 1994, the annual Oldtime Baseball Game has fundraised for charity while celebrating the traditions and heritage of the national pastime — and this year's event will continue that legacy while honoring the life of former Red Sox reliever Jim Corsi and raising money for colorectal cancer care.
Held at Saint Peter's Field in Cambridge, the August 22 festivities will feature an appearance from Hall of Famer Dennis Eckersley, who was a teammate of Corsi with the 1989 Oakland Athletics. Corsi pitched 10 years in the big leagues, including three in Boston, and three years after retiring the Newton native became the first ex-major leaguer to play in the Oldtime game. That began a tradition that has since been carried forward by the likes of Oil Can Boyd and, more recently, Pedro Martinez.
Corsi died of cancer earlier this year, and his family joined organizers in choosing the Dana-Farber Cancer Institute's Young-Onset Colorectal Cancer Center as the beneficiary of this year's game. All donations made to the Jimmy Fund will be directed in Corsi's name to the center, which focuses exclusively on the care of patients under age 50.
Typically attracting more than 1,000 fans, the Oldtime Baseball Game endeavors to offer "a glimpse of what it was like in the old days, when hundreds of fans would turn out to root for their 'town' team in various local semipro leagues," according to the event's website. Players — many of whom have experience at the college or pro level — wear dated uniforms from across baseball's history, some of which are enduring salutes to teams of bygone eras.
There is no charge for admission, though donations to the Jimmy Fund will be accepted. Because seating is limited at Saint Peter's Field, organizers suggest bringing a chair or blanket to set up in foul territory along the lines, and also recommend getting there early to not only stake out a spot but to watch the pregame ceremony.
That's when Eckersley will be involved. He'll be speaking during a question-and-answer session with NESN's Adam Pellerin, then he'll be catching a ceremonial first pitch to be thrown by Joey Corsi, Jim's 15-year-old son.
Donations are also being accepted online in advance of the event.
Need weekend plans?
The best events in the city, delivered to your inbox