Concerts
This event has passed. Check out other things to do instead.
Watch The Zombies come to life at The Cabot
The immortal British Invaders and opener Jesse Lynn Madera will enliven a Beverly audience on April 29.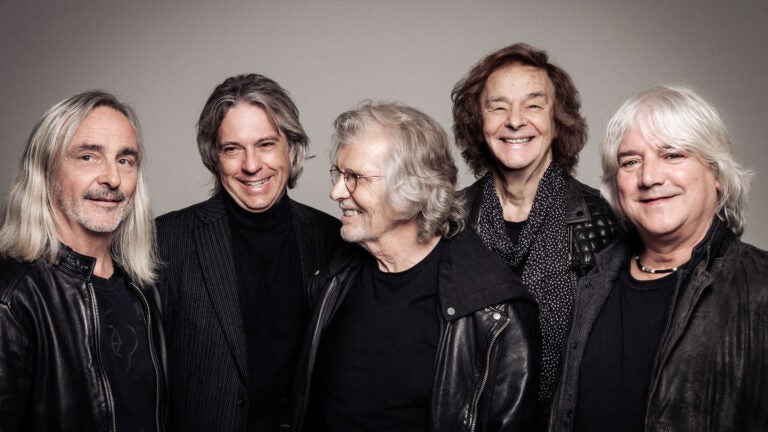 Those who thoughtlessly dismiss the Rock and Roll Hall of Fame do so for one or a combination of three reasons: 1) it has ignored their personal favorite artists, 2) it has recognized artists who debuted after rock 'n' roll ceased to meet Homer Simpson's definition of perfection, or 3) it has inducted artists whose sound is not exclusively comprised of electric guitar, bass guitar, drums, and acceptably employed keys/synths.
The lifelong members of the 1960s psychedelic-pop group The Zombies, however, were over the moon when they won selection in 2019.
"I think it's a very illustrious institution," lead singer Colin Blunstone told me in an interview a few months before their induction. "I feel that it's a career-defining occasion, maybe even a lifetime-defining occasion. I take it incredibly seriously and I'm deeply honored…"
As for getting to hang with their fellow honorees, keyboardist/vocalist Rod Argent told me a few months after their enshrinement, "We loved it, because a lot of the bands that we hadn't met before were just so sweet. People like The Cure and Def Leppard. Everyone seemed to go out of their way to be nice to us and to say that they respected and were influenced to some degree by us. And they didn't have to make time to do that. The whole atmosphere was really great."
This tracks with the fact that The Zombies have a plethora of high-profile admirers.
Tom Petty wrote in his liner notes to the 1997 box set "Zombie Heaven," "If a group like the Zombies appeared now, they would own the world." Blunstone told me that Paul Weller – one of the most prominent British songwriters of the past 40 years – will buy you a copy of the band's top-to-bottom 1968 masterpiece "Odessey and Oracle" if you have never heard it. Dave Grohl has praised that album's "Care of Cell 44" as one of his favorites, and recorded a version of "This Will Be Our Year" with Foo Fighters.
Finally, but certainly not exhaustively, Eminem sampled "Time of the Season" on his 2013 song "Rhyme or Reason." (Interestingly, this track was released as a single and rose to No. 3 after the band had broken up, meaning The Zombies were – in a sense – undead!)
Fans can look forward to hearing these songs, along with "She's Not There," "Tell Her No," and oodles of others, at The Cabot on April 29.
Need weekend plans?
The best events in the city, delivered to your inbox