Concerts
This event has passed. Check out other things to do instead.
Visit Jonathan Richman's 'Inner House' in Boston
The Natick native and his ever-present drummer Tommy Larkins will bring whimsy to The Wilbur.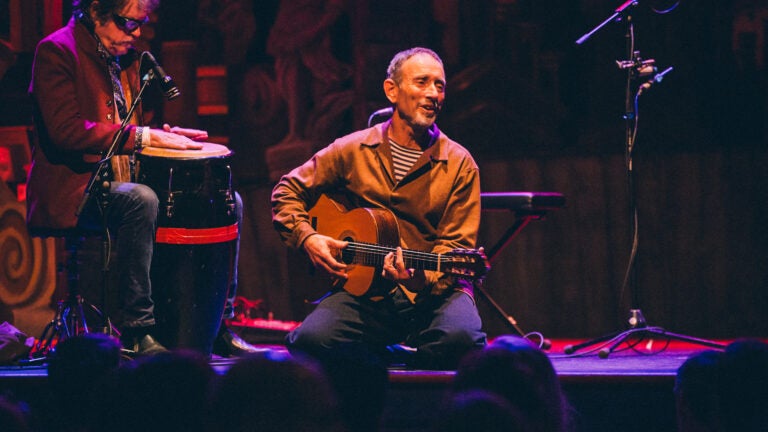 Jonathan Richman's characteristically modest (that actually overstates it) publicity page – via highroadtouring.com – may have done most of my work for me by including this quote from the man himself:
"The music we're doing now works well in quiet places like theaters and performing art centers. We still don't use … a set list so we don't know what we'll do until we do it. Please do not expect old songs … It's mostly stuff made up in the last 3 and 4 years. Some of the songs presented might be in different languages … because the different languages help me express different feelings sometimes … [M]y idea of a good show has nothing to do with applause. It's about if all the songs I sang that night were ones that I felt." – Jonathan
There you have it. That is what he and drummer Tommy Larkins's June 16 show at The Wilbur will be like.
Okay, I suppose that am not getting paid the big bucks to copy and paste.
By "old songs," the recently-turned-71 Natick native presumably means those by his hugely influential early-1970s band The Modern Lovers, which included future members of The Cars (drummer David Robinson) and Talking Heads (keyboardist Jerry Harrison).
Yes, that includes "Roadrunner," which makes so many loving references to the Bay State – as do several others on their eponymous debut – that it is not at all surprising that then-state representative Marty Walsh submitted a bill in 2013 to make it the official state rock song. That proposal never really took off (Richman himself was skeptical), but at least the song now serves as the namesake of the new 3,500-capacity venue in Allston-Brighton.
That Richman would sing in different languages would not surprise longtime fans. His 1994 release "Jonathan, Te Vas a Emocionar!" was all in Spanish, and 2009's "A Que Venimos Sino a Caer?" included songs in Spanish, French, and English.
As for the sets consisting "mostly stuff made up in the last 3 and 4 years," Richman has released only two albums since 2018, including that year's "SA" and 2021's "Want to Visit My Inner House?" Therefore, I would study those if you plan to sing along.
And to those who are certain that they have no idea who Jonathan Richman is: remember the guy who sings at the beginning and in between scenes in "There's Something About Mary"? That's him (and Tommy Larkins).
(PS: I have seen four artists cover Modern Lovers songs live: David Bowie and John Cale both did "Pablo Picasso," The Shins played "Someone I Care About," and The Feelies performed "I Wanna Sleep in Your Arms.")
Need weekend plans?
The best events in the city, delivered to your inbox