Concerts
This event has passed. Check out other things to do instead.
Step into the dance from your seat as the Bolshoi goes to the movies
The Bolshoi Ballet brings a live presentation of "Jewels" to local cinemas.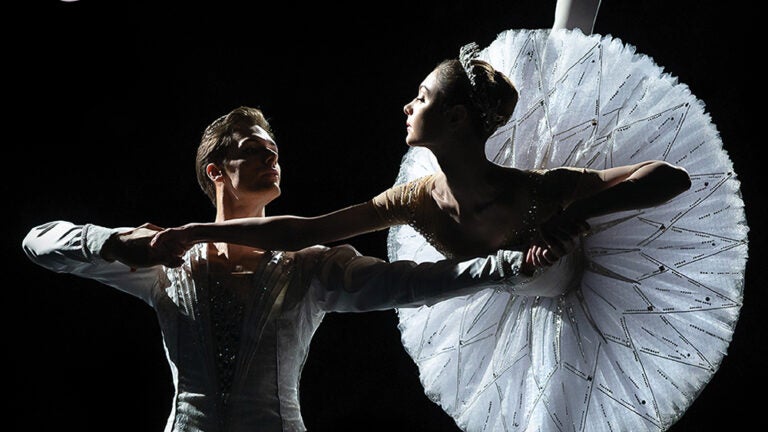 The Bolshoi Ballet isn't out on the road these days, but the company's current productions are being performed live, in all their glory, via streaming technology, on cinema screens throughout America.
Emanating from the Bolshoi Theatre in Moscow, and presented by Fathom Events, the first show of the new year in the Bolshoi Ballet in Cinema Series is George Balanchine's "Jewels," a three-part modern ballet that the Bolshoi has been performing since 2012. The separate components — three unrelated "acts" — are "Emeralds," danced to the music of Gabriel Fauré, "Rubies," with a score by Igor Stravinsky, and "Diamonds," featuring the sounds of Peter Tchaikovsky.
There are no specific stories being told in these pieces. Rather, the moods and stylings within them have been designed to represent three different types of dance that have been associated with Balanchine, the Russian-born choreographer who went on to become a co-founder of the New York City Ballet. Those are then tied in with three equally different geographical elements.
So, "Emeralds" features the romantic atmosphere of Paris, "Rubies" picks up the pace for an impression of New York, and "Diamonds" goes for the stateliness of St. Petersburg.
The spectacle of watching this sort of presentation on the big screen is amplified by the fact that it's being shown in HD, multiple cameras will be shifting between wide angle shots and extreme closeups (but always showing the feet), and the dancers will be accompanied by a live orchestra. Running time is approximately 2 hours, 20 minutes.
"Jewels" will be showing in about 10 theaters in and immediately around Boston, and in others further out into suburbia; check out the "Buy Tickets" link in the box at top right to find the one closest to you.
Need weekend plans?
The best events in the city, delivered to your inbox