Concerts
This event has passed. Check out other things to do instead.
Sing along with the Smithereens
The Smithereens make a tour stop at TCAN with special guest vocalist Marshall Crenshaw.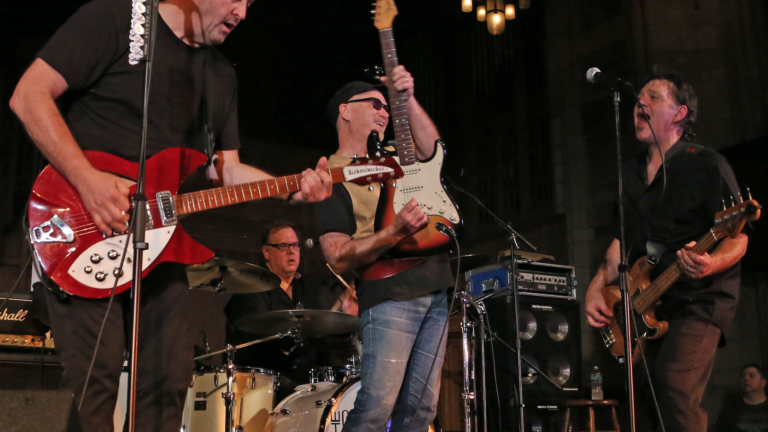 Seminal New Jersey rockers — and, by the way, members of the New Jersey Hall of Fame, in the Performing Arts category — the Smithereens have an upcoming show at The Center for Arts in Natick. Though it's hard to keep exact track of how many albums they've made in their four-decade-plus career, you can be assured that their set list will include originals and covers that span the whole period.
Formed in 1980, with the lineup of lead singer Pat DiNizio, guitarist-vocalist Jim Babiak, drummer Dennis Diken, and bass man Mike Mesaros, the band constantly toured — initially in New Jersey and New York bars, later in stadiums — made many a working visit to recording studios, came up with radio-friendly pop-rock hits including "A Girl Like You" and "Too Much Passion," and were in regular rotation on MTV. At different points, they were signed to different labels, including Enigma, Capitol, RCA, and Koch.
When, after a series of health problems, Pat DiNizio died in 2017, the three other founding members decided to carry on with a revolving stream of guest singers, among them singer-guitarist Marshall Crenshaw — he of "Someday, Someway" fame — who will be joining them for the TCAN show.
So, what should you expect them to perform that night? It's a good bet that their hard-rocking "A Girl Like You" will happen, yet it's just as likely that they'll dust off their acoustic, melodic "Blue Period." But don't forget the Smithereens' tendency to add their own touch on the music of other artists. They were pretty specific on their albums "The Smithereens Play Tommy" and "B-Sides the Beatles." And they went wider with "Covers," on which they put new spins on the likes of "Time Won't Let Me," "Wooly Bully," and the overlooked Beach Boys classic "Girl Don't Tell Me."
Need weekend plans?
The best events in the city, delivered to your inbox