Concerts
This event has passed. Check out other things to do instead.
Settle in for some string stretching in Natick
Mike Dawes and Yasmin Williams display their guitar chops at TCAN on Feb. 4.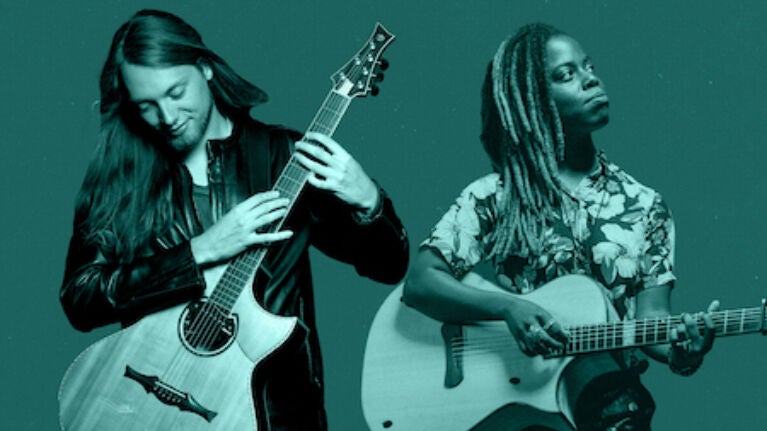 You could get away with saying that one thing Mike Dawes and Yasmin Williams have in common is that they play fingerstyle acoustic guitar. But there's so much more bonding them and their music, it's no surprise that they'll be playing on a double bill at The Center for Arts in Natick.
Each is a guitar master and each has a unique, rather unconventional approach to presenting instrumental works. England-based Dawes is known for playing lead, rhythm, bass, and percussion parts all at once, via strumming, picking, banging on the guitar wood, and stomping a foot. Virginia native Williams plays her guitar in the traditional manner, but often brings in alternate tunings or lays her guitar down across her legs for some lap tapping, sometimes even making use of a small hammer to strike the strings.
Oddly, though they both call the acoustic guitar their main instrument, each began with electric guitars. Dawes developed an interest by immersing himself in the sounds of the metal and prog rock scenes (his first live concert was Iron Maiden), while Williams got into it after being introduced to the video game Guitar Hero 2. Their current acoustic playing is described as melodic, folky, and poppy, but each definitely has some rock influence mixed in.
And dedication to their craft has earned them numerous awards. In 2017 and 2018, Dawes was named "Best Acoustic Guitarist in the World Right Now" by the publications Music Radar and Guitar Year. In 2019, Williams won the Gold Prize in the Instrumental category of the Mid-Atlantic Song Contest. Each has also released two studio albums. Dawes' are "What Just Happened?" and "ERA"; Williams' are "Unwind" and "Urban Driftwood."
They'll be performing two separate sets at TCAN, but rumor has it that in recent shows, they've taken to sharing the stage for a couple of numbers.
Need weekend plans?
The best events in the city, delivered to your inbox