Concerts
This event has passed. Check out other things to do instead.
Set your sights on Jack White's tour
The guitarist-rocker brings lots of new songs to Boston's Agannis Arena on April 17.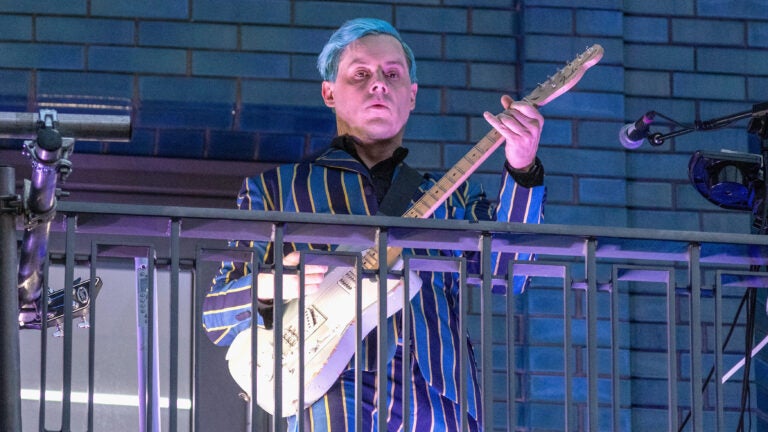 Fans of Jack White know that he's a guy who doesn't like to stand still. He'd already been in several bands (initially as a drummer) before breaking through in the late-1990s, along with his wife Meg White, in the stripped-down garage band the White Stripes, for which he'd already switched to guitar.
Follow-up bands would include the Raconteurs and the Dead Weather (in which he was back on drums) and, no surprise, solo projects. The current group, getting ready to head out on the international Supply Chain Issues Tour, just goes by the Jack White handle.
He's once again strapping on one of many guitars from his collection and manning a microphone, and is being joined by former musical colleagues – from different studio and stage dates – Dominic Davis (bass), Quincy McCrary (vocals), and Daru Jones (drums).
In conjunction with the tour, White is releasing two albums on his own Third Man Records label. "Fear of the Dawn" hits the streets on April 8, followed by "Entering Heaven Alive" on July 22. White has promised that each record has its own distinct sound and mood. If his recent single "Taking Me Back," and his new video, the title track from "Fear of the Dawn," are any indication, there's going to be some rockin' with no holding back at the upcoming shows.
The band will no doubt be playing plenty of new material from both albums, but word is out that there will also be a good supply of White Stripes on the setlist (perchance "I Think I Smell a Rat"), and perhaps something from the Dead Weather (how about "I Cut Like a Buffalo"?).
What would be really great is if White brings along his main Raconteurs guitar, the Gretsch-style "Copper Triple Jet." There is no cooler-looking instrument in rock.
Need weekend plans?
The best events in the city, delivered to your inbox