Concerts
See what's new (pussycat) with Tom Jones at the Orpheum
The Welsh superstar comes to town September 14.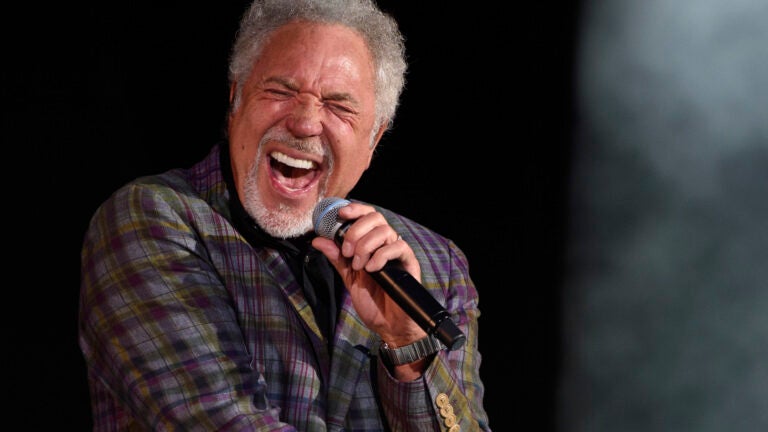 I can find no record of its existence, but I guarantee it happened because I was there and I still have the ticket stub: Tom Jones, the Welsh superstar, performing to a hyped-up, standing-room crowd at Avalon in Boston on Jan. 18, 1995. I went in as a young man seeking kitsch; I left transformed.
Well, maybe "transformed" is extreme, but I was certainly impressed. Jones, who was promoting his latest comeback album "The Lead and How to Swing It," seemed thrilled and grateful to be performing in a small space for such an engaged crowd — I imagine younger than his typical audience, although presumably older than usual for Avalon (my 20-something self notwithstanding). Best of all, he seemed in on the joke; he knew all this over-the-top crooning and hip swiveling was no way for a then-54-year-old man to behave. But he just went for it, and Lord, the man can sing.
Of course by that time Jones had already spent decades performing sold-out shows around the world, including too many wildly successful residencies in Las Vegas to count, and had also hosted the variety show "This Is Tom Jones" (on ABC from 1969-1971). And his song stylings — both of originals like the timeless "It's Not Unusual" and interpretations of everyone from Ray Charles to Tammy Wynette — had been inspiring copious panty-tossing among his live audiences for years.
Granted, he may have slowed a bit since then — he'll be 83 when he makes his stop at the Orpheum Theatre in September, promoting his latest fine collection of covers and interpretations, "Surrounded By Time," which features songs popularized by Bob Dylan, Cat Stevens, and Dusty Springfield, among others. And there's no denying that much of his recent output, featuring a hefty dose of laid-back soul and blues, may not have quite the "why-why-why-Delilah" verve of his '60s heyday.
But I have a feeling he's still got enough of that old swivel and those blessed pipes to bring the audience to its feet. And, hopefully, elicit the launch of at least a panty or two.
Need weekend plans?
The best events in the city, delivered to your inbox