Concerts
This event has passed. Check out other things to do instead.
Marvel at Aimee Mann's mastery in Medford
The honorary Bostonian will showcase her latest album at Chevalier Theatre on April 23.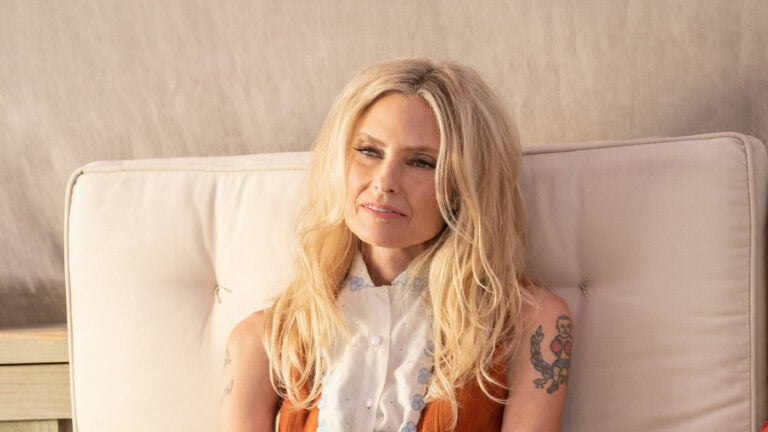 Aimee Mann's limited commercial success belies the fact that she is one of the most talented, unique, and dependable songwriters of the past 40 years. She is also a low-key pop culture phenomenon of sorts, or, as I like to call her, "A. Mann for all seasons."
In the late '80s, she collaborated with musicians as diverse as Elvis Costello and Rush. In the late '90s, she made unforgettable – be they small or large – contributions to the movies "The Big Lebowski" and "Magnolia." In the 2000s, she appeared as herself on, among other shows, "Buffy the Vampire Slayer," "The West Wing," and "Portlandia."
And it all started in Boston.
After studying at Berklee in the late '70s, the Virginia native fronted The Young Snakes before forming 'Til Tuesday. Two years after winning the 1983 WBCN Rock & Roll Rumble, the latter group was in the Billboard top 10 with the destined-for-immortality single (and video) "Voices Carry." Their debut sold more than half a million copies, as did — eventually — its follow-up. 'Til Tuesday and Mann also won a combined four Boston Music Awards in 1987 and 1988 before splitting in 1989.
Although critics praised Mann's first two solo efforts, 1993's "Whatever" and 1996's "I'm With Stupid," sales were unexceptional and her label became insolvent. Thus, things looked uncertain in the mid-'90s for the undeniably gifted tunesmith who was a borderline pop star 10 years earlier.
Thankfully, Mann had a fan in filmmaker Paul Thomas Anderson, who cited Mann's work as the inspiration for his 1999 epic "Magnolia." That movie's soundtrack boasted six of her original compositions, among which was the Golden Globe, Oscar, and Grammy-nominated "Save Me." The following year, Mann cofounded her own label, SuperEgo, to release "Bachelor No. 2 or, the Last Remains of the Dodo," which became one of the best-reviewed albums of the decade. She also won five BMAs between 1993 and 2005 despite having moved to LA in 1994.
Mann's creative streak and critical stock remained strong enough between 2002 and 2012 for her to be invited to Poetry Night at the White House in 2011. Six years later, she won the Best Folk Album Grammy for "Mental Illness," which she described as "the saddest, slowest, most acoustic" record that she could make.
The honorary Bostonian will stop at the Chevalier Theatre in Medford as part of her tour in support of the comparably sad, "Girl, Interrupted"-inspired "Queens of the Summer Hotel," which she unveiled last September. The album's generous 15 tracks and compact 40-minute running time serve to further demonstrate her mastery of literate and captivating songcraft.
Need weekend plans?
The best events in the city, delivered to your inbox