Concerts
This event has passed. Check out other things to do instead.
Let Angélique Kidjo's 'Mother Nature' take its course in Portsmouth
The singer, author, and activist will bring her world music to The Music Hall on April 30.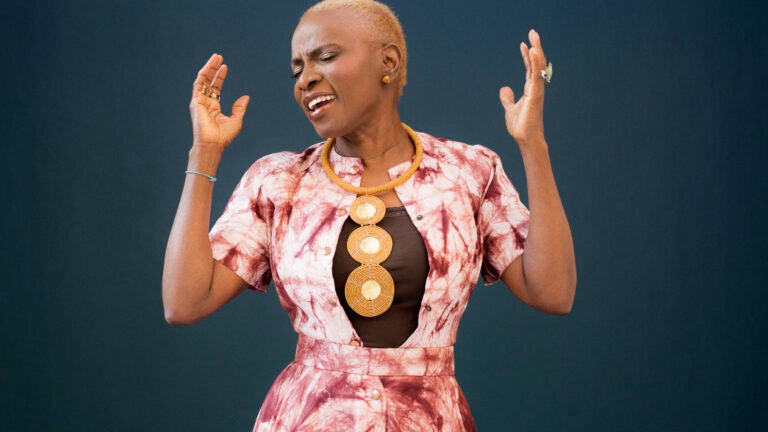 Angélique Kidjo's "Mother Nature" became the Benin-born singer's first album of new original material since 2014's "Eve" when it appeared last June.
One should not presume from this, however, that she has been on some sort of musical hiatus. 2015's "Sings" had Kidjo picking from her back catalog with support from the Orchestre Philharmonique du Luxembourg (Luxembourg Philharmonic Orchestra). In 2018, she released her own version of Talking Heads' 1980 classic "Remain In Light," surely doing her longtime friend David Byrne proud in the process. The following year, she paid homage to Celia Cruz, the Cuban-born "Queen of Salsa," with "Celia."
"Eve," "Sings," and "Celia" all won Grammys for Best Global Music/Best World Music Album. These brought her trophy count to four, as the 2007 release "Djin Djin" had won for Best Contemporary World Music Album.
And those are just the music-related projects that she has completed in that time.
Kidjo published her memoir, "Spirit Rising: My Life, My Music," in 2014. The book included a foreword by Desmond Tutu, an introduction by Alicia Keys, and blurbs from Bill Clinton, Bono, and erstwhile collaborator Peter Gabriel.
One should also not presume that the past 15 years comprises Kidjo's entire time on the world stage.
She actually recorded 10 albums between 1989 and 2012. Moreover, she has been active with international organizations that advocate causes near to her heart for 20 years.
Kidjo's work on this front includes serving as a UNICEF Goodwill Ambassador since 2002 and founding, in 2006, The Batonga Foundation, which – according to its mission statement – "equips the hardest-to-reach girls and young women with the knowledge and skills they need to be agents of change in their own lives and communities" in sub-Saharan Africa.
For her tirelessness on behalf of these and numerous other institutions, Kidjo has been honored with the World Economic Forum's Crystal Award, Amnesty International's Ambassador of Conscience Award, and inclusion among Time's 100 Most Influential People in the World.
But the reason that she will be at The Music Hall in Portsmouth on April 30 is that she is a musician. And if you appreciated her interpretations of Talking Heads and Celia Cruz but were hoping for some original songs, you will surely relish the bountiful harvest that "Mother Nature" has to offer.
Need weekend plans?
The best events in the city, delivered to your inbox