Concerts
This event has passed. Check out other things to do instead.
Hear Ghosts of Jupiter's haunting harmonies in Medford
The bearers of progressive rock's torch with light up The Porch on May 13.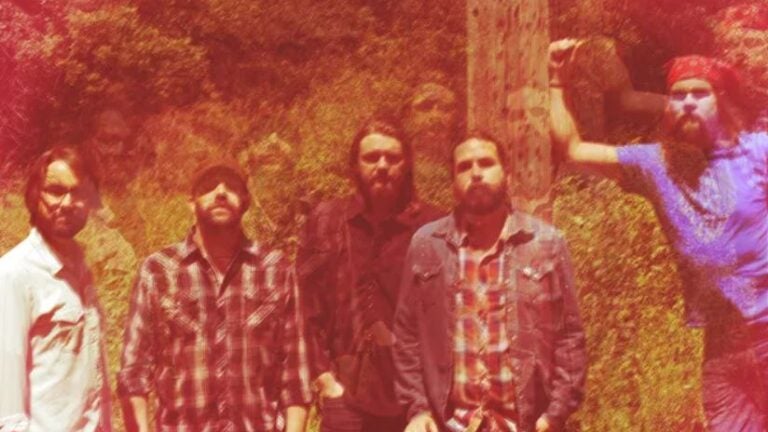 According to NASA's website, the Ghost of Jupiter is "a planetary nebula … located roughly 1,400 light-years away [from Earth] in the constellation Hydra."
Universeguide.com adds, "It is the remains of a dead star that was about equivalent to the Sun" that "requires 7×50 binoculars at a minimum to be able to see."
To New England music fans, however, Ghosts of Jupiter are the area's finest purveyors of – as the band's Twitter page says – "Psych-, Prog-, #Spacerock."
Writing in the London-based magazine Shindig!, reviewer Richard Allen described the quintet's 2021 release "Keepers of the Newborn Green" as "an early contender for album of the year … A real stunner." Allen noted the "dreamy flute-breath folk harmonies," "insanely psychedelic fuzz guitar," "backwoods acoustic vibes," "rolling [Pink] Floydian synthesi[zer]," and "beautiful harmony-laden psych" that are nestled within the record's highlights.
Glide Magazine's Shane Handler hears the spirts of Wishbone Ash, Peter Gabriel-early Genesis, and Jethro Tull and is keen on the "medieval imagery," "silvery vocals," "triumphant melancholy psych-folk," and "razor-sharp flute and guitar riffs."
Comparisons to these giants of early-1970s British progressive rock are apt. In my 2014 interview with GOJ vocalist, keyboardist, flautist, and songwriter Nate Wilson (a New England Conservatory of Music and UNH graduate), he stated that Pink Floyd's "Meddle" and Jethro Tull's "Thick As A Brick" rank among his all-time favorites, along with Yes's "The Yes Album," Captain Beyond's self-titled debut, and Traffic's "The Low Spark of High Heeled Boys."
Given that each of these albums was released in either 1971 or 1972, several years before Wilson was born, I asked him what he thought of Homer Simpson's claim that "rock attained perfection in 1974. It's a scientific fact."
"I'd say it was probably closer to 1972," Wilson answered, adding that he likes a lot of contemporary bands that just happen to sound like they were around in the '70s.
"So to clarify," he continued, "I don't listen to anything that SOUNDS like it was recorded after 1972."
It was therefore unsurprising that he responded to my request to "Fill in the blank: 'I wish that I were half the singer-songwriter/musician that [blank] is'" by naming Gustav Ejstes, the mastermind of the delectably progressive Swedish band Dungen. ("Keepers" includes an instrumental called "Gustav.")
Wilson and bandmates Pete Aleksi (guitar), Thomas Lada (bass), and Tom Arey (percussion), will draw from their latest effort and the three that preceded it at The Porch on Friday, May 13.
Attendees will surely consider it to be their lucky day.
Need weekend plans?
The best events in the city, delivered to your inbox