Concerts
This event has passed. Check out other things to do instead.
Go national with Frank Turner & The Sleeping Souls at Roadrunner
The British folk-punk rocker stops in Boston as part of his "50 States in 50 Days" tour on June 17.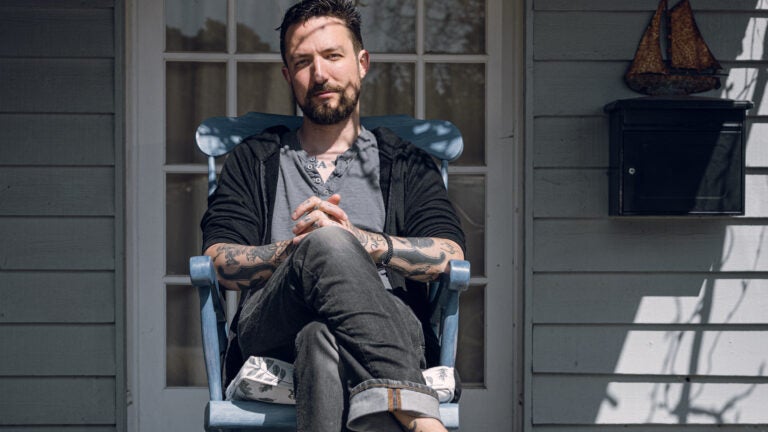 Frank Turner didn't exactly go anywhere — except home, like the rest of us — during the coronavirus pandemic, but his new album "FTHC" (that stands for "Frank Turner Hard Core") still feels like a comeback, or at least a return to form. And as the title might seem to indicate, it does not go gently into that good night — as the kids say, it's fire.
Turner's last album, 2019's "No Man's Land," was a concept album about women from history; it came out to mixed reviews that often seemed as targeted toward Turner's chutzpah — who's this bloke to be telling women's stories? — as it was to the music. In the end it felt like a worthy departure, but a departure nonetheless — and on "FTHC," Turner returns to his introspective folk-punk pedigree, leaning heavily on the punk portion to great effect.
That's apparent right out of the gate with the shouty "Non Serviam," probably his hardest track since his early-2000s days as a singer for the post-hardcore band Million Dead. For the most part, though, "FTHC" is good old-fashioned melodic guitar rock with a sizable helping of angry attitude, even as his lyrics grapple with the inescapable bonds of adulthood — he sounds like he's growing up, but he's going to let us know he's not happy about it.
In addition to rocking hard, "FTHC" has the distinction of being Turner's first No. 1 UK album. So to celebrate, he's … coming to America! To 50 states in 50 days, to be specific, with Boston as his Massachusetts stop. No surprise, given Turner's fanbase here — pre-pandemic, he marked six nights at the Royale and four at the House of Blues in 2018 alone.
This time through we only get him for one night, though. (Otherwise how could he do all 50 states in 50 days?) "I've been unable to tour properly for a couple of years now, and always said that when I could get back to it I'd do it properly," Turner says. "So here we are, folks — every single U.S. state! I can't wait to bring 'FTHC' to my American friends."
Turner and his Sleeping Souls will take to the stage at Roadrunner June 17, but don't worry if your dinner plans run late — he'll be bringing his typically extensive entourage of opening acts, in this case Avail, The Bronx, and Pet Needs.
Need weekend plans?
The best events in the city, delivered to your inbox