Concerts
This event has passed. Check out other things to do instead.
Rock out with a not-so-scary Ghost and Volbeat at the DCU Center
The bands are set to make their only New England appearance on Feb. 11.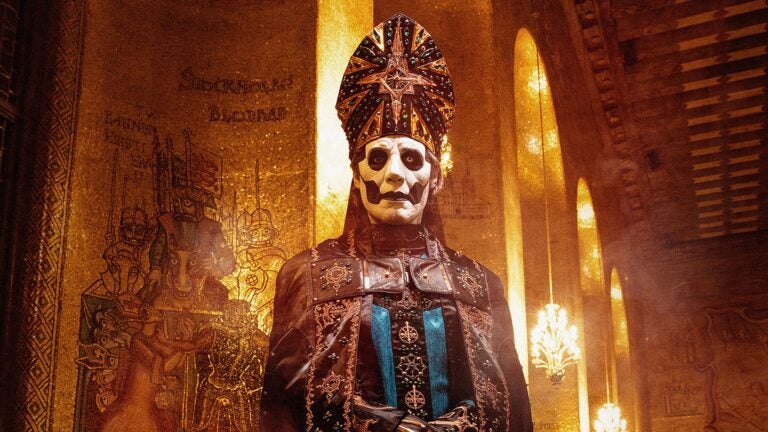 If the satanic makes you panic, perhaps seeing Ghost live isn't for you.
Not that a Ghost show is made to scare. It's about as menacing as a dog in a plush skeleton costume on Halloween. But if you like a humorous stage show, and pop-y sounds mixed with metal riffs, Papa Emeritus IV and his band of ghouls may have something for you.
The Grammy-award-winning rock band is headed to the DCU Center on Feb. 11 with Volbeat in tow, and Twin Temple. It's the tour's only New England stop.
For Ghost, the Swedish rock band is coming off of releasing a new single, "Hunter's Moon," for the "Halloween Kills" soundtrack.
Last year was the first year since 2010 that the band hadn't played a live show, according to Loudwire.
"When I started touring, it felt very natural to be on tour," Tobias Forge, the man behind the Papa Emeritus mask, told the publication. "It's almost like having sea-legs. If you like touring, it's hard not to like moving all the time."
It was in 2018 that Ghost released "Prequelle." It was a concept album, and it happened to be about the plague. No, not COVID-19. Remember, this was 2018, and the album centered on the Middle Ages' Black Death. The album has a song called "Rats," and Forge sings about "turmoil" and contagious disease. In the video for the single, "Dance Macabre," the plague doctors, with their identifiable beak-like masks, descend a staircase at a massive party before dropping the robes, revealing scantily clad dancers.
It was The Before Times and no one, even the band, could've guessed an album called "Prequelle" would've preceded another deadly plague.
Need weekend plans?
The best events in the city, delivered to your inbox