Concerts
This event has passed. Check out other things to do instead.
Get to the Gardner for the return of Eroica
The Eroica Trio performs three pieces at the Gardner Museum Feb. 20.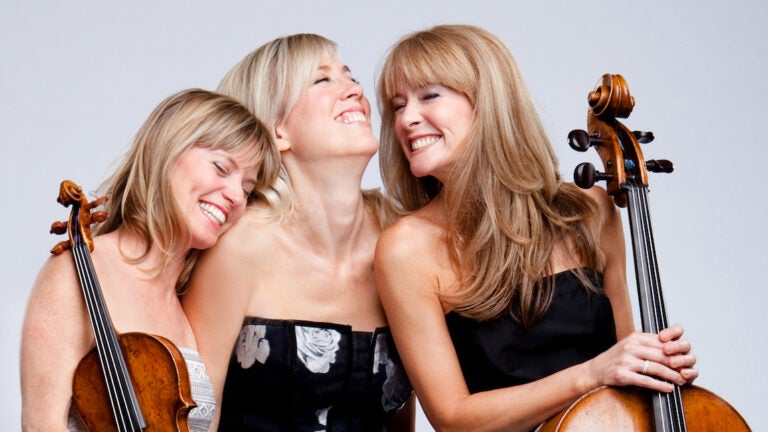 The Eroica Trio, as we know it today, has been together for a decade and a half, with pianist Erika Nickrenz, violinist Sara Parkins, and cellist Sara Sant'Ambrogio keeping chamber music in the spotlight via superb recordings and constant touring. But the group, with a slightly different lineup, has been around for three and a half decades. (Perkins joined after founding violinist Adela Peña left in 2006.)
Named in honor of Beethoven's Symphony No. 3 – "Eroica" – the trio's current members share a long musical history. Sant'Ambrogio and Nickrenz have known each other since they were 12; Sant'Ambrogio and Parkins first played together in their early teens; a few years later, Parkins and Nickrenz both performed at the Tanglewood Music Center.
As Naumburg Award winners and Grammy nominees, they've graced classical stages all over the world, touring with the Vienna Symphony Orchestra across North America, playing with the Orquesta Sinfonica Nacional in Buenos Aires, and making stand-alone television appearances on shows ranging from "The View" to "Showbiz Today" to "Breakfast with the Arts."
Their repertoire runs from Beethoven to Gershwin, from Ravel to Vivaldi, and on and on. The program for their long-awaited return to the Gardner Museum consists of three pieces: Franz Schubert's Trio No. 1, John Loeillet's Sonata in B minor, and the more contemporary Trio for Violin, Cello, and Piano by Adolphus Hailstork.
Of interesting historical note, when the Eroica Trio released the album "Pasión" in 2000, featuring the works of Piazzolla and Villa-Lobos, a new cocktail was created by the folks at Grand Marnier to mark the occasion. It was called "The Eroica."
Need weekend plans?
The best events in the city, delivered to your inbox