Concerts
This event has passed. Check out other things to do instead.
Get on down to TCAN for some great guitar from Jeff Skunk Baxter
The renowned Steely Dan guitarist pays a visit on May 13.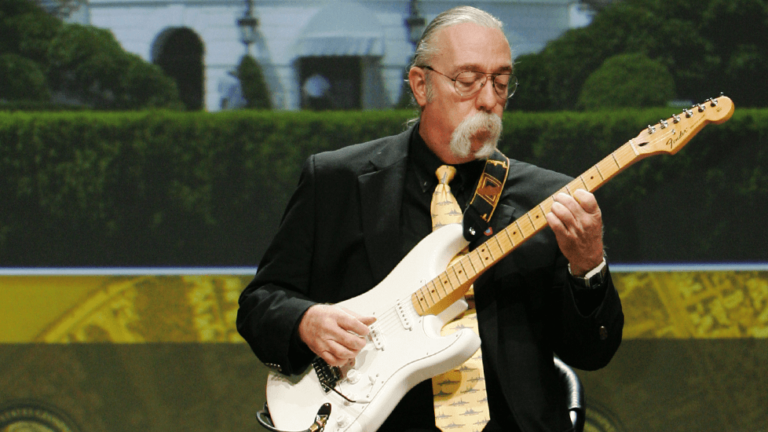 First impressions mean a lot. If you got a look at Jeff Skunk Baxter's face before you ever heard him play guitar, you'd remember him for his gigantic horseshoe-shaped moustache. But if initial contact was with the sounds (and speed and inventive ideas) he gets from his Fender Stratocaster or Jazzmaster, you probably wouldn't have been wondering what he looked like.
Baxter is a guitar wizard. He's been a recording or touring member of Steely Dan (Denny Diaz handles the first solo on "Bodhisattva," Baxter spins out the crazier, more complex second one), the Doobie Brothers, and Boston's favorite psychedelic band Ultimate Spinach. His six-string prowess can also be heard in his session work on albums for artists ranging from Dolly Parton and Joni Mitchell to John Sebastian and Willy DeVille.
A native of Washington, D.C., Baxter started classical piano lessons at 5, got his first guitar – and joined his first band – at 11, later moved to New York with his family, and ended up going to Boston University for a semester, during which time he was also working as a guitar tech at Jack's Drum Shop. It was there that he jumped at an offer to join the well-established Ultimate Spinach, and a career in rock music was launched.
There are other sides of Baxter to consider. He's a record producer, he's written numerous magazine columns about guitars, and he's a consultant for the Department of Defense on missile defense, cyber warfare, and war gaming (that last part is definitely a story for another day).
He'll be visiting TCAN in celebration of his first ever solo album (one with plenty of guests) titled "Speed of Heat," scheduled for release on June 17. It's an album of original material, written by Baxter and his producing partner CJ Vanston (who will join him at the TCAN show), as well as reinvented covers of Steely Dan tunes, including "Do It Again" and "My Old School" – on which Baxter not only provides the expected bursts of fiery guitar leads, he also takes the main vocal.
Of course, because Baxter is a guy who lets his fingers, not his voice, be in the spotlight, he's made sure to let an instrumental stand tall. And not just any instrumental. It's his cover of the classic "Apache."
Need weekend plans?
The best events in the city, delivered to your inbox