Concerts
This event has passed. Check out other things to do instead.
Get it any way you want it with Journey at TD Garden
The classic rock band brings their Freedom Tour 2022 to Boston Feb. 28.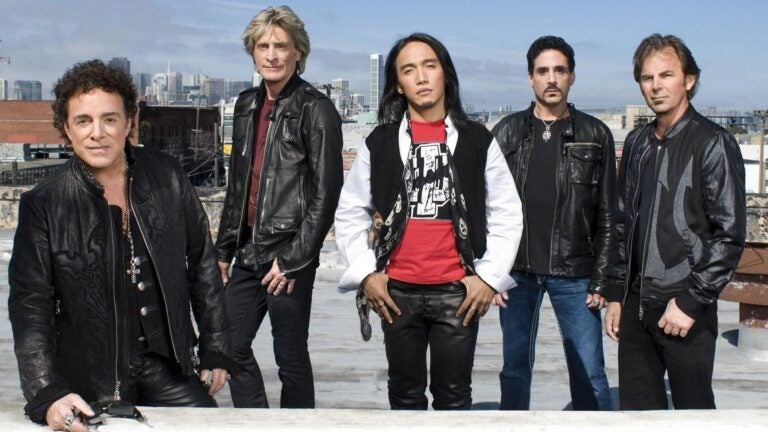 During their hitmaking days, the San Francisco pop-rock-power ballad band Journey were regular visitors to the Top-10 portion of Billboard's Hot 100 list, with a half-dozen of their songs climbing up there in the 1980s. Classic rock radio stations still have "Who's Crying Now," "Don't Stop Believin'," and "Lights" (which didn't rise up quite so high) in rotation.
Hold on … time for a "Sopranos" story. There's Tony, in the show's finale, sitting in his booth at Holsten's, flipping through titles on the tabletop jukebox, unable to make up his mind between a song by Heart, Tony Bennett, or Journey. He pops in a quarter, he hits K5, and "Don't Stop Believin'" plays. Tony Soprano was a Journey fan!
The Rock & Roll Hall of Famers' sound changed a couple of times since its formation in 1973, and there have been more than a few subtractions and additions to the lineup. In fact, the Journey that's going out on the upcoming three-month-long Freedom Tour 2022 will only have one original member: fiery guitarist Neal Schon. Lead singer Arnel Pineda, who had big shoes to fill after Steve Perry and Steve Augeri and (briefly) Jeff Scott Soto did the vocals, has held the position since 2007.
The rest of the band is currently filled out with Jonathan Cain (keyboards, vocals), Jason Derlatka (keyboards, vocals), Deen Castranovo (drums, vocals), and Todd Jensen (bass).
Journey's newest album "Freedom" is completed but doesn't yet have a release date. No doubt they'll be playing some songs from it. Billy Idol will open the show.
Need weekend plans?
The best events in the city, delivered to your inbox