Concerts
This event has passed. Check out other things to do instead.
Rescheduled: Get into the pop of John Mayer's 'Sob Rock'
The singer-guitarist celebrates his newest album at the TD Garden May 9-10 after rescheduling his March shows.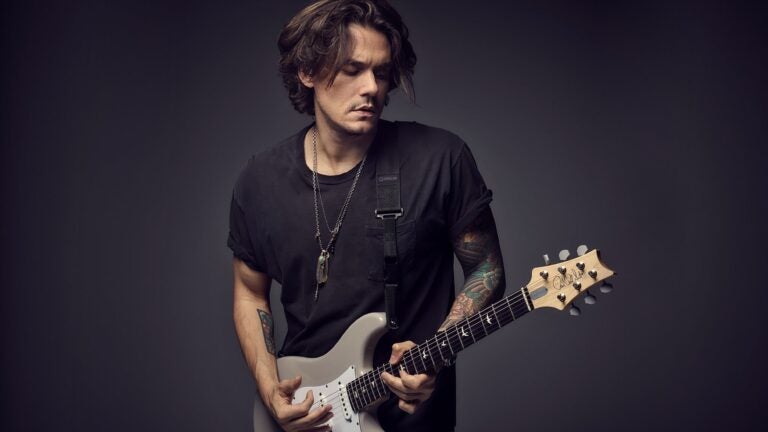 John Mayer is, pure and simple, a pop star. It seems that he's been one right from the start, 20 or so years ago when he released his first album "Room for Squares" which, as any ardent Mayer fan knows, went quintuple-platinum. For those not quite as devoted, that means a whole lot of record sales.
But truth be told, the Mayer of today, whose newest record, "Sob Rock," would have fit comfortably on radio playlists of the 1980s (that's meant as a compliment), went through a lot of changes in his music before "Squares," and on most of the songs on the albums that followed.
At first, growing up in Fairfield, Connecticut, Mayer was into Stevie Ray Vaughan-style blues, which he worked at and got pretty darn good at on the guitar his father bought for him at 13. A few years later, he made it through two semesters at Berklee before heading out on the dirt path that became a paved road that turned into the highway to superstardom.
But as his songwriting matured and his guitar playing got better and better, those changes kicked into gear. Subsequent albums took on different shades of different genres. His early explorations of blues shifted over to blues-rock. Later on he would release recordings that had a jazzy edge or a little bit of soul, or a move into adult contemporary.
Mayer also became popular in other ways. His interviews were never less than outspoken and often controversial; his non-musical interests included collecting very expensive watches and learning the Israeli fighting technique called Krav Maga.
But despite a lengthy time off from performing for throat surgery to fix a larynx problem, Mayer never stopped the music. There were collaborations with Eric Clapton, Herbie Hancock, and Buddy Guy, and when he was able to get back on the road, he became the touring guitarist in Dead & Company.
Now, with seven Grammys in his awards cabinet, he's doing two nights at the TD Garden, focusing of selections from "Sob Rock," which came out last summer and features a batch of songs that sound downright poppy. After all, he is a pop star.
Need weekend plans?
The best events in the city, delivered to your inbox