Concerts
This event has passed. Check out other things to do instead.
Get in an Afro-Cuban mood with Arturo Sandoval
The jazz trumpeter returns to Scullers on May 13 and 14.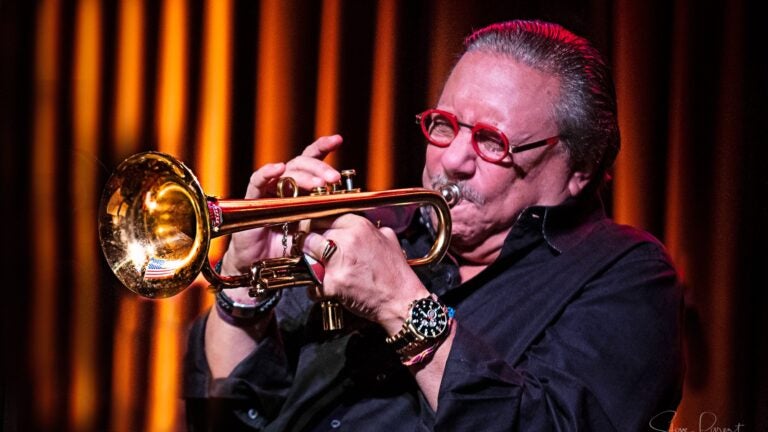 Here's a brief story about Arturo Sandoval. I was on a business trip in New York City in 2005. On my one free night, I went to the Blue Note. Turned out, Cuban trumpeter Arturo Sandoval was playing. I didn't know his music, but I wanted to hear some live jazz. The result: My socks were knocked off, and I became a fan.
I was on a business trip in LA in 2018. On my one free night, I went to the Catalina Jazz Club to hear (actor-pianist-bongo player) Andy Garcia lead his band the CineSon All Stars. I knew that Garcia had portrayed Sandoval in the TV movie "For Love or Country." But I wasn't prepared for his announcement that night, introducing "our special guest, Arturo Sandoval," who stepped forward, trumpet in hand, and proceeded to once again knock my socks off.
Sandoval, returning to Scullers for a two-night stand on May 13 and 14, is a virtuoso trumpeter and flugelhornist as well as a fine pianist. A native of a small town near Havana, he got his first trumpet as a gift from an aunt when he was 10, taught himself as best he could, and began classical studies at 12.
But the jazz being played in Cuba — usually referred to as Afro-Cuban jazz — captured his interest, and in the late-1960s, he became part of the big band Orquestra Cubana de Música Moderna which, a few years later, begat the renowned group Irakere, an octet that would meld the sounds of jazz, classical, rock, and traditional Cuban music.
Somewhere along the line, Sandoval met up with bebop master Dizzie Gillespie, who became his mentor and eventually invited Sandoval to join his band. While on a European tour with Gillespie in 1990, Sandoval defected from Cuba to the U.S., moved with his wife and son to Florida, and became an American citizen. That whole story is detailed in Sandoval's 2014 memoir, "Dizzie Gillespie: The Man Who Changed My Life."
Since then, along with myriad solo albums, Sandoval has won six Billboard Awards, 10 Grammys, and was given the 2013 Presidential Medal of Honor. But what will he be playing at Scullers? Hard to tell. His album "Flight to Freedom" is mostly bop. His album "Dream Come True" is a much more laid-back affair. Afro-Cuban jazz is always running through his head. He could go in any direction.
Sandoval will be playing separate sets at 8 p.m. and 10 p.m. each night at Scullers.
Need weekend plans?
The best events in the city, delivered to your inbox