Concerts
This event has passed. Check out other things to do instead.
Get Barenaked with Steven Page at City Winery
The former lead singer of the hugely successful Barenaked Ladies is coming to Boston on Feb. 26.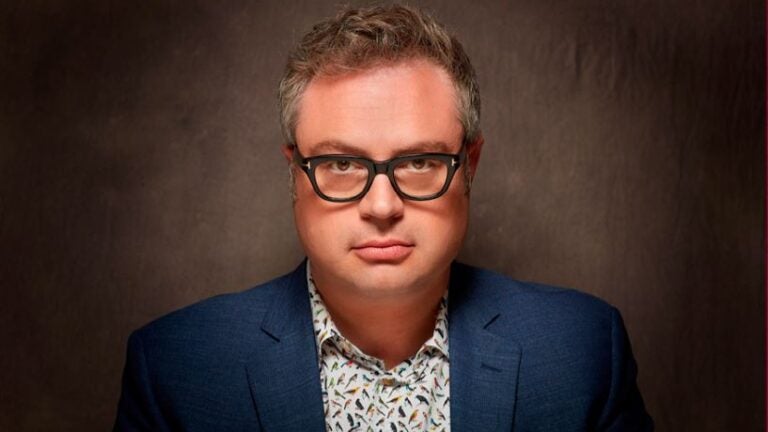 Steven Page was the cofounder, main songwriter, and primary vocalist of the multi-platinum selling Canadian pop-rock group Barenaked Ladies, who released their debut album in 1992 and entered the Canadian Music Hall of Fame 26 years later.
Page's distinctive voice lent humor, poignancy, thoughtfulness, and pep to BNL's many memorable songs. Among the band's choice of subjects were misunderstood pop music icons (e.g., "Be My Yoko Ono" and "Brian Wilson," which the Beach Boys mastermind used to perform an abbreviated version of live), literally and figuratively revisiting the past ("The Old Apartment," which the band performed on an episode of "Beverly Hills, 90210" in 1997), and fantasies of affluence ("If I Had a Million Dollars," which Page and co-vocalist/co-writer Ed Robertson would before too long).
In addition to the gold and platinum parent albums of such tracks, Barenaked Ladies recorded "Barenaked for the Holidays" – which featured traditional fare, covers, and original compositions such as Page's "Hanukkah Blessings" – in 2004 and a collection of all-original children's material called "Snacktime!" in 2008. It was shortly after the latter that Steven Page left the band. (As a result, it is BNL cofounder Ed Robertson's voice that is heard singing "The History of Everything" at the opening of "The Big Bang Theory.")
Page released his first solo album, "The Vanity Project," with friend and Duran Duran original member Stephen Duffy in 2005. Since leaving Barenaked Ladies in 2009, he has recorded three more: "Page One" (2010), "Heal Thyself Pt. 1: Instinct" (2016), and "Discipline: Heal Thyself, Pt. II" (2018).
Between those and BNL hits — he played eight songs from his old group during a 19-song 2019 set in Pennsylvania, according to the Morning Call — he will have plenty from which to select when he entertains fans from atop City Winery's main stage on Feb. 26.
Need weekend plans?
The best events in the city, delivered to your inbox