Concerts
This event has passed. Check out other things to do instead.
Fly in when former Byrd-man Roger McGuinn alights at Cary Hall
McGuinn performs tunes from his album "Sweet Memories" on June 8.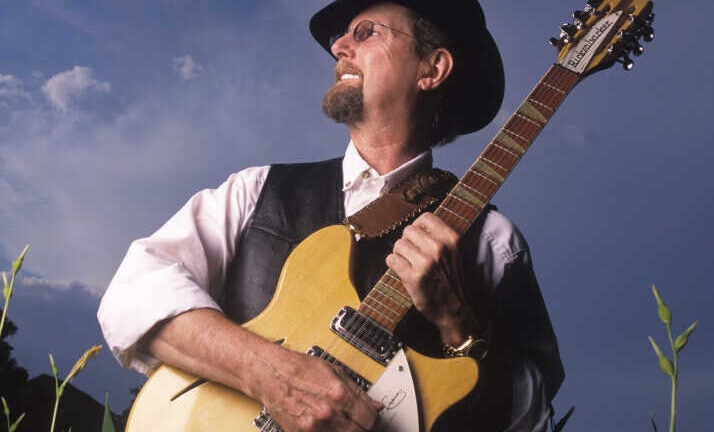 Long before guitarist-singer-composer Roger McGuinn became frontman for the hit-making band the Byrds ("Mr. Tambourine Man," "Turn! Turn! Turn!" and "Eight Miles High" all spent time in the Top 20), he was an in-demand guitar player for other performers. He was either on the stage or in the studio with the likes of Judy Collins, Bobby Darin, and the Chad Mitchell Trio.
But McGuinn was no overnight success. Before he had any thoughts of playing with those artists or helping to spearhead the folk-rock and country-rock genres with the Byrds, he was a teenager in Chicago, studying guitar and banjo at the Old Town School of Folk Music.
If you want to get to the crux of what formed McGuinn's love of and approach to music, you have to go back even earlier, to when he was listening to the rockabilly of Elvis Presley, Gene Vincent, and Carl Perkins on the radio. To when he got to see the folksinger-banjo picker-storyteller Bob Gibson in concert. To when he was turned on to Odetta, Big Bill Broonzy, and the Weavers.
He got his first guitar – a Harmony – for his 14th birthday. Years later he became mesmerized by the Rickenbacker 12-string George Harrison was playing in the movie "A Hard Day's Night," and eventually got one, which led to that big, jangly Byrds sound.
A piece of trivia: For their first hit, a cover of Dylan's "Mr. Tambourine Man," though McGuinn, David Crosby, and Gene Clark sang the glorious three-part harmonies, McGuinn was the only member of the band allowed to play an instrument on the track; the rest were handled by studio wizards the Wrecking Crew.
After myriad lineup changes and some groundbreaking albums (check out "The Notorious Byrd Brothers" and "Sweetheart of the Rodeo"), the Byrds split, and McGuinn headed out on the solo career he's still taking part in.
When he plays Cary Hall on June 8, he'll be featuring selections from his 2018 album "Sweet Memories," comprising new and old solo material, as well as some updated (and countrified) covers of "Mr. Tambourine Man," "Turn! Turn! Turn!" and "So You Want to Be a Rock 'n' Roll Star."
He'll also tell lots of stories about those songs and will pick just the right instrument to play while singing them, regularly switching among banjo, seven-string acoustic guitar, 12-string acoustic guitar and, of course, the mighty 12-string Rickenbacker electric.
Need weekend plans?
The best events in the city, delivered to your inbox