Concerts
This event has passed. Check out other things to do instead.
Hear the country sounds of Darius Rucker at Wang Theater
The one-time "Hootie" is set to play at the Wang on Feb. 24.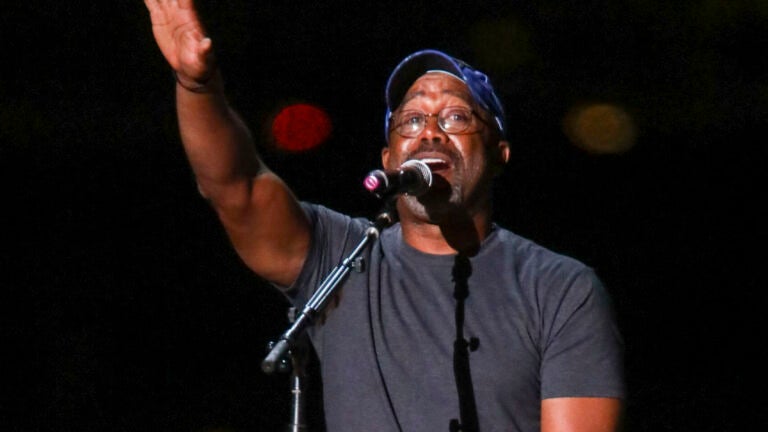 During his first touring show since 2019, Darius Rucker played the Mystic Lake Casino in Minnesota amphitheater clad in his typical t-shirt and ball cap.
The laid back nature of Rucker's performances, and perhaps his personality overall, may explain his success — twice — in the music world. If his name sounds familiar, it's because Rucker used to be the frontman for Hootie and the Blowfish, the popular 1990s rock group.
His affable presence "worked in transitioning him into country stardom even though the odds were against him," the Star Tribune wrote in a review of his performance this past June. "Who kicks off a career at age 42? Let alone a Black singer in a genre that hadn't had a Black star since Charley Pride."
Though the sound system may have been off, Rucker was able to connect with his band, the newspaper said.
"With its reggae lilt, 2020's 'Beers and Sunshine,' his ninth No. 1 country tune, brought a beachy mood to Mystic Lake," the Star Tribune reviewer wrote. "Three Hootie songs received rapturous response at their beginnings and ends — the uplifting 'Hold My Hand,' the jangly 'Only Wanna Be With You' with its dobro and banjo jam, and especially the gorgeously stripped down 'Let Her Cry.'"
Though he did throw it back during that performance, Rucker is also getting ready to release his seventh solo album, according to Page Six.
"With [the pandemic] going on in the world and with everything that's going on with my life, there was just a lot of stuff to write about," he told the publication. "So I thought it was time to put some new music out."
Darius Rucker is set to hit the Wang Theater stage at 8 p.m. on Feb. 24.
Need weekend plans?
The best events in the city, delivered to your inbox