Concerts
This event has passed. Check out other things to do instead.
Catch where baseball meets rock 'n' roll when 'Hot Stove Cool Music' returns to the Paradise
After two years of virtual shows, the annual benefit concert returns to in-person performances at the legendary Allston rock club.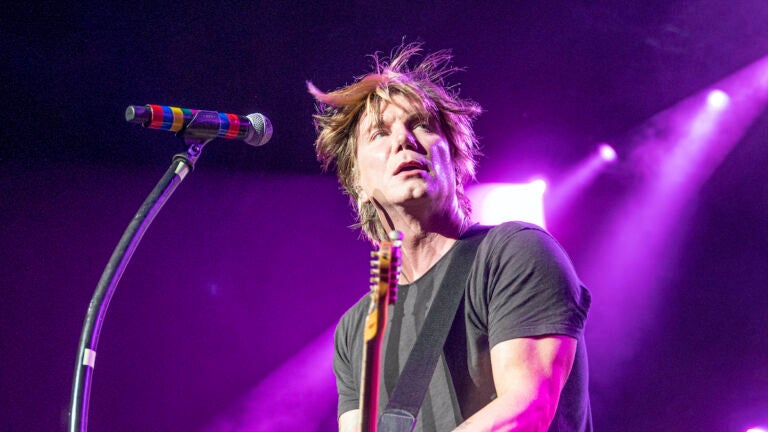 Play ball — err rock on!
For the first time since moving online due to the COVID-19 pandemic, the annual "Hot Stove Cool Music" concert benefitting the Foundation To Be Named Later, with the double play of music icons and baseball legends, is finally returning to a stage on April 30 at the Paradise Rock Club — yes, a real, live stage.
This year's show features Johnny Rzeznik, frontman of the Goo Goo Dolls, along with a lineup that boasts appearances by the FTBNL co-founder and former Red Sox vice president and general manager Theo Epstein and Baseball Hall of Fame journalist Peter Gammons, with the Boston All-Stars.
Also on the shortlist, according to FTBNL, are: "Boston Celtics owner Wyc Grousbeck with his band, French Lick, Letters to Cleo singer Kay Hanley and the all-star female group, Band of Their Own (BOTO), New York Yankee legend Bernie Williams, former Red Sox pitching star Bronson Arroyo, singer/songwriter Will Dailey, (and) vocalist Barrence Whitfield."
Other special guests will be announced in the coming weeks.
"After two years of virtual concerts that brought together some of music and baseball's biggest stars, the excitement to return to the Paradise for live music is lifting us all up," Gammons said in a statement. "We look forward to seeing everyone in April as we celebrate music, baseball and giving in true Hot Stove Cool Music fashion with an all-star lineup."
Launched in 2000, "Hot Stove Cool Music" is FTBNL's signature fundraiser, held in Boston every winter and in Chicago every summer. The concert has brought in over $13.5 million for the foundation since FTBNL was launched in 2005 by Epstein and his twin brother, Paul.
Funds raised at the show help fuel the foundation's work in assisting youth and families in underserved neighborhoods in Boston and Chicago, organizers say. In particular, ticket sales and live and silent auctions — with music memorabilia and entertainment experiences up for grabs — helps make possible the Peter Gammons College Scholarship, which has so far allowed 200 teens to attend the colleges of their choice.
Past headliners of the yearly show include Eddie Vedder, Buddy Guy, James Taylor, Cheap Trick, Common, Steven Tyler, the Dropkick Murphys, Tom Morello, Yo-Yo Ma, and Smashing Pumpkins, among other icons.
"There is nothing better than joining great people, to have as much fun as possible and do as much good as possible," Rzeznik said in a statement. "Supporting Theo & Paul's Foundation To Be Named Later and the kids they serve by playing music with this talented team will be a highlight for me."
Need weekend plans?
The best events in the city, delivered to your inbox