Concerts
Feel the nostalgia, or not, with Bikini Kill at Wang Theatre
The band, known for its feminist-centered punk rock, are to play on July 15.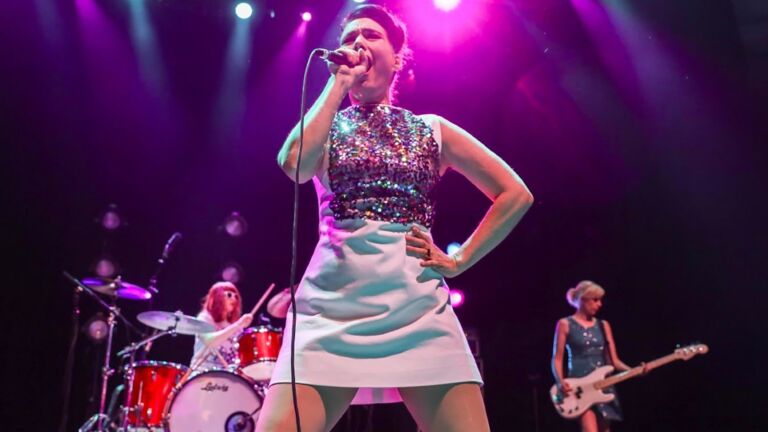 Back in the 1990s, when they were known for their brand of feminist punk, Bikini Kill rocked.
And apparently, though it's been decades, they still do.
Those who perhaps missed an opportunity to see them live in the past now have their chance — the band behind songs like "Rebel Girl" and "Carnival" are set to play Wang Theatre on July 15.
When they reunited in 2019, the band received positive reviews for their shows.
"Kathleen Hanna – Bikini Kill's singer – does ironic calisthenics to warm up," The Guardian wrote in a review when the band played O2 Academy Brixton in London. "Her voice is the clincher: there is nothing missing tonight from the singer's repertoire of thuggish cheerleader chants and snarled hollers, sung sections and punk gabble. If the term 'hairdryer treatment' were not already in use for football managers, it would be a suitably female-adjacent description of what it's like to stand in front of Hanna in full flow."
Rolling Stone also gave the band raves when they played the Palladium in Hollywood, the band's first show since they broke up in the 1990s.
"​​'This is like a time machine!'" Hanna panted to the crowd of 5,000, the magazine wrote at the time.
Perhaps there's an idea that a show like this would be a nostalgia-fest, but that isn't always the case, according to a review from Stereogum.
"Bikini Kill's music remains relevant; that much is obvious," the reviewer wrote. "It can feel like the only real difference between then and now is that now, you can comfortably wear a t-shirt that says 'THE FUTURE IS FEMALE' to your job or buy a Gucci gown with a uterus embroidered on it."
Regardless, there's no denying that Bikini Kill remain a major musical influence — just ask the (very young) members of the Linda Lindas, whose 10-year-old drummer sported a Bikini Kill t-shirt in their now-viral video for their song "Racist, Sexist Boy," from a concert filmed at Los Angeles Public Library. (It's a performance that also included a cover of BK's "Rebel Girl" — and scored the Linda Lindas a record deal.)
Need weekend plans?
The best events in the city, delivered to your inbox