Concerts
This event has passed. Check out other things to do instead.
Be part of the battling Big Band Blast in Beverly
The Cabot will host two Boston-area jazz orchestras on June 12.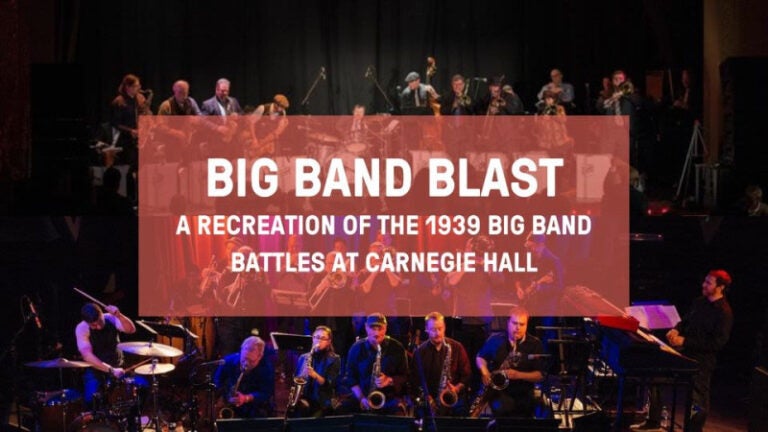 Clarinetist Benny Goodman had ushered in the Swing Era in 1935 with a band that included drummer Gene Krupa. Major chart entries such as "King Porter Stomp," "Goody Goody," and "Sing, Sing, Sing (With a Swing)" — one of my personal favorites — had led him to be dubbed the "King of Swing."
Trombonist Glenn Miller scored his first hits — "Little Brown Jug," "Moonlight Serenade," and "In the Mood" — in 1939 with the big band that he had assembled the previous year. His popularity was just taking off, but would skyrocket in 1940 with the mega-sellers "Tuxedo Junction" and "Pennsylvania 6-5000."
In October 1939, Carnegie Hall hosted a week of performances by orchestras led by the world's two biggest swingers.
On June 12, The Cabot will host what it describes as "a re-creation of the 1939 Big Band Battles at Carnegie Hall."
This time, the "competitors" will be Cape Anne Big Band and BT ALC Big Band.
Cape Anne Big Band is a 17-piece orchestra formed in 2010 by director/saxophonist Carlos Menezes, Jr. According to its website, CABB is
"Inspired by the sounds of jazz, swing, New Orleans street bands, soul, and rock n' roll [and] prides itself in a repertoire without horizon. CABB's repertoire always features a number of vocal and instrumental standards from the 'Golden era' of swing, pop tunes, and a number of show-tunes derived from popular films."
That CABB has sold out 23 dates at Rockport's Shalin Liu Performance Center is a testament its popularity in the area from which its members hail.
The big band founded by Brian Thomas and Alex Lee-Clark, meanwhile, describes its sound as "big band funk." The four albums and five singles that have appeared over the course of its 11-year existence have "encompass[ed] funk, soul, hip hop, Afrobeat, reggae and jazz styles."
So if you weren't in New York City more than 80 years ago to be transfixed by the back-and-forth between two jazz legends, this show is your opportunity to catch an updated, New England version of something similar.
Need weekend plans?
The best events in the city, delivered to your inbox