Breweries & Bars
Moxy Boston Downtown launches a Kowloon bar pop-up
Sip on tiki drinks from the Route 1 icon.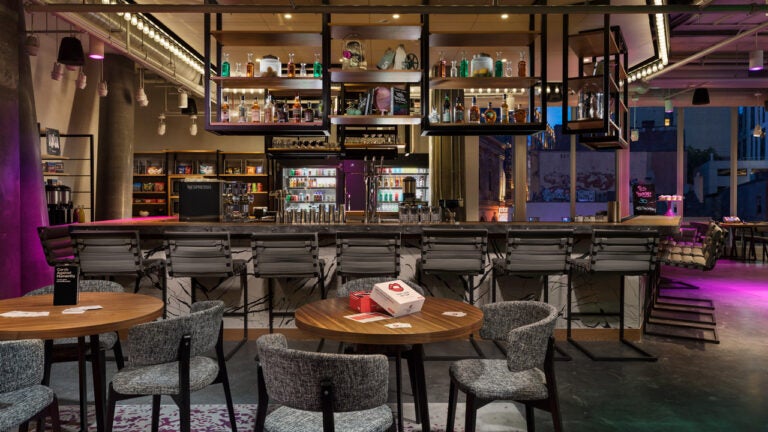 Friday and Saturday nights are now tiki nights at Moxy Boston Downtown's Bar Moxy. And the theater district hotel has selected the perfect partner in Route 1 icon, The Kowloon, whose tiki era vibe is not only kitsch and cool, but authentic.
"They've been going for 70 years, so they must be doing something right," said Vanessa Bitton, director of operations for the Lyons Group (Sonsie, Summer Shack, Scampo), which runs Bar Moxy.
The 2Faced Tiki Pop-Up takes over the ground floor of the hotel and offers champagne cocktails and tiki cocktails using Kowloon's past and present recipes.
"Last summer, the Kowloon had an outdoor Capricorn Champagne Bar — it was when everyone was figuring what to do during COVID," Bitton said. "It was hugely successful and really cool. We thought, we've got underused space here on our first floor. We have floor-to-ceiling windows, so we just hoped to catch the eye of passing foot traffic. We added a light-up bar that really grabs your attention."
If this pop-up proves successful, it may change venues and take over Moxy's 24th floor indoor-outdoor rooftop lounge and bar.
The 2face name comes from the combination of Kowloon's tiki drinks and those conceived for the champagne bar.
"We have the tiki totem god glasses with the comedy-tragedy masquerade mask," Bitton said.
As for what fills those glasses, well, there's Make Lemonade with limoncello, Cointreau, and Prosecco, topped with a lemon macaroon; Bubbly Colada with Prosecco, rum, pineapple juice, and coconut cream, topped with shaved coconut; and Watermelon Sugar with Prosecco, Absolut watermelon, lychee puree, cold-pressed watermelon, and lime juice, topped with watermelon Red Bull and cotton candy — "That's my favorite," she said. "Though it's probably far too much sugar than I should have."
Straight-up Veuve Cliquot or Prosecco are on offer, too.
Tiki cocktails will include a traditional Mai Tai, White Mai Tai, and Scorpion Bowl for One.
"I am sworn to secrecy on the Kowloon's Mai Tai recipes," Bitton said. "But it's the best one I've had in my life. The champagne is served with a mini cup of popcorn clipped to the side. Even that has a fun touch."
For food, the main Bar Moxy on the second floor will add some Kowloon specials, including pot stickers and the "famous Saugus wings," she said.
"This is out first full pop-up collaboration," she said. "We always intended doing things like this, but the hotel had only just opened when COVID hit. We're just letting it develop organically and we'll take it from there."
Need weekend plans?
The best events in the city, delivered to your inbox