Arts
This event has passed. Check out other things to do instead.
Watch circus artistry at Cirque Dreams Holidaze
All the colorful holiday nuttiness comes to the Shubert Theatre December 10 to 12.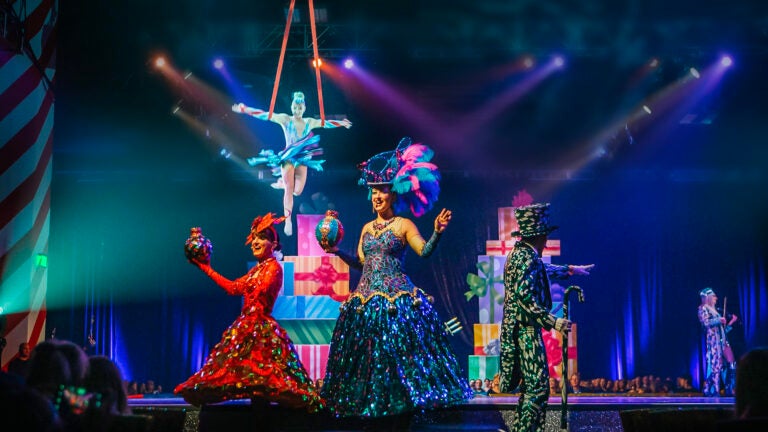 Fact: this time of year can be a circus. Just the term "holidaze" conjures up thoughts of the muted haze one moves into when overloaded with seasonal merriment. This year, toss the autopilot and embrace the nuttiness. From December 10 to 12, the Boch Center Shubert Theatre will be filled with fellow revelers ready to be captivated with the dazzling Cirque Dreams Holidaze.
Part Broadway musical, part family Christmas spectacular, this brainchild of artistic director Neil Goldberg turns up the lights on the holiday season with a high-energy performance full of charm and sparkle. This winter wonderland is full of 300 imaginative costumes — ballerinas, nutcrackers, snowmen, penguins, reindeer, ethereal aerialists, gingerbread people, carolers and colossal ornaments — all flying, balancing, juggling and stretching the imaginations.
Let the music move you, as Broadway singers perform original music along with new twists on seasonal favorites, such as "Deck The Halls," "Winter Wonderland," and "Jingle Bell Rock."
The Boston Globe's Don Aucoin, in 2016, wrote the performance held an entrancing power over its audience, with "full-on sensory immersion."
"You'd probably want to throw out the welcome mat for 'Cirque Dreams Holidaze' at any time of year because of the dizzying level of circus artistry on display," Aucoin wrote. "The two-hour show features 30 performers who hail from the US, Japan, Ethiopia, Spain, Russia, Ukraine, Latvia, China, and Mongolia. Their talent? Off the charts. The degree of difficulty for many of their feats? Sky-high. Their execution? Flawless."
Showtimes are 7:30 p.m. on December 10; 11 a.m., 3 p.m., and 7:30 p.m. on December 11; and 1 p.m. and 5 p.m. on December 12.
Need weekend plans?
The best events in the city, delivered to your inbox