Sports News
Tennis great Chris Evert shares ovarian cancer diagnosis 'as a way to help others'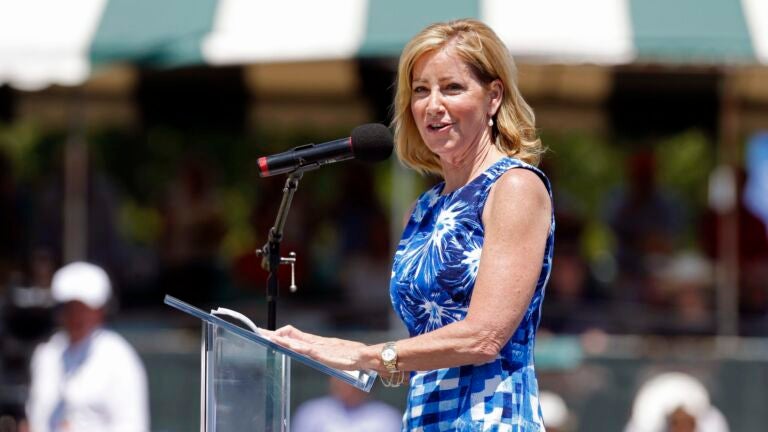 Support poured in for Chris Evert after the 18-time Grand Slam champion revealed that she has been diagnosed with Stage 1 ovarian cancer on Friday night.
Evert shared details of her diagnosis, her family history with the disease and her next steps and outlook in an article co-written with Chris McKendry, a friend and colleague at ESPN, for whom both cover tennis.
"I wanted to share my stage 1 ovarian cancer diagnosis and the story behind it as a way to help others," Evert, 67, wrote in a message posted to Twitter. "I feel very lucky that they caught it early and expect positive results from my chemo plan."
Evert's younger sister, Jeanne, who was also a tennis player, died of ovarian cancer in 2020 at age 62. She was diagnosed only after the disease was in its late stages and had spread.
Early-stage ovarian cancer is virtually impossible to detect because it presents no symptoms in its initial stages. But because of her sister, Evert was aware of its insidious nature and her own risk of developing it.
https://t.co/LVUsO3QqfD pic.twitter.com/B8WwKxsFmc

— Chris Evert (@ChrissieEvert) January 15, 2022
As a precaution, the ESPN piece explained, Evert underwent a preventive hysterectomy in December. That procedure ultimately detected early-stage ovarian cancer when a pathology report revealed a malignant tumor in her fallopian tube.
Cancer has not been detected elsewhere in her body, according to the ESPN article, which stated that Evert began chemotherapy this week.
"When I go into chemo, [Jeanne] is my inspiration," Evert says in the ESPN piece. "I'll be thinking of her. And she'll get me through it."
Evert explained she wanted to share her diagnosis and the story behind it promptly and fully in hopes of making other women aware of the importance of knowing their family history and taking advantage of medical tests that can flag susceptibility to the ovarian and other cancers via markers such as a BRCA1 gene.
In Evert's case, her family was notified in October, four years after Jeanne's diagnosis, that more sophisticated genetic testing indicated that the variant in their late sister's BRCA1 gene proved to be pathogenic, indicated an increased risk to family members of developing certain cancers.
Evert responded at once, sending a blood sample for genetic testing. It revealed she, too, had a pathogenic variant of the gene. As a result, she underwent what she viewed as a preventive hysterectomy in early December.
It took a subsequent surgery, following by a three-day wait, to learn if the cancer that was detected had spread.
Following chemotherapy, the ESPN article stated, there is a 90% or better chance that her cancer never returns.
Evert decided to share her deeply personal story because of the lethal nature of the disease and her belief that "any information is power."
The ESPN piece noted the importance of staying current with medical exams, knowing one's family history, having a good relationship with a gynecologist and knowing the risk factors of ovarian cancer, which include endometriosis, history of breast cancer and infertility.
"Be your own advocate," she said. "Know your family's history. Have total awareness of your body, follow your gut and be aware of changes. Don't try to be a crusader and think this will pass."
In the wake of the news, fellow players, colleagues, journalists and friends in the entertainment industry reached out to voice their support, good wishes and faith in her strength.
"We are all with you and behind you Chrissie, you are a true champion and I have no doubt you will conquer this nasty opponent with nary a sweat! Xoxox" Martina Navratilova, Evert's greatest rival and now close friend, wrote on Twitter.
Billie Jean King, a career-long mentor and friend, sent love and healing thoughts, adding, "You are one of a kind, and there are so many who love you."
Current players such as Madison Keys, Jennifer Brady, Paula Badosa also voiced their support on social media.
For the two-week duration of the Australian Open, which gets underway in Melbourne Monday, Evert said that she will occasionally offer occasional commentary and analysis from her home in South Florida while she undergoes further treatment.
Get the latest Boston sports news
Receive updates on your favorite Boston teams, straight from our newsroom to your inbox.