Patriots
NFL free agent tracker: Dolphins' trade for Tyreek Hill a major blow to Patriots
Here's the latest Patriots news during the NFL free agency period.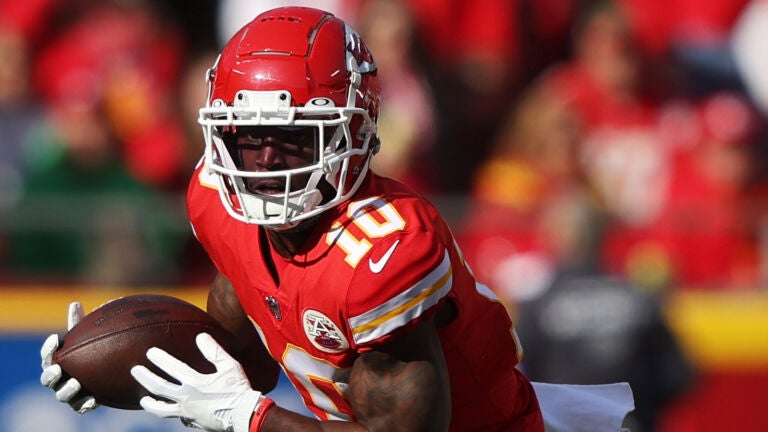 The Patriots haven't done a whole lot during the 2022 free-agent period in terms of splashy signings a year after shelling out record numbers of money.
In fact, they've garnered more headlines for the players they've lost — J.C. Jackson, Ted Karras, Shaq Mason and Chase Winovich — than players they've signed.
Now, New England's division opponents are making big plays to beef up this offseason.
Here's the latest news.
Wednesday
12:50 p.m.: Dolphins nab Tyreek Hill in trade
Miami's offense just got a whole lot harder to stop.
The Dolphins have reportedly finalized a trade to bring speedy receiver Tyreek Hill over from the Kansas City Chiefs for a slew of draft picks, including first and second-round picks this season.
Hill now joins Jaylen Waddle to create what might be the fastest 1-2 punch at wide receiver in the NFL to help Tua Tagovailoa in coach Mike McDaniel's new offense.
On top of that, the Dolphins also will be shoring up their offensive line with the addition of star left tackle Terron Armstead, who signed a five-year deal worth about $75 million in total.
The Patriots lost both contests to the division-rival Dolphins in 2021. Now, things are about to get even tougher when they face Miami.
11:11 a.m.: Chiefs reportedly shopping Tyreek Hill; Dolphins, Jets vying for star WR
In one of the most unexpected developments of this offseason, the Kansas City Chiefs are apparently looking to move on from their most explosive offensive weapon. And the Patriots might be about to suffer the consequences of that potential move.
NFL Network's Ian Rapoport reports the Chiefs have given Tyreek Hill permission to seek a trade after contract extension talks stalled out for the ultra-fast wide receiver.
Hill is entering the final season of a three-year, $54 million contract extension and could get a substantial payday with a new team. He has continuously been one of the most dangerous players in football, racking up four 1,000-yard seasons in six seasons and still being arguably the NFL's fastest player.
ESPN's Adam Schefter further reports two Patriots' AFC East rivals — the Miami Dolphins and New York Jets — are vying for Hill's services.
New England itself is reportedly in the trade market for a receiver, according to ESPN's Jeremy Fowler, but it seems unlikely the Patriots would trade for Hill and then pay big money for him when they have declined to do so for every other top-of-the-market player this offseason. Furthermore, one wonders if the fallout from Antonio Brown's saga might influence their willingness to pursue a player with Hill's alleged history of domestic violence.
Still, seeing Hill land on a team the Patriots have to play twice in a season would be a tremendous blow.
Tuesday
10:31 a.m.: Fournette chooses Brady, Buccaneers over Patriots
One of Monday's more intriguing Patriots-related storylines has come and gone with a predictable conclusion.
After visiting New England brass on Monday, running back Leonard Fournette has decided to stay with the Tampa Bay Buccaneers on a three-year, $21 million deal. He'll be part of a mass contingent of players returning to the Bucs for could be Tom Brady's last hurrah in the NFL in 2022.
Fournette's trip to Foxborough always felt like more of an exploratory visit than a serious pursuit with Damien Harris and Rhamondre Stevenson under contract for 2022 at a much cheaper rate than what Fournette will be making.
But meeting with him in the first place might signal some future changes at running back with Harris set to become a free agent after this season. Look for the Patriots to potentially bolster that position group before the offseason is over — just not with a more expensive player like Fournette.
Monday
1:43 p.m.: Colts reportedly trading for Matt Ryan
The NFL's chaotic quarterback offseason continues with yet another trade bringing a notable passer to the AFC.
After shipping Carson Wentz away to the Washington Commanders, the Indianapolis Colts are reportedly finalizing a trade with Atlanta for Matt Ryan in exchange for a third-round pick.
Ryan, 37, has long been among the NFL's most prolific passers but failed to throw for at least 4,000 yards for the first time since 2010 last year as his Falcons stumbled to a 7-10 record.
Still, his presence seemingly upgrades the Colts' quarterback position in the short term after Wentz struggled in his one season in Indianapolis. The Patriots will face Ryan and the Colts, who defeated New England in Week 15 last season, in 2022.
9:37 a.m.: Trent Brown back in New England; RFA Bates visiting
The Patriots' offensive line just got a big boost on Monday morning. Very big, actually.
NFL Network's Ian Rapoport tweeted the team re-signed mountainous right tackle Trent Brown to a two-year deal in a key move to shore up the offensive line.
Brown returned to the Patriots last season after his Super Bowl-winning stint in Foxborough back in 2018 and struggled with injuries to start the year. But when he was in the lineup, the offense dominated opponents on the ground.
Bringing him back gets the offensive line closer to completion with the unit needing just another starting guard and some depth. That guard could come in the form of Bills restricted free agent guard Ryan Bates, who is in town for a visit with Patriots brass.
The former undrafted free agent played just 294 offensive snaps last year but was offered a "right of first refusal" tender by Buffalo, meaning teams can sign Bates to offer sheets the Bills can match. Otherwise, he can go to another team without costing Buffalo draft compensation.
Bates already has visits lined up with the Minnesota Vikings and Chicago Bears, showing he's an intriguing name in league circles. Though the Patriots haven't spent much on outside free agents so far this offseason and might find Buffalo less-than-willing to let them pilfer talent, it might be worth a short.
8:30 a.m.: Patriots hosting CB Malcolm Butler, RB Leonard Fournette for visits
With most of the biggest free-agent names off the board, New England has started to dive into some low-cost options to fill out their roster.
One of them is well-known to Patriots fans: the team reportedly will host ex-Patriots cornerback and former Super Bowl hero Malcolm Butler for a tryout Monday morning, according to Boston Globe's Ben Volin.
Butler, who picked off Russell Wilson at the goal line to seal New England's dramatic win in Super Bowl XLIX, is eyeing a comeback to football after retiring last season due to personal reasons.
Though the veteran corner didn't leave New England on the best of terms due to his high-profile benching before Super Bowl LII, he knows the Patriots' system and would be a clear boost to the cornerback room if the two sides can get past that awkwardness.
Along with Butler, the team is also bringing in free-agent running back Leonard Fournette for a visit. The former No. 4 overall pick in 2017 has spent his previous two seasons with Tom Brady in Tampa Bay, rushing for 1,179 yards and 14 touchdowns and working his way into a starting role last year.
The Patriots already have Damien Harris and Rhamondre Stevenson in place, making the addition of Fournette seem unnecessary. But perhaps Bill Belichick, who's long had interest in Fournette, might have something up his sleeve there.
Saturday
12:15 p.m.: Patriots restructure Henry Anderson's contract
The Patriots cleared some cap space on Saturday.
Defensive tackle Henry Anderson has restructured his contract, ESPN's Field Yates reported Saturday. By restructuring his deal, Anderson's base salary will cut in half for the 2022 season, going from $2.5 million to $1.25 million. After cutting Anderson's base salary in half, the Patriots have $12.4 million in cap space, via salary cap guru Miguel Benzan.
Anderson was one of the many players the Patriots signed in their free agency frenzy, signing a two-year, $7 million deal. He only played in four games last season after tearing his pec in Week 4, ending his season. He had three total tackles in those four games.
Friday
12:45 p.m.: Patriots, Bentley closing in on deal
One of the Patriots' big bruising linebackers could be back in Foxborough next year.
ESPN's Mike Reiss tweeted the Patriots are working on re-signing free agent linebacker Ja'Whaun Bentley, according to sources.
Bentley was one of the defense's steadiest contributors in 2022, starting 16 games at linebacker alongside veteran Dont'a Hightower. He led New England in tackles last season with 108 and added three force fumbles and two passes defended to his ledger.
Bringing Bentley back ensures the Patriots will have at least one larger off-ball linebacker to offset the lighter, speedier players currently on the roster. It also could mean Hightower is increasingly less likely to return, given how tight the team has kept its budget thus far.
11:46 a.m.: Bears out on Ogunjobi after failed physical
This isn't Patriots-related necessarily, but you don't see this every day.
After agreeing to contract terms during the legal tampering period earlier this week, the Chicago Bears now reportedly will not sign defensive lineman Larry Ogunjobi after he failed a physical.
Ogunjobi suffered a season-ending injury to his right foot while playing for the Bengals in the wild-card round in January, and it seems the injury hasn't fully healed as of yet.
It just goes to show that the deals are never done until all the "i"s are dotted and "t"s are crossed.
Thursday
2:03 p.m.: Patriots unlikely to sign La'El Collins
If you were hoping New England would find a way to bring Dallas offensive lineman La'El Collins to Foxborough, it might be time to strike him off the list.
Boston Herald reporter Andrew Callahan tweeted Thursday the Patriots are "not expected" to sign the newly released Collins, via a source. According to the tweet, New England's odds of signing Collins to a free-agent deal are "zero. None."
Callahan had previously reported the Patriots were kicking the tires on trading for Collins, whom the Cowboys had pledged either to trade or release this week. But the two sides apparently couldn't agree on a price, and New England is highly unlikely to pay what Collins will command on the open market.
1:14 p.m.: Patriots sign RB/WR Ty Montgomery
New England might have just gotten some insurance for James White.
NFL insider Josina Anderson reports the team reportedly has agreed to terms with running back/wide receiver hybrid Ty Montgomery on a two-year deal that could be worth up to $4 million.
Montgomery, a seven-year veteran, has played for four teams, starting with the Packers in 2015. He has totaled 1,180 rushing yards on 258 carries and has 139 catches for 1,104 yards in his career.
His ability to catch the ball out of the backfield makes him an intriguing third-down option with White coming off of hip surgery and Brandon Bolden leaving to Las Vegas. Montgomery also returns kicks and provides special teams value.
Wednesday
9:26 a.m.: Patriots reportedly agree to sign cornerback Terrance Mitchell
With a new need at cornerback, the Patriots have reportedly agreed to sign cornerback Terrance Mitchell to a one-year deal worth $3 million, according to ESPN's Adam Schefter.
Mitchell, 29, played for the Texans in 2021, making 60 tackles, forcing three fumbles, and recording 10 passes defended (with one interception). He was released by Houston earlier in March. Originally a seventh-round pick in 2014 by the Cowboys, the Patriots would be Mitchell's sixth NFL team.
According to NESN's Zack Cox, Mitchell has played mostly as a perimeter cornerback. Over the last two seasons, he lined up on the outside 92 percent of the snaps that he played.
Mitchell will help fill the void left by J.C. Jackson, though obviously he won't be a like-for-like switch with the 2021 Pro Bowler.
Tuesday
5:11 p.m.: Patriots trade Shaq Mason to Buccaneers
The Patriots reportedly traded Shaq Mason to the Buccaneers on Tuesday in exchange for a fifth-round pick, according to the Boston Herald's Andrew Callahan.
The trade freed up $7 million in cap space for the Patriots, who reportedly have had conversations about acquiring Cowboys offensive lineman La'El Collins but found the cost too expensive prior to trading Mason (it remains to be seen if that calculus changes now).
The return on Mason seemed to catch many off-guard — PFF ranked him the fourth-best guard in the NFL last season.
Mason — who was a fourth-round pick in 2015 and won two Super Bowls with the Patriots — played and started 15 games last season. The Buccaneers reportedly will absorb the remaining $18 million on his contract.
The Patriots now need to replace both of their starting guards after Ted Karras signed with the Bengals in free agency. Karras inked a three-year deal worth $18 million.
1:39 p.m.: RB James White returning to New England
Another beloved veteran is back.
NFL Network's Tom Pelissero reported Tuesday the team has preliminarily agreed to terms with running back James White on a two-year, $2.5 million deal.
The 30-year-old White returns to Foxborough after suffering a season-ending hip injury in New England's loss to the New Orleans Saints in Week 3 last year. Before that, he appeared to be back to his old productive self after a down 2020, totaling 132 yards (94 receiving, 38 rushing) and a touchdown on the ground before going down against the Saints.
The low amount of guaranteed money (just $500,000) on the deal likely gives the Patriots flexibility to cut ties with the eight-veteran if he's not physically up to standard this fall.
8:45 a.m.: Patriots get another LB in Chase Winovich trade
Surprise!
The Patriots have traded outside linebacker Chase Winovich for Cleveland linebacker Mack Wilson, according to NFL Network's Tom Pelissero.
Winovich, a third-round pick of New England's in 2019, was headed into the last year of his rookie contract and likely would've been on the roster bubble. He had 11 career sacks with the Patriots but didn't register one last season.
New England gets back an off-ball linebacker in Wilson who adds a body at a position of need. The third-round linebacker, who started 28 games for the Browns, is also a former Alabama Crimson Tide product.
Monday
6:31 p.m.: J.C. Jackson signs with Chargers
Star cornerback J.C. Jackson won't be back in Foxborough next year.
Jackson agreed to a five-year deal with the Chargers on Monday reportedly worth $82.5 million. The deal includes $3 million in salary in 2022, as well as a $25 million signing bonus. His $12 million salary in 2023 is fully guaranteed for a total of $40 million. Jackson will reportedly get $54 million in his first three seasons.
"Love LA. Love Cali," Jackson told NBC Sports Boston's Phil Perry. "Not only that, the defense, I think I can add some value to that defense. That's a stacked group, and imagine me [there]… It's going to be scary."
Jackson told Perry the Patriots made him an offer around the combine and during the 2021 season, but he and his agent opted to remain available and test the market. The resulting deal was a good one.
"[New England] was a great experience," Jackson told Perry. "Learned a lot. Got a chance to win a Super Bowl. Got to play with great players, play for one of the best coaches ever in Coach Belichick. I want to thank them for everything they did for me."
The Patriots will now need to replace a cornerback who made a Pro Bowl this season and who expressed a desire to remain in Foxborough for a while at one point during the year.
"I love playing for the New England Patriots, playing under Coach Belichick man," Jackson said in November. "I have grown as a football player since I've been here, I would say.
"I love it here man. It's a place that brought me in and gave me a chance from day one, so I would love to be a New England Patriot for a long time."
Jackson finished last season with eight interceptions and a touchdown. He led the league in passes defended with 23.
3:54 p.m.: Colts keeping TE Alie-Cox
As the Patriots largely stand pat in free agency, several of their AFC opponents keep making moves.
The Indianapolis Colts will reportedly bring back tight end Mo Alie-Cox on a three-year, $42 million deal, according to multiple sources.
The 6-foot-6, 260-pound tight end has just over 700 yards receiving and six touchdowns over the last two seasons but figures to have a larger role with Colts mainstay Jack Doyle announcing his retirement before free agency.
3:37 p.m.: Patriots reportedly probing WR Valdez-Scantling
With several free-agent receivers already off the board, Marquez Valdez-Scantling could be next in line for a big payday. Could the Patriots be the team to give it to him?
CLNS Media's Evan Lazar tweeted Monday afternoon the Patriots have had "preliminary" talks with the Packers receiver's camp, though there is no agreement imminent.
Lazar adds the 6-foot-4 speedster could see a contract north of $12 million annually, especially after Christian Kirk broke the bank with a four-year, $72 million deal with the Jaguars.
2:41 p.m.: Jaguars snap up WR Kirk
Jacksonville is spending like last year's Patriots, apparently.
The Jaguars reportedly are signing free-agent receiver Christian Kirk to a massive four-year, $72 million contract that has a maximum value of $84 million, giving last season's No. 1 pick Trevor Lawrence the first of several potential upgrades on offense.
While the contract guarantees aren't yet known, that is an incredible number for a player with just four 100-yard games in his career.
After a tumultuous 2021 that included a 40-point beatdown in Week 17 at the hands of the Patriots, the Jaguars have already agreed to terms with four free agents at the opening of free agency according to sources: Kirk, guard Brandon Scherff, DT Foley Fatukasi and LB Foye Oluokun.
2:23 p.m.: Jets reportedly re-signing WR Berrios
The New York Jets are planning to keep wide receiver Braxton Berrios in the fold with a two-year, $12 million pact, according to ESPN's Adam Schefter.
Berrios, a former sixth-round pick of the Patriots in 2018, has 940 receiving yards and five touchdowns in his three seasons with the Jets and figures to be a security blanket for young quarterback Zach Wilson.
2:04 p.m.: Patriots expected to bring back special teamer Matthew Slater
ESPN's Field Yates reported the Patriots will likely bring back Pro-Bowl special teams ace Matthew Slater for a 15th NFL season.
Slater, who has played in New England his entire career, has made 10 Pro Bowls and earned a First-Team All-Pro nod as Bill Belichick's No. 1 special teams player.
Along with Devin McCourty, whom the Patriots are also reportedly retaining on a one-year deal, Slater figures to return as one of the team's most important leaders and veteran contributors.
1:43 p.m.: Patriots lose Ted Karras to Bengals
The first big Patriots news of the day wasn't about who they added. It was about who they lost.
The Bengals reportedly agreed to a three-year, $18 million deal with interior offensive lineman Tedd Karras, which will raise big questions regarding the state of the Patriots' offensive line.
Karras played in all 17 games for New England last season and started 13 contests, securing the left guard position after injuries and shaky play along the offense's left side. He had returned to Foxborough before the 2021 season after briefly departing New England to play with the Miami Dolphins.
1:22 p.m.: Bears adding DT Ojungobi
The first free-agent signing of the Ryan Poles era in Chicago wasn't on offense to build around Justin Fields, as many expected. It was strengthening the defensive front, with the Bears agreeing to a three-year, $40 million contract with former Bengals defensive tackle Larry Ogunjobi.
The five-year pro, who was a third-round pick of the Browns in 2017, is coming off a foot injury that ended his season in the Wild-card Round earlier this year. Before that, though, Ogunjobi racked up seven sacks for the Super Bowl runner-up Bengals in 2021 and has been durable, missing just two games in the last four seasons.
12:58 p.m.: Former No. 2 pick Trubisky chooses Pittsburgh
The Steelers have reportedly reached a two-year deal with former Chicago Bears and Buffalo Bills quarterback Mitchell Trubisky, according to multiple sources.
Trubisky spent 2021 as the Bills' backup to Josh Allen after four years with the Bears, who made him the No. 2 overall pick in the 2017 NFL Draft. He heads to Pittsburgh as the expected starter to replace the retired Ben Roethlisberger.
Ian Rapoport suggested the Steelers had been inquiring about trading for former Patriots quarterback Jimmy Garoppolo but settled on Trubisky in the end.
New England will face Trubisky and the Steelers this coming season.
12:46 p.m.: Allen Robinson reuniting with Jaguars?
Pro Football Focus's Brad Spielberger hinted Chicago Bears receiver Allen Robinson could officially be heading back to the team that drafted him: the Jacksonville Jaguars.
Robinson, who has been with the Bears since 2018, spent his first four seasons with Jacksonville as a second-round pick in 2014. He would team up with 2021 No. 1 pick Trevor Lawrence, which would be an upgrade from many of the quarterbacks he's played for in the past.
If true, it would take one of the Patriots' top free-agent receiver targets off the table.
12:31 p.m.: Patriots to pursue big-play receiver Valdez-Scantling?
Via Mark Daniels of the Providence Journal, New England might have its eye on a major deep-threat receiver to help out Mac Jones.
A source reportedly told Daniels the Patriots could pursue Packers receiver Marquez Valdez-Scantling as a potential replacement Nelson Agholor. A 6-foot-4 burner who runs a sub-4.4. 40, Valdez-Scantling has averaged 17.5 yards per reception since coming into the league in 2018 and has been a massive big-play maker with Aaron Rodgers.
Though he has struggled with drops in his career, he is expected to command northward of $10 million per season in free agency.
12:28 p.m.: Landry cut by Browns
The Cleveland Browns have reportedly released Jarvis Landry after the two sides were unable to find a trade partner for the veteran wide receiver.
Landry has recently been linked to the Patriots as a possible signing in free agency and should have several suitors across the league.
12:17 p.m.: Dolphins, RB Edmonds agree to deal
One of the Patriots' division rivals is getting busy in free agency after the start of the "legal" tampering period.
The Miami Dolphins have reportedly agreed to a two-year, $16.6 million contract with former Arizona Cardinals running back Chase Edmonds. The all-purpose back had 591 yards on 116 carries last season behind James Conner and added 43 catches for 311 yards.
9:59 a.m.: Starting RG Mason expected to remain with Patriots
According to the Boston Herald's Andrew Callahan, New England right guard Shaq Mason has garnered some interest on the trade market but is expected to stick with the Patriots at the moment.
Mason has started 98 games for the Patriots since coming into the league as a fourth-round pick in 2015 and graded out as the NFL's fourth-best guard overall last season, via Pro Football Focus.
He comes into this season with two years left on a five-year, $45 million extension and would save significant money against the salary cap if he's traded. However, he's been one of the offense's most dependable players, and the unit can't afford the turmoil of losing him without sufficient replacements in mind.
Over the Cap also suggests the Patriots would save a bit more money and absorb slightly less dead cap if they traded him after June 1. So this storyline might not be over yet.
9:36 a.m.: Chargers, Raiders pursuing J.C. Jackson
The odds of J.C. Jackson returning to the Patriots aren't looking good.
CBS NFL insider Jonathan Jones reported Monday morning the Los Angeles Chargers and Las Vegas Raiders are likely to be key players in Jackson's free-agency bidding war, according to sources. Jones adds the All-Pro cornerback is about "to get paid," which likely means "paid more than the Patriots will be willing to pay."
The Chargers seem to be gearing up for a Super Bowl run on Justin Herbert's rookie deal, trading for star pass-rusher Khalil Mack and reportedly having interest in Jackson for weeks. Adding the cornerback would add to a formidable defensive unit.
Raiders head coach/former Patriots offensive coordinator Josh McDaniels, meanwhile, has seen what Jackson can do up close for four years in Foxborough and could sway him on joining him in Las Vegas.
8:54 a.m.: Adams refuses franchise tag
Green Bay Packers star receiver Davante Adams has reportedly informed the Packers he doesn't intend to play on the franchise tag in 2022.
The Packers placed the $20 million franchise tag on Adams ahead of the March 8 deadline to keep the All-Pro receiver from reaching free agency despite the two sides apparently being "far apart" a long-term deal.
If Adams and the team can't reach an agreement on a contract, he will enter the 2022 season on the franchise tag. This could produce an off-season holdout as Adams does not have to attend team activities until he signs the tag.
The dispute sours the good vibes brought on by Aaron Rodgers' decision to return to Green Bay on a four-year, $200 million extension.
8:43 a.m.: Hoyer staying with Patriots
New England got things started Monday with a couple of under-the-radar moves. The team reportedly re-signed veteran backup quarterback Brian Hoyer on a two-year, $4 million deal and brought back center/guard James Ferentz, according to the Boston Globe's Jim McBride.
Hoyer, who has played seven of his 13 NFL seasons with the Patriots, should prove instrumental in mentoring Mac Jones through an important second season. In fact, one could argue the veteran backup is essentially a quarterback's coach at this point, a familiar voice Jones will need in order to offset the changes in the offensive coaching room.
Ferentz offers insurance along the interior of the offensive line behind center David Andrews and the guard positions. That's notable as Ted Karras, who started 16 games at left guard for New England last year, has not yet re-signed with the team. Furthermore, the Patriots might need Ferentz to play more at guard if the Patriots have to bump Michael Onwenu out to right tackle to cover the potential loss of Trent Brown to free agency.
Sunday
Patriots re-sign McCourty, Meyers
The Patriots reportedly brought back two key pieces over the weekend, agreeing to one-year deals with safety Devin McCourty and wide receiver Jakobi Meyers.

McCourty, whose presence on the back end of the defense will now be especially important assuming J.C. Jackson doesn't return to the Patriots, inked a one-year, $9 million contract for his age-35 season. He's played in New England for each of his 13 NFL seasons.

Meanwhile, the Patriots offered a second-round tender for the restricted free agent Meyers, who led all the team's receivers in targets last year with 126. The tender would pay Meyers a projected $3.98 million for 2022.
As with Jackson last season, another team could potentially offer Meyers a deal that the Patriots would have to match in order to keep the fourth-year receiver. However, if the Patriots elected to let another team steal Meyers, the signing team would have to send a second-round pick back to New England. With the strength of this year's draft class at receiver, it's highly unlikely a team would make such a move for the former undrafted free agent.
Report: Bevy of Pats likely to leave town
Though McCourty and Meyers look to be staying with New England, ESPN's Patriots beat reporter Mike Reiss says he expects several other New England free agents to be playing for other teams soon.
Reiss wrote Sunday All-Pro cornerback J.C. Jackson and longtime linebacker Dont'a Hightower were the players most likely to be gone when free agency opens this week. Jackson is in line for a large payday after two straight standout seasons with New England, including one as the team's top cornerback in 2021. The Patriots elected not to use the $17.3 million franchise tag on him and will allow him to test free agency, where he could command more than $15 million per year.
Hightower, who just turned 32 years old, might be phased out of the Patriots' plans after his age began to show at the end of last season. Reiss mentions the Steelers, who had an interest in him in 2017 and currently employ ex-Patriots linebackers coach Brian Flores, as a team that could scoop him up.
Other key losses Reiss suggests could be coming: right tackle Trent Brown, starting linebacker Ja'Whaun Bentley, and linebacker Jamie Collins among those likely to leave.
Brady un-retires, will reportedly return to Bucs
After saying "never say never" about a possible NFL return, the future Hall-of-Fame quarterback finally said what many have been expecting for some time: he's coming back to football.
Via his Twitter account, Brady announced he will indeed play an NFL season at age 45, saying he's got "unfinished business" to attend to.
"These past two months I've realized my place is still on the field and not in the stands," Brady wrote. "That time will come. But it's not now. I love my teammates, and I love my supportive family. They make it all possible. I'm coming back for my 23rd season in Tampa."
Speculation was rampant that Brady might un-retire and force himself to another team, but his specific acknowledgment of Tampa Bay seemed to allay those concerns for the present. Buccaneers head coach Bruce Arians certainly believes Brady will be back in Tampa, reacting with "total excitement" according to the NFL Network's Ian Rapaport.
Sign up for Patriots updates🏈
Get breaking news and analysis delivered to your inbox during football season.