Patriots
What NFL experts are saying about this week's Patriots-Dolphins game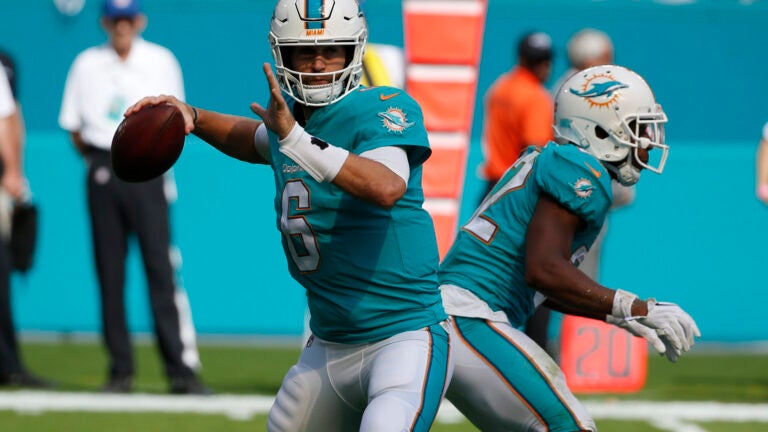 COMMENTARY
Everybody stinks.
Miami. Buffalo. Denver. Oakland. Tampa Bay. Houston.
Even Kansas City, the team that embarrassed the defending champs on their own home turf on Opening Night, has collapsed into an also-ran conundrum.
It seems only the Pittsburgh Steelers can even think to match up against the New England Patriots, a showdown happening only six days after this weekend's rematch — only a fortnight after the first bout — against the Dolphins in South Beach. Yet, Pittsburgh has played more David Copperfield than Bear Bryant in recent weeks, eking past lesser opponents with late field goals that have allowed them to keep pace with the 10-2 Patriots atop the AFC.
There's only one regular season game left that really matters. It happens next week.
But first, the Dolphins. Again.
This week's picks:
Greg Cote, Miami Herald: Patriots 31, Dolphins 23. "I'm no slave to trends, but some you simply cannot ignore. They are like a car in a ditch. You can't help but slow down and rubberneck. One is that few teams in recent history are better in prime time than New England, and few are worse than Miami. Patriots are on a 16-3 run under the lights while Dolphins are on a 4-14 stumble — including 0-3 this season by a combined score of 112-40. Fine-tune that trend even more and find Fins are 1-7 in past eight Monday appearances. That, along with these teams' overall disparity and a guy named Tom Brady, is why Miami is the week's biggest underdog. And there's this: Jay Cutler in three career starts vs. NE is 0-3 with five interceptions in losses by 34, 29 and 28 points. These are reasons why the hope borne of last week's 35-9 Dolphins rout of Denver will prove fleeting. But now here are reasons why some hope still exists. Dolphins have beaten Pats three of the past four meetings in Miami. Brady is below his overall career averages in most every category vs. Miami — merely quite good, vs. otherworldly. And no Gronk. Wait. One more! Pats visit Steelers next week in a battle for the AFC's No. 1 seed and may be peeking ahead past the disrespected Dolphins. Bottom line: Do I give Miami much chance to upset New England? Nope. But do I sort of like the Fins getting 11 points? Yep."
Pete Prisco, CBS Sports: Patriots 31, Dolphins 17. "The Patriots have traditionally had problems in South Florida. Not this week. New England is playing a second straight road game, but it won't matter, even without Rob Gronkowski. Miami was better last week, but the Patriots are the pick."
CBS Sports staff: Five out of eight pick the Pats (Miami +11). Everybody picks New England straight-up.
David Steele, Sporting News: Patriots 30, Dolphins 17. "There will be no Gronk for the Patriots as he rests his injury-prone body for the showdown with the Steelers … that is, sits out his one-game suspension. Depending on what the Bills do Sunday, the Patriots could be playing to put the AFC East out of its misery for the ninth straight year, extending their NFL record streak. Don't expect the Dolphins to put up much of a fight."
Vinnie Iyer, Sporting News: Patriots 30, Dolphins 17. "The Patriots won't have Rob Gronkowski, but they'll have their red-hot running game in a rematch from just two weeks ago, this time with their defense facing Jay Cutler. Tom Brady will again have fun attacking the Dolphins' overmatched corners, and there's a good bet for another Cutler pick six against a talented secondary that's playing much better than it was earlier in the season."
SB Nation staff: All New England.
Chris Simms, Bleacher Report: Patriots 28, Dolphins 17. " • The Dolphins defense was good at slowing down Brady and the passing attack. If not for some key mistakes by the Miami offense, the game would have been closer. Still, the Patriots are the best team in football, and even without Rob Gronkowski (one-game suspension), they have an offense that is virtually unstoppable. At the same time, the New England defense is playing great. People may still remember the defense's breakdowns over the first month of the season, but that defense has allowed just 11.9 points per game since then."
Benjamin Hoffman, New York Times: Dolphins (New England by 11.5). "The Patriots (10-2, > 99 percent) had severe flaws at one point this season, but it is getting harder to remember what they were. Their offense has consistently produced, their defense has seemingly worked out its kinks, and they have won eight games in a row about as quietly as a team can. Losing Rob Gronkowski to a suspension does not help, but it should hardly stop them from beating the Dolphins (5-7, 3 percent). The only drama will be whether they can cover the enormous spread."
Jimmy Kempski, Philly Voice: Patriots. "The Dolphins are trash, and the Pats aren't."
Five Thirty Eight: Patriots with an 81 percent chance of winning.
ESPN staff: Patriots across the board.
Mike Florio, Pro Football Talk: Patriots 24, Dolphins 23. "For the Dolphins, this is the closest thing to a Super Bowl. For the Patriots, it's a prime opportunity to be caught napping — as they sometimes are in late-season divisional games."
Michael David Smith, Pro Football Talk: Patriots 27, Dolphins 21. "The absence of Rob Gronkowski might be enough to make the difference if it were coming against the Steelers next week, but against the Dolphins this week, the Patriots should win anyway."
Elliot Harrison, NFL.com: Patriots 36, Dolphins 14. "In years past, this road trip has been far from joyous for the Patriots. Despite all the success in the Bill Belichick era, New England has lost nine of 17 games in Miami, including three in a row before last season. Eight of those losses came in Tom Brady starts. That said, these Dolphins are not as strong on defense as in years past. They're 24th in points allowed — the franchise has finished worse than that only twice in the last 30 years. Granted, pick-sixes by Adam Gase's quarterbacks haven't helped. Expect Brady to go to his running backs often, especially in the absence of the suspended Rob Gronkowski. Would you believe the Patriots are 12-0 without Gronk since the start of the 2016 season? That includes the playoffs, broseph."
It says here: Patriots 27, Dolphins 6. Steelers next week.