Morning Sports Update
Despite Patriots' record, Mac Jones is the highest rated rookie quarterback per PFF ranking
Jones sits more than 20 points higher than other quarterbacks drafted in the 2021 first round.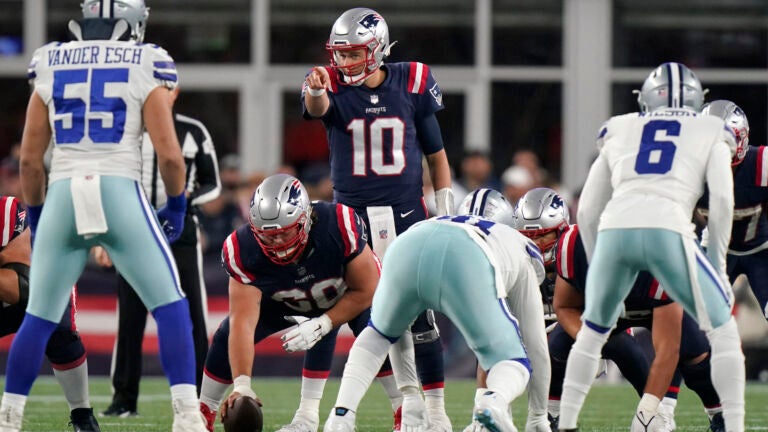 The Red Sox lost Game 4 of the American League Championship Series 9-2 to the Astros on Tuesday night after Houston scored seven runs in the top of the ninth inning.
The series is now tied 2-2, with Game 5 set to get underway this evening at Fenway Park, and first pitch set for 5:08 p.m. Chris Sale will face Framber Valdez in a rematch of Game 1.
And the eventful night in New England sports will only just get going with the Red Sox playoff game. Three other local teams — including the Celtics' season opener — will all get going at 7:30 p.m. Here's the list:
Celtics at Knicks
Bruins at Flyers
Revolution at D.C. United
Mac Jones ranks high among fellow rookies: The Patriots are currently 2-4, but the team's early season struggles aren't necessarily because of the decision to start a rookie quarterback.
According to Pro Football Focus, which applies a rigorous grading system to each player, Mac Jones compares favorably to other NFL rookies.
In a recent ranking of every rookie in the league through the first six weeks of the season, Jones placed third with an overall grade of 79.7. He sits more than 20 points higher than fellow 2021 first-round pick quarterback Trevor Lawrence (56.8), Zach Wilson (59.4), Trey Lance (59.0), and Justin Fields (56.0).
"The former Alabama star hasn't had a truly below-average game grade since Week 2 against the Jets," noted PFF's Michael Renner. "He now ranks seventh in adjusted completion percentage on the season (78.9%), as he's rarely missing throws."
His overall grade was boosted by a 92.5 earned even amid a Sunday loss to the Cowboys in what Renner labeled as "the best game of [Jones's] young career."
Trivia: For the first 50 years of Astros history, the team played in the National League. Houston made just one World Series appearance in that time, losing in 2005 to the White Sox. What former Red Sox outfielder was Chicago's primary designated hitter that season?
(Answer at the bottom).
Hint: He once broke up a potential perfect game from Yankees starter Mike Mussina with a base hit in the ninth inning.
More from Boston.com:
"New England's two plays away from being 4-2," said ESPN analyst Dan Orlovsky:
On this day: In 2004, the Red Sox completed the greatest postseason comeback in Major League history, defeating the Yankees 10-3 in Game 7 of the ALCS.
It was a culmination of Boston's rally from an 0-3 series deficit, catapulting the Red Sox in the World Series, where they would win the team's first championship in 86 years.
Daily highlight: On NBA opening night, defending champion Giannis Antetokounmpo blocked Nicholas Claxton at the rim in a 127-104 Bucks win over the Nets.
Trivia answer: Carl Everett
Get the latest Boston sports news
Receive updates on your favorite Boston teams, straight from our newsroom to your inbox.