Morning Sports Update
Here's the latest on Cam Newton's potential NFL return
"Just so you know, we have talked to him."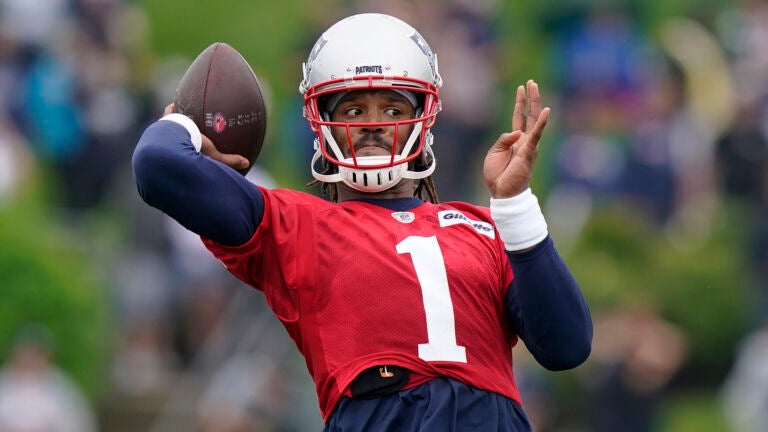 The Red Sox smashed the Astros yet again with a 12-3 win in Game 3 of the American League Championship Series on Monday night. Boston, having posted back-to-back dominant wins, leads the series 2-1.
The two teams meet again tonight for Game 4 at 8:08 p.m.
The reports around Cam Newton: After being released by the Patriots at the end of preseason, former NFL MVP Cam Newton has remained a free agent through the first six weeks of the 2021 season.
The 32-year-old, who was New England's starter in 2020, said in a video released on Sunday that he has received the COVID-19 vaccination, appearing to confirm earlier reports from over the weekend.
Newton also reaffirmed his desire to play again in the NFL. The question now appears to be which team would have need of signing a quarterback with the season well underway.
After starter Ryan Fitzpatrick was injured in September, the Washington Football Team seemed to be one possibility. But despite the presence of Newton's former coach, Ron Rivera, Washington reportedly isn't interested in signing him.
According to NFL reporter Josina Anderson, Washington "will continue to work with the quarterbacks on its roster."
Washington isn't the only possibility, however, given that Seahawks quarterback Russell Wilson is currently on Injured Reserve after having surgery on a finger on his throwing hand.
Seattle coach Pete Carroll acknowledged that the team has spoken with Newton, though he didn't provide specifics.
"Just so you know, we have talked to him," Carroll told ESPN radio host Mike Salk. "We're talking to everybody that could help us."
Newton has said that he's "been getting offers," but "that it has to be right" for him before he would sign.
Trivia: Since 2004, the Red Sox have now hit eight grand slams in the ALCS from eight different players. Can you name all of them?
(Answer at the bottom).
Hint: Here are grand slams listed by year in which they occurred:
2004, 2007, 2013, 2013, 2018, 2021, 2021, 2021.
More from Boston.com:
David Ortiz couldn't contain his excitement during Game 3:
Jonathan Papelbon's ceremonial first pitch reportedly hit 91 mph:
On this day: In 2004, Mark Bellhorn hit what was initially just an extra-base hit (plating multiple Red Sox runs in the process) during Game 6 of the ALCS.
But after review, umpires correctly ruled that the ball had struck the hands of a fan in the stands and bounced back onto the field. Therefore, it was a home run, adding to a lead Boston would not relinquish amid the historic comeback.
Daily highlight: Derrick Henry spearheaded the Titans' win over the Bills on Monday Night Football, highlighted by his 76-yard touchdown run in the second quarter.
During the sprint to the end zone, Henry hit the highest speed of any ball carrier in the NFL this season at 21.80 mph.
Trivia answer: Johnny Damon (2004), J.D. Drew (2007), David Ortiz (2013), Shane Victorino (2013), Jackie Bradley Jr. (2018), J.D. Martinez (2021), Rafael Devers (2021), Kyle Schwarber (2021).
Get the latest Boston sports news
Receive updates on your favorite Boston teams, straight from our newsroom to your inbox.