Red Sox
Should Travis Shaw really play over Pablo Sandoval?
Red Sox fans want Shaw, but what do the numbers say?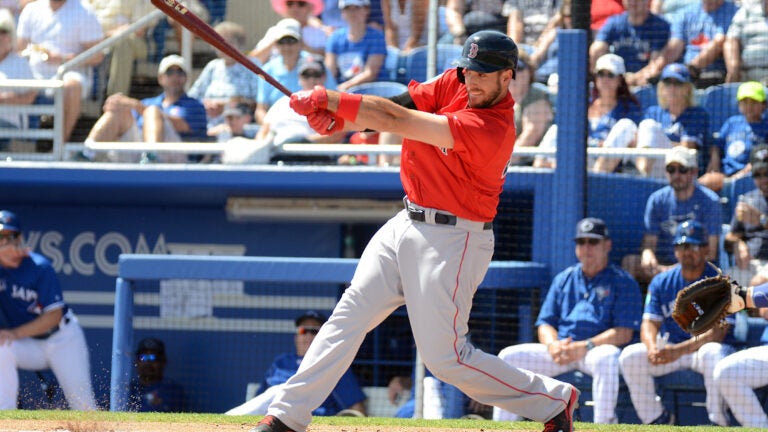 COMMENTARY
Spring Training is a time when hope and faith is renewed for every team in Major League Baseball. Such was the decree of former commissioner Bud Selig, and baseball can lay claim to this renewed hope better than any other sport. The 2016 Red Sox have been no exception.
With a roster that has more or less been set in stone since early December however, there have been fewer new players to dream on. There has been just one sweet spot where a disliked incumbent has been challenged by a likeable newcomer. With Pablo Sandoval playing the role of the former and Travis Shaw the latter, third base has lived up to its billing as the hot corner this spring.
This competition has arisen largely because Pablo Sandoval didn't earn himself any sympathy with his 2015 performance. Signed to a big money deal, Sandoval went out and was literally the worst position player in baseball last season.  He did himself few favors with that play, and then team management did him even fewer by claiming he had lost weight over the winter when he hadn't (at least not demonstrably). To say he has been an easy target for criticism is a bit of an understatement.
Shaw, on the other hand, concentrated his one great month in the majors during the time when the Sox were at their lowest – August of 2015. He was recalled for good on August 1. In the preceding week, the team had traded Shane Victorino, released Daniel Nava, lost Mookie Betts and Dustin Pedroia to the disabled list, and transferred Clay Buchholz from the 15-day DL to the 60-day DL. During the next two weeks, Mike Napoli was traded, Koji Uehara landed on the DL, manager John Farrell would leave the team after his cancer diagnosis, and general manager Ben Cherington was replaced by Dave Dombrowski. In other words, there were plenty of things going wrong with the Sox.
One of the things going very right though, was Shaw. In that month of August, he hit .310/.365/.621, with seven homers in 96 plate appearances, a line that translated to 63 percent better than league average, according to a statistic called weighted runs created plus (wRC+). All in all, a great entrance to Red Sox lore. It wouldn't last though. While Shaw did whack another six homers in September, his batting line was a far more pedestrian .258/.316/.435 in 136 PA, which was exactly league average (100 wRC+).
Now, there's nothing wrong with league average. Had Sandoval been league average last season, the Sox probably finish the season at .500 instead of three games below it. But given Shaw's hot start to the spring combined with his performance last year, there seems to be some unfounded optimism for him.
Here's how FanGraphs' projections see the two faring this season, using traditional stats and weighted on-base average, or wOBA, which is an all-encompassing offensive statistic scaled to on-base percentage.
As you can see, the two look to be on fairly even ground here. FanGraphs' system combines two different projection methods so that it is more thorough than a single system. And yet, there's no edge here for Shaw. There's a reason for that:
Not included in this comparison are Sandoval's six postseason home runs during this time, three of which he hit during the 2012 World Series, when he was named the Series' Most Valuable Player after hitting .500/.529/1.125 in the San Francisco Giants' clean sweep of the Detroit Tigers. That was his age-25 season. At comparable stages of their careers, Sandoval was a far more accomplished player.
There's also the fact that Shaw's spring stats aren't anything to be excited about. Yes, he is hitting .450/.488/1.188 in 43 PA following Tuesday's action, but consider the list of players he has done his damage against. He has connected for 18 hits. Eighteen (and 43) itself is a small number that should give you pause when evaluating him. But let's look at the list of pitchers he has hit, which I've broken down into categories:
• Legitimately Good Pitcher (1): Noah Syndergaard
• Pitchers Who May Be Good In the Future But Aren't Yet (4): Tyler Duffey, Marco Gonzales, Erasmo Ramirez, Enny Romero
• Veteran Major League Pitchers Past Their Primes (4): Craig Breslow, Jonathan Broxton, Ricky Nolasco, Ryan Vogelsong
• Pitchers You've Probably Never Heard Of (9):, T.J. McFarland, Chaz Roe, Brad Brach, Andy Oliver, Jared Hughes, Cody Ege, Vance Worley, Jerry Blevins, Miguel Socolovich
Hopefully you can see what I'm driving at here. Shaw's spring hit totals are a veritable house of cards. One of the pitchers he homered off of, Cody Ege, is a soon-to-be 25-year-old who hasn't pitched in the majors and has only tossed 12 innings at Triple-A. Of the other eight pitchers in the bottom bullet point, seven of them have been worth less than 1.5 wins above replacement (WAR) in their career, and two of them have been worth -0.3 WAR. Not only are these not good pitchers, they are not the kinds of pitchers who the Red Sox will be facing come the regular season.
Finally, Shaw hasn't played a professional season in which he started most frequently at third base since the year he was drafted. Here's the breakdown of his defensive starts at both first and third base:
This isn't the breakdown of a player who is breaking in at his natural position. It's the breakdown of a player who is trying to take advantage of an opportunity. But even toward the end of September when Sandoval stopped playing, most of the third base starts went to Brock Holt and Deven Marrero, not Shaw. It's perfectly reasonable to wonder if Shaw can handle the workload at third were he to be named the starter there.
Pablo Sandoval had a terrible 2015 season. No rational person would try to sugarcoat that. However, there is a reason he was sought after in free agency, and it's because he is a player who has achieved a great deal in his career, and furthermore has performed well under the bright lights of October. He should be better this season, and deserves the benefit of the doubt come April. Travis Shaw is a nice story, but he doesn't have much experience at third base, and he has only been great when it counts for one month. Literally every major league player is capable of being great for one month. John Farrell and the Red Sox should not let that one month and a bunch of meaningless spring hits persuade them to make Shaw the starter at third base.
Forgotten Red Sox All Stars
[bdc-gallery id="141804″]