Boston Marathon
A year after winning the Boston Marathon, Des Linden is still Des Linden
"Hard work is hard work."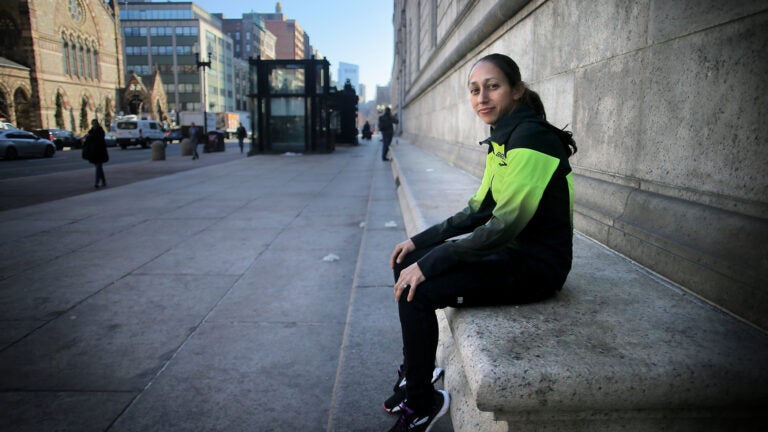 Defending Boston Marathon champion Des Linden has one superstition for major races.
"I wear black socks," she told Boston.com. "They're business socks."
Monday's race is just another day at the office for Linden, who became the first American woman to win the Boston Marathon in 33 years last April. While things have certainly picked up since the victory, with several endorsement and appearance opportunities coming her way, Linden is still just focused on her training and doing everything so that she can win — again.
"Hard work is hard work," she said.
Linden concurs there will probably be more people watching her — "more eyeballs," in her words — but she doesn't feel any additional pressure competing as a defending champion.
"The marathon is so fickle," she said. "It's just such a long event, so many things can happen. The cookie crumbles the way it does."
Her win is perhaps the perfect example. Enduring the nippy, rainy, and windy weather, Linden initially thought she might drop out of the race due to brutal conditions. She ended up taking the time to wait for fellow American runner Shalane Flanagan during a pit stop halfway through the course, which ultimately motivated her to keep pushing.
"I've never had that feeling, like, 'I'm pretty sure I'm stepping off the course today,'" Linden said. "That's the only time that's happened."
The 35-year-old sure is thankful she stuck with it. At the 22-mile mark, she broke away and labored her way to the finish line. She called the moment she crossed it "the happiest [she's] ever been."
"I've been in a sprint finish on Boylston before and had it not work out my way," she said, referencing the 2011 race in which she finished second just by two seconds. "It wasn't until I was really, really close to the line that I actually felt relieved like, 'Oh my god, this is actually happening.'"
Those final three miles of the course stick out in Linden's mind as the most memorable stretch, for being ridiculously taxing both physically and mentally.
"I knew I was doing the thing you dream of doing, but I was also terrified that it would slip away," she said.
Linden has made at least one change since her win, reuniting with her college coach Walt Drenth. Together, they've tweaked a few aspects of her training, such as incorporating more race paces into her tempo workouts. A typical week for Liden consists of two days of recovery, where she'll still run 10-12 miles in the morning as well as four in the afternoon.
Otherwise, things are pretty much the same. She still avoids bags and boxes when fueling for her runs; she still spends the Sunday before the race, "holed up in her hotel room," staying off her feet; and she still will only listen to music while on the bus to Hopkinton.
"I love racing in Boston," Linden said. "It doesn't matter the year."
<subheading> Photos: The Boston Marathon through the years:
[bdc-gallery id="138482″]