Politics
5 questions with Boston mayoral candidate Annissa Essaibi George
The at-large city councilor makes her 11th-hour pitch to voters — on everything from maintaining the city's indoor mask mandate and appointed school committee to surging resources to address the Mass. and Cass crisis.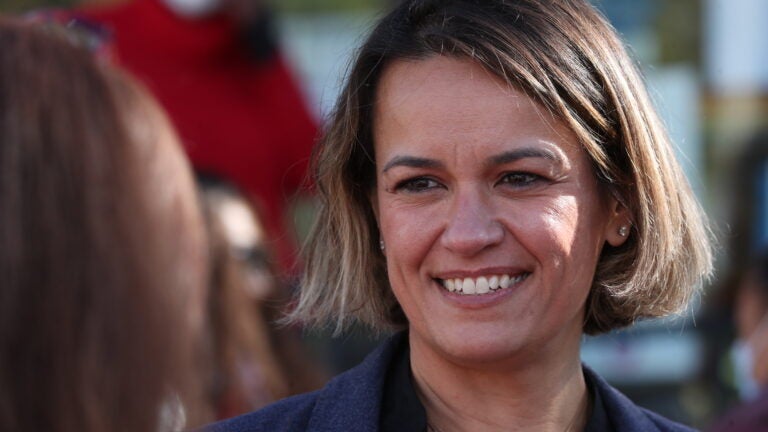 Annissa Essaibi George has work to do — and she's eager to do it.
With just over a week until the Nov. 2 Election Day, the Boston mayoral candidate and at-large city councilor is in the final sprint of her 10-month campaign to fulfill her childhood dream.
A Dorchester native and daughter of Polish and Tunisian parents, Essaibi George often recalls on the campaign trail how her father dismissed the idea — and her aspiration — of "a girl with an Arab name" becoming mayor of Boston.
She's now as close as ever. But with polls repeatedly showing fellow general election finalist Michelle Wu with a wide lead, Essaibi George knows she has to do more to win over voters with her pitch of pragmatism and a focus on schools and public safety. As part of that effort, Essaibi George recently spent one last 30-minute Zoom call with Boston.com to answer five questions about her plans for the city's COVID-19 indoor mask mandate, Boston Public Schools, and the city's recent action to address the crisis at Mass. and Cass.
Here's what she said:
---
This interview occurred on Oct. 22. It has been edited for length and clarity.
1. Our first reader question is from James, who lives in Adams Village, and they say: "The current indoor mask mandate has no goal for the people of Boston to strive towards. What measurable and public metrics should the public work towards to remove the mask requirements?"
Well, it's a great question, and I'm grateful for James to ask it. It's one that I get a lot. We certainly need to work towards greater vaccination rates, especially within our communities of color. We still see too low of a number as it relates to our communities of color. We need to get to that higher vaccination rate.
You certainly have to continue to share information, make the vaccine available, and work to build trust. I think you build trust by making sure that there are culturally competent, linguistically appropriate, community-based organizations that are actively involved in rolling out the vaccine to communities, especially those that have such a low rate of vaccination.
We've got to certainly make sure that we are continuing to see lower rates of infection and sickness and positivity. For me, that's really important. And I believe that Bostonians, in particular, are working hard towards that end goal. I get that it's difficult. I appreciate that it's difficult. And I'm hopeful that the end is near. But for me, it's about vaccination rates and lowering the positivity rate.
When you think about the vaccination rate or the positivity rate, are there any particular numbers that you think about there? Is there like an 80 percent vaccination rate or 1 percent positivity rate that you think would be the right time to roll back?
I'd say, on the vaccination rate, you know, our communities of color are at less than 50 percent of what the state is as a whole and the city is outside of our communities of color. So we need to see parity in that number. That's really important to me.
The positivity rate I think is one that I'm a little bit more flexible on, because we've seen a reduction in testing across the city. That's fine. I am cautiously optimistic that we have enough testing available. I worry about the colder months, the flu season, as we push more and more indoors. I worry about the infection rates spiking again. And so I really want to make sure that we have opportunities to put testing back online quickly. That's important to me. But it's really about the vaccination rate. We can drive that rate up. We're going to see a lot of these restrictions I think come down.
The one place where I want to be clear that the masks are not coming off is in our schools, and I know that's a topic of statewide conversation. I think, even nationally, it's been a topic. But I've received that question a number of times in forums and in different discussions over the course of the race. And for me, I think that we've got to end that conversation. Masks will be on kids for the rest of the school year. Certainly there are exceptions to that, when we think about our special education students, when we think about some of the special needs of our students and our school community. But the mask mandate will continue for the duration of the school year.
2. Boston residents are voting on an advisory ballot question this election on whether the city should have an elected school committee. I know that you support keeping it as an appointed committee, but some of the polling on this has shown us that there's pretty strong support on the other side. And while it's non binding, if it passes by like a two-thirds majority, is there any action that you would commit to in response to that type of message being sent by the voters?
I am a proponent of an appointed body, and feel that as mayor I want to hold that responsibility as it relates to our school department and the success and failures of our schools across the district. An elected body presents some real challenges, especially around the added politics that we're putting into education. There's enough as it is in BPS, specifically. But also sort of the dynamic of finger pointing it creates; in an elected body no one holds any true responsibility and committee members point fingers at each other — 'It's this one's fault; it's that one's fault' — and a mayor now doesn't have that full responsibility and authority over the school department. So, for me, I want that responsibility and that accountability.
I did, though, support this ballot initiative going forward from the City Council for this referendum, because I think it's important for us as a city to have a more constructive and productive conversation about the future of the School Committee. I don't have a magic number, as it relates to what that outcome is. I don't know what that number is, but I do think it's going to help us have some really important conversations.
We're gonna have four open seats on the School Committee rather quickly — the two interim appointments, plus potentially two more of our regular appointments up for either renewal or to be filled, all within the first couple of weeks of my term as mayor. So that gives me an opportunity to demonstrate a desire — because I do have a desire, it's been part of my work on the City Council to improve the nomination process — to engage the public and the City Council in that nomination process in a very different way than we've done it in the past. And I think it also creates an opportunity for me as mayor to fulfill a commitment I've had to make sure that our school department and our School Committee is engaging in the public with school families, with students, with school communities.
So we've got some time during all of that for me to demonstrate true leadership as it relates to our schools, and I hope some early successes in my work, not just sort of initially in my term or my first 100 days, but over the next few months, especially as we work to roll out school budgets. I have to prepare quickly for a city budget for FY23, but I have to prepare even faster for a school budget. So by the end of December, the first week in January, all school budgets will be done and … they'll start that process before the School Committee. So we've got a lot of things to do very quickly. And that gives me some early opportunities to demonstrate my real commitment to our school communities, to our kids, to our education system here in Boston, and my desire to do things in a different way — and still retain an appointed body.
When you talk about the political downsides of having an elected school committee, can you elaborate on that?
Yeah, so there's lots of finger pointing, because if you can't get to a decision or you have a split vote, politics gets played. Wheeling and dealing gets played. I think also there's a real opportunity — we see how much money has been put into this mayor's race. Because it's been such a long time since we've had an elected school committee, you are going to see a tremendous amount of special interest come out. And it may not be the type of special interest we're interested in, as it relates to our school system and the future of our kids. The proposal that I have, that I've recommended, that I would support, and what I can do informally — it doesn't even need to be formally — is engage the City Council in recommendations for appointments. I want parents sitting on that school committee. I want students to have a vote. I've done that work as a member of the City Council and am committed to that. I'd like educators sitting on that. I'd like universities, post-secondary institutions involved in the work of the School Committee. When we think about that relationship, it's disconnected and so important.
I think it's also important to think about the voices of families with students who receive special education services, families with students who are second-language learners, families of students who maybe are in a voc-tech setting. We have a lot of opportunities to engage some special voices and some critical voices in that work. I think I can do it. I believe I can do it. That's why I've committed to it, and look forward to demonstrating that early in my term.
3. We have another reader question. This one is from Ryan from Dorchester: "In a recent interview on Boston.com, you said that you took the T on average zero times. Will you commit to taking the T more if you are elected mayor?
Certainly if I have the opportunity to, and if I remember, that interview was in the middle of COVID. So I wasn't really moving from anywhere other than the spot that you've seen me in, or I walk up to my store. There have been occasions where I've been able to walk to City Hall because I live in close proximity to it. And I certainly think it's important to take opportunities when I can to use public transit, because our city's residents utilize public transit. I think it's also important for me, when I have the opportunity, to use my bike, which I on occasion do, to get from place to place.
But I also, based on my personal circumstances and circumstances with my family, do very often find myself in my vehicle, driving to and from, whether it's City Hall or other commitments or getting my kids to school or getting them to their commitments across our city, on a regular basis. But absolutely would be committed to it. I think that it is important for us to engage — although I would appreciate the times I would take public transit, that it is certainly simply an exercise, not practicing the reality that so many of our residents do day in and day out. And I wouldn't want to make an academic exercise or create a photo op to simply say, 'Oh look at the mayor riding the T today.' I grew up on the T. I took the bus to and from school. I took the Red Line to the Green Line to and from college. I've spent a great deal of my life taking the T, and don't want to sort of make a mockery of the challenges that residents face every single day on the T.
4. Acting Mayor Kim Janey recently unveiled her new approach to handling substance abuse disorder and the whole myriad of issues surrounding Mass. and Cass. Mental health, substance abuse, homelessness are all issues that you've centered on during your time in City Hall. And you said, just this past week, you support Acting Mayor Janey's plan. But are there specific areas within that approach that you would or will do differently?
First and foremost, I've had a plan around Mass. and Cass. Last weekend, I released an updated plan, and it's based on the work that I've been doing over the last six years of my time on the City Council, focused on supporting our city's residents who are experiencing homelessness and substance use disorder or mental illness. And as mayor I will continue to be focused on that work. I think we have a very unique opportunity to create a new sort of zone in a city. We do that through the determination of — so we can create this zone. Sorry I'm going to go all over the place with this. But we've got an opportunity to create a new zone, because we know at Mass. and Cass in particular, that there are lots of different city agencies, both public health, state agencies as well, and public safety agencies that sort of converge at this intersection. And there's a challenge with some of the alignment of services that happen in that area, so I would create a zone that would have a one-mile radius. We would declare a public health emergency on the first day. I will have an individual through the Public Health Commission, who would directly report to me as mayor, focused on this work very specifically. We need to do things like decentralize services, work with other cities and towns to develop some programs, and some longer term recovery efforts in their communities, in addition to Boston. And we need to work to just very intentionally get people the help that they need.
We've determined through my work on the council and through the efforts over the last eight months that it will cost about $30 million of [American Rescue Plan Act] funds to to help people who are struggling. And when I think about the challenges at Mass. and Cass, we need to invest in both the treatment for people and those that are offering the help. We know we have a workforce that is strapped and stressed. We know we have a workforce that we need to invest in and train and get involved in this work. I've advocated for, I think in a different way, a public health surge, different than the acting mayor's efforts, where we are very specifically and intentionally and quickly, as closely as possible, match body for body outreach workers, recovery coaches, meeting with people who are struggling. And we would do this over a period of 60 days, working to get people into services every single day. We need to meet people where they are. And most of them are at the intersection of Mass. and Cass. Not forgetting that they're in other places — Andrews Square, Mattapan Square, Nubian Square, Edward Everett Square, Downtown Crossing, the North End, Copley. In almost every part of our city, there are examples of individuals who are struggling, who need support services. I've gone a little bit all over the place on that. We've got to be really intentional with that work, and I'm prepared to do it, starting day one.
The one thing that I would add is the incredible vulnerability that women are facing today at Mass. and Cass. We've seen an increase in violence, an increase in rape, an increase in human trafficking and prostitution. I would like to see — and I had held a hearing on this last year now, maybe a little bit more than a year ago, on the need for a 24-hour care van specific for women. I think that women are especially vulnerable, but there's also a particular opportunity for support services to meet them where they are, for family reunification, for longer term treatment, and immediate health care, because of the violence that they're experiencing, specifically.
You mentioned declaring a public health emergency. Isn't that what the acting mayor just did?
Yes, I mean that's through executive order. I don't know if she's done the proper pieces through the Public Health Commission that gives you sort of the full powers of that executive order. We also need to create a new sort of a public safety district. So we've got our police districts. Because what we're seeing is some challenges with communication, especially around our police department and the relationship with the court system, the relationship with the corrections system, the relationship with caseworkers, with probation and parole. And then also the challenges of just making sure we have a coordinated effort around outreach, around public works, around sort of the other things that need to happen in that area.
There's been a bit of criticism of this most recent action by the city as sort of an echo of the controversial "Operation Clean Sweep" under Mayor Marty Walsh's administration. Given your support for what's happening now, do you think that's a fair assessment?
I think that we've got to be very careful about how we treat people who are vulnerable. What is happening in and around the over 200 tents now that have been established across and around the Mass. and Cass area is not good. We certainly have to respect individuals, their civil liberties, and their belongings. We also need to respect and appreciate the community and the network that has been created in that area. These are individuals who are not well, who are sick, who are struggling, who are victimized, day in and day out by people who are taking advantage of their addiction, taking advantage of their sickness. But also, the state of the quality of life that they're experiencing is also not good.
And we have some capacity in our shelters, which are also not great spots, but we do have some capacity in our city shelters. We have to work with our state partners and state Legislature and the governor, as well as other cities and towns, to make sure that we're creating opportunities for supportive housing and additional shelter away from Mass. and Cass.
There is very little good happening at Mass. and Cass today. There is a real failure of both the health care system and the public safety system, as it relates to Mass and Cass. We see it, I've seen it — I'm there day, I'm there night, I'm there overnight. I pop in formally and informally, some of it documented, some of it not. And, you know, people want treatment down there. People need longer term support. The individuals who are struggling hope for supportive housing opportunities, and I believe many of them also want family reunification. That is, I think, a more longer term goal, because a lot of those bonds have been broken. But we've seen the desperation of families searching for loved ones at Mass. and Cass and across our city. We've seen the desire. And I've got four teenagers. I think about this all of the time, that the individuals on the street tonight could be one of my kids, could be a loved one, a parent, a brother, a sister, a friend. And it's really difficult to see and watch, and do nothing. And there has been very little happening, and those that are doing the work down there are struggling with capacity and resources and help.
5. We have one last question for you again on the topic of education, and this is from John from Beacon Hill: "Do you favor Mattapan having a long-promised high school built there? Many students from Mattapan have long commutes, along with early school start times, so are disadvantaged throughout the school year as they attend school with inadequate sleep."
So I appreciate the question. A Mattapan high school has been long talked about; I'm certainly not opposed to the idea.
We do have to look at high school reconfigurations and redesign across the board. I'm a former high school teacher. I spent 13 years in a high school as an educator. We have to look at our portfolio of physical buildings. We've got a look at where our kids are. We are seeing a significant decline in enrollment. The numbers I got just last week — 49,000 students in the Boston Public Schools. That is a significant drop over last year, and even more significant over the year before. We have to see where our kids are in the city, where there are population shifts, and where we maybe need some more seats.
We have to look at our portfolio. We have to look at where kids are. And we have to look at how high schools are designed in the city. I don't think we did well by our school system and our kids 20 years ago now or so, when we went to small learning communities. We've seen that some of our alternative education — I suppose some of them, not all of them — have failed at supporting young people who are not achieving at the levels that we would like them to achieve at. So we've got some work there. But absolutely open to the idea. I think that it's something that we have to explore, but we have to look at it as part of the larger district.
And we've got infrastructure dollars that we're hoping for from the federal government to come soon, some significant money coming to the city. I'd like it spent in two ways: one, on the Long Island bridge and the Long Island campus around recovery, and two, on our school facilities. We're in the midst of a billion dollar capital build BPS plan left over from former mayor Walsh. That is touching about 10 schools in a real way, in a meaningful way. We've got 126 buildings in our portfolio. We've got to take a real look at our portfolio, where we need some significant investments, and utilize those dollars to make them.
Bonus: You've been making your pitch to voters since I think January, but what will you do to relax when you're no longer on the campaign trail?
Go to work as mayor of the City of Boston. I find that relaxing! Leading the city, finding solutions and partnerships with those that are doing work every day, and meeting more of our city's residents.
Now, in addition to that, I've missed a couple of football games. Two of my kids play football. The hockey season is gearing up, so you'll find me at the rink. I have a hashtag, #findmeattherink. And then maybe I'll take on a sewing project or something.
Newsletter Signup
Stay up to date on all the latest news from Boston.com