Politics
5 questions with Boston mayoral candidate Michelle Wu
Days away from the Nov. 2 final election, the city councilor at large talks Mass. & Cass, the COVID-19 indoor mask mandate, and what her critics don't understand.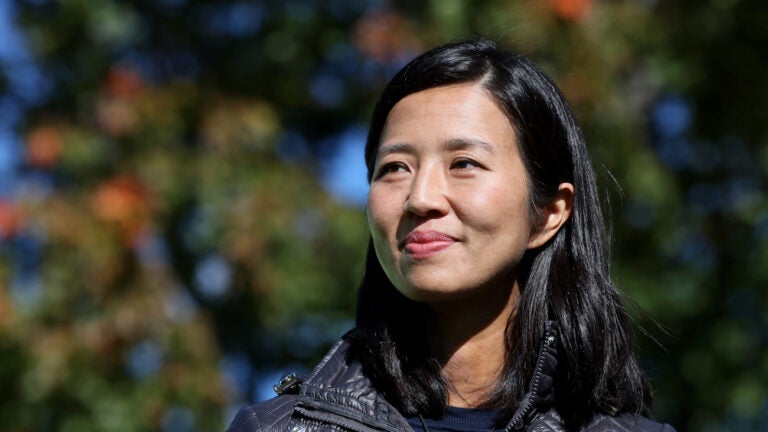 Michelle Wu may be pitching Boston some bold ideas, but she wants voters to know she can handle the smaller stuff, too.
The city councilor at-large says she loves being "ankle deep" in the more mundane aspects of public work, like sewers and potholes.
In fact, those kinds of projects have a critical role to play in her vision for bringing the city forward, she says.
"That's where my heart has always been, and city government has the chance to get it right on 'both, and,'" Wu, the mayoral candidate for a fare-free T and an ardent supporter of rent control, recently told Boston.com when asked what her critics don't understand about her plans. "We do the big things by getting the little things right for our communities."
It's a message that appears to be resonating well with voters. Three polls in the last three weeks have shown Wu with sizable leads — ranging from 25 to 32 percent — over her opponent, fellow City Councilor Annissa Essaibi George.
With the finish line of over a year-long campaign in sight when voters head to the polls on Nov. 2, Wu hopped on a Zoom call to chat about a range of issues, from the city's COVID-19 indoor mask mandate to acting Mayor Kim Janey's new approach to the issues surrounding the area known as Mass. and Cass.
Here's what she said:
---
This interview occurred on Oct. 21. It has been edited for length and clarity.
1. This is from James (a Boston.com reader) in Adams Village: The current indoor mask mandate has no goal for the people of Boston to strive towards. What measurable and public metrics should the public work towards to remove the mask requirements?
We are still very much in a global pandemic, and need to put the safety and health of our residents and workers and families first.
So, we are watching the case counts and public health data very closely and staying in close contact with epidemiologists and experts at our healthcare institutions to make sure that we are tracking any new variants. The vaccination rates are moving in the right direction. There will be a big, big step forward when we get to the point where younger children will be eligible for the vaccine, and we're putting in place plans to ensure that the platform of our schools and city government can help close those vaccination gaps with young people and with the booster shots as well. So it is within reach to end this pandemic, but we really need everyone to continue to stay the course in protecting yourself, your family, your community, and continue pushing to close the vaccination gaps.
When you look at infection rates, boosters, and vaccine access to children under the age of 12, is there a particular time that you look at? Or how do you balance those three different factors when it comes to the indoor mask mandate, school mask mandates, or any other kind of COVID rule?
Yeah, exactly. There are still some moving pieces to this, but we are getting closer and closer to herd immunity for the city and full vaccination. Boston has made some great progress, but we want to see the gaps and the disparities closed. So that will continue to be the focus for my administration in how we're addressing the ongoing pandemic, as well as the public spaces and activities that we need to be monitoring so that we don't see increasing spread.
2. Boston residents are voting this fall on an advisory ballot question on whether the city should have an elected school committee. I know you support a hybrid school committee that would have some appointed and some elected members. Some of the polling on this has shown that there's pretty overwhelming support — over 60 to 70 percent of residents who support an elected school committee. If this ballot measure passes by, say a two-thirds majority, is there any action that you would commit in response to such a clear message being sent?
We need major changes to the Boston Public Schools to really connect the opportunities in Boston to the full promise of every single school and every single young person in the district. Our schools plan is focused on some big changes that we need to make around early education and a whole child approach, facilities, and vocational education. But underlying all of that is community feedback and building trust and engagement with our school communities. I've been involved in the district for a very long time now as a parent and legal guardian. And I know the system we have now isn't working. It doesn't feel to parents and guardians and school communities that the voices of those most impacted are driving policy conversations and decision making.
And so we need to not only have the larger conversations about the structures that need to change, but also take immediate steps in ensuring there's always multilingual access, ensuring that we are out in community and providing opportunities for feedback and engagement separate from just the School Committee meetings, which run late into the night. So, I am fully committed to having the processes and engaging in all facets of this change that would connect community engagement to the small details and big policies that we need.
I just wanted to clarify: When it comes to the sort of structure of the school committee, what are the immediate steps?
Oh sorry, yes, that didn't answer the question at all. There's already a piece of legislation that has been filed on the City Council by several of my colleagues, and so there's already a mechanism in which the city is having this conversation. As mayor, I will be actively engaged in this particular legislation and ways in which we might be shaping and molding that to take into account the public feedback that we've received after the ballot question.
Do you support that home rule petition or are you not decided?
So in its current form, I would not be voting for it. And I've put forward the shape of the school committee structure that I would support. But even the sponsors have said that this is largely a placeholder to begin a conversation that will involve many iterations through the public process.
3. Your critics have said that you offer Boston bold ideas, from making a fare-free T to rent control, but with little detail on how to put them in motion. What's your response to them? What don't they understand about your plans, or what you're trying to do?
W-w-w-dot-Michelle-for-boston-dot-com-slash-issues.
There are dozens of pages that we have laid out after thousands of hours of conversations with residents and community members across the city. Sometimes it's hard to convey all that in a one-minute, time-limited forum or debate response, but every policy that we have proposed is built from the lived experiences, the constituent services, the specific challenges that residents have brought to my team and my office.
And so when we talk about a Boston Green New Deal and climate justice, that is the very tangible steps of doubling the number of street trees we have and converting to electric school buses.
When we talk about economic justice and closing the racial wealth gap, that is taking immediate action for city contracting dollars to go to businesses owned by Black and brown entrepreneurs and to attach the requirements in our bidding process to make that happen.
When we talk about our housing crisis and lowering the cost of living, that is the innovations and financing around piloting a municipal homeownership voucher. It is floating green and social bonds to expand our capacity to directly construct and build affordable housing. It is integrating the development of affordable housing into city-owned buildings and land. And it is also stabilizing our residents in their homes so people don't get pushed out of our city.
I love being ankle deep in conversations about sewers and potholes. That's where my heart has always been, and city government has the chance to get it right on "both, and." We do the big things by getting the little things right for our communities.
4. Acting Mayor Kim Janey recently put into action a new approach on handling substance abuse disorder and myriad other issues in the area around Mass. and Cass. Do you support the acting mayor's recent plan?
Yes.
What we see at the intersection of Mass. Ave. and Melnea Cass Boulevard is completely unacceptable for any city. And in a community like Boston, when we have resources, we have activism, we have expertise, this is an immediate priority to change that situation.
When you look through the executive order, it is clear that the city and this administration is pursuing an approach that will lead with services, not criminalization, and connect those seeking treatment and shelter to beds that are available. We know that there are dozens of available shelter beds right now in our city. But they're not always accessible to people because the barriers to entry might be higher. We need low-threshold beds that are appropriate and have the transportation for residents who are unsheltered, who are seeking treatment. And we need to get this in place right away.
The pandemic showed us just what Boston is capable of. Within weeks, we had stood up a separate COVID hospital and quarantining spaces. We had monitoring and communications in place across all of our health care institutions to know exactly how many beds and ventilators were available, and the condition of each patient. That is the kind of coordination and minute-by-minute information that we need to have about those residents who seek shelter and treatment and how effective we are at connecting people to resources.
Some have criticized the plan as kind of being this echo of the controversial "Operation Clean Sweep" under former mayor Marty Walsh's administration. Given your support for what acting Mayor Janey is doing, is that a fair assessment of this? Do you understand where that criticism or that hesitancy for some to support more action from the city comes from?
Of course, of course — and what happened … made the situation worse. It was destabilizing for patients. It simply forced people to go elsewhere, and then added even more barriers to seeking treatment and shelter.
There was not a clear sense of engagement and outreach in [Operation Clean Sweep] and it was a law enforcement-led approach. This is different on all of those dimensions. And of course we need to be very, very intentional about its implementation, and we need to be building on outreach and supplementing this executive order with the resources so that we are able to be in conversation with every single patient seeking treatment and shelter and connect everyone to safe, warm, low threshold housing that is wrapped around with services.
And I think another important piece is that the coordinated leadership structure that is created — call it a command center — it's really a collaboration across different agencies and different levels of government. We need to expand this to include our regional partners across other municipalities as well. But this is the model in which we should be moving forward urgently with solutions to the opiate crisis, housing crisis, and mental health.
5. Our next question is another reader question. This one is from John from Beacon Hill: Do you favor Mattapan having a long-promised high school built there? Many students from Mattapan have long commutes along with early start times and are disadvantaged throughout the school year as they attend school with inadequate sleep.
Mattapan residents face many of the disparities that we see across our city, and we must lead our decision making with equity. In terms of school access, in terms of transportation access, Mattapan residents deserve for Boston to be prioritizing access and a focus on the walkable communities that we need to see all across our city. And the Greater Mattapan Neighborhood Council has been such a force for leadership in bringing community members together and advocating for the needs that this neighborhood really deserves.
When we think about the high schools and where they're located, this is a conversation that has to include all the dimensions of quality, location, vocational tracks, and supports. I will be immediately working with our superintendent and school district to put in place a plan for revitalizing all of our high school options. We need to be talking about every single one of our high school seats and where they're located. We have actually seen falling enrollment in our high schools. And so the conversations about where those seats should be, and what focus areas or vocational tracks might be connected to different schools, have to [take place] in a citywide way with equity at the center.
Bonus: Our last question: Once this campaign is over, what do you plan to do to relax?
So there's my personal relaxation time, and then there's family relaxation time.
When I'm by myself and get some quiet — when the kids are doing something else — I spend time playing piano. I like to be out and about in the woods, in the quiet absorbing our amazing open spaces.
Our family tradition is to make a trip up to Acadia and do some hiking and enjoy the outdoors there. So I think when we get the chance, there's lots of places — whether it's in the Blue Hills or Urban Wilds of Boston or Franklin Park — that, as a family, that's where we go to unwind and let the kids run and work off some energy, and really spend time just feeling connected to nature and all the green across our city.
Newsletter Signup
Stay up to date on all the latest news from Boston.com