Politics
City Council candidate acknowledges problems with mailer criticized for 'skin darkening'
"It is clear, based on the feedback we have received and heard, that it did not set the right tone."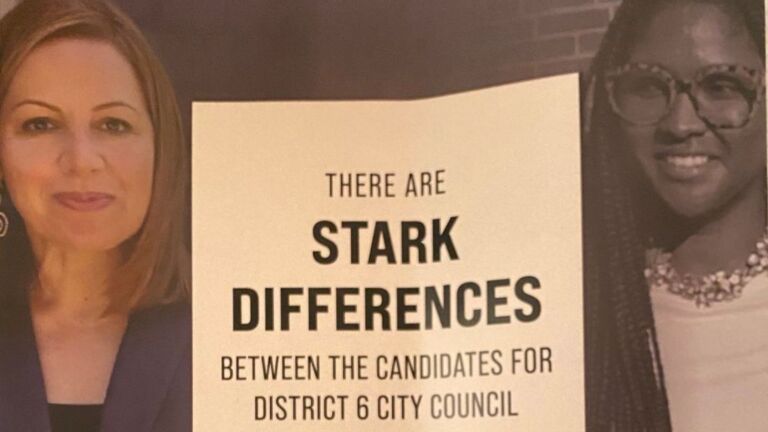 District 6 Boston City Council candidate Mary Tamer came under fire recently after her campaign sent voters a mailer that included a photo of her opponent, Kendra Hicks, who is Black, in grayscale.
The flyer tells readers there are "stark differences" between the two candidates, and includes photos of each, with Tamer, who is Arab-American, in full-color ink and Hicks in black and white.
The distinction employs a skin "darkening" tactic, according to Hicks, who condemned the move as a "racist trope."
"In 2021, there is no place for such blatantly racist messaging in a campaign hoping to represent as diverse a community as District 6," Hicks, who was the top vote-getter in the September preliminary election, said in a statement on Monday morning.
"Darkening or editing a photo of a Black person to look more menacing is a racist tactic that has long been used by candidates in political campaigns, most notably by Republicans," Hicks added. "The decision to print and send this mailer to thousands of residents is not only damaging to me but sends a message to the tens of thousands of Black and brown residents across the city. We see it for what it is — a racist trope that has no place in City Council."
According to Politico, Tamer's campaign defended the mailer at first.
But in a statement also released Monday, the campaign acknowledged the mailer was problematic, although it stopped short of issuing an explicit apology.
"The Tamer Campaign, which abhors all forms of racism, sent out a mailer citing clear policy differences between Mary and her opponent, Kendra Hicks," the statement, posted on Twitter, says. "The photo used was never intended to cause harm or show racial animus, but it is clear, based on the feedback we have received and heard, that it did not set the right tone.
"Candidates for public office make errors in the midst of long campaign days, and everyone on this multiethnic, multilingual campaign team has learned a valuable lesson," the statement continued.
Tamer and Hicks are competing in the City Council Nov. 2 final election, the winner of which will succeed outgoing longtime Councilor Matt O'Malley, currently serving as city council president pro tempore.
District 6 spans West Roxbury and Jamaica Plain, as well as parts of Roslindale, Roxbury, and Mission Hill.
Jamaica Plain Progressives, a local group that advocates for progressive policy and that endorsed Hicks, called the mailer "entirely unacceptable" while also criticizing the Tamer campaign's response to condemnation it's received.
"It is difficult to believe that the Tamer campaign was unaware of this trope in the year 2021," the group said. "This morning, after several days of outrage and pushback from the D6 community, the Tamer campaign released a statement noting that the mailer 'did not set the right tone.'" We call this a statement and not an apology because nowhere in it was an expression of regret, an acknowledgment of the harm caused, or the word 'sorry.'"
JP Progressives called on those who have endorsed Tamer to speak out against the mailer, including O'Malley in particular.
The mailer, on the opposite side of the photos, stated differences between Tamer and Hicks, including their public safety reform views, criminal justice reform standpoints, endorsements, and voting record, according to a copy shared by Universal Hub.
On voting record nuances, the mailer states Hicks "has not voted in 14 of the last 20 elections, including Trump v. Clinton." By contrast, the flyer boasts that Tamer increased access to voting while serving as the president of the Boston League of Women Voters.
Hicks said the inclusion of her voting record — the only component of the text of the flyer that she raised issue with — implies that should bar her from seeking public office and said that in itself is "a form of voter disenfranchisement."
"If my opponent believes that the only people who have a right to have their voice represented in City Hall are people who turn out for every election, how will she represent the 60+ percent of voters who didn't turn out in our own preliminary election?" Hicks asked in her statement. "I did not run for office because I am perfect. I am running because for too long City Hall has only represented a narrow sliver of our district. We all deserve to have a say in the decisions that impact our lives and our families, whether we make it to the ballot box or not."
Similarly, JP Progressives spoke out against the inclusion of Hicks' voting record.
"Mary Tamer, as a previous president of the Boston League of Women Voters, should be more aware than most of the many barriers to voting. Early and mail-in voting are quite recent additions in Boston, and access is still difficult for hourly workers, parents of young children, and voters of color — all of which describe Kendra's lived experience."
Hicks, director of radical philanthropy at Resist, which supports racial and economic justice movements, topped September's preliminary vote, garnering 49.97% of ballots. Tamer, a former Boston School Committee member, received 43.19% of the vote.
Newsletter Signup
Stay up to date on all the latest news from Boston.com