Politics
Michelle Obama reportedly met with Deval Patrick's wife about his potential 2020 run
The former Massachusetts governor is getting another nudge toward a presidential campaign.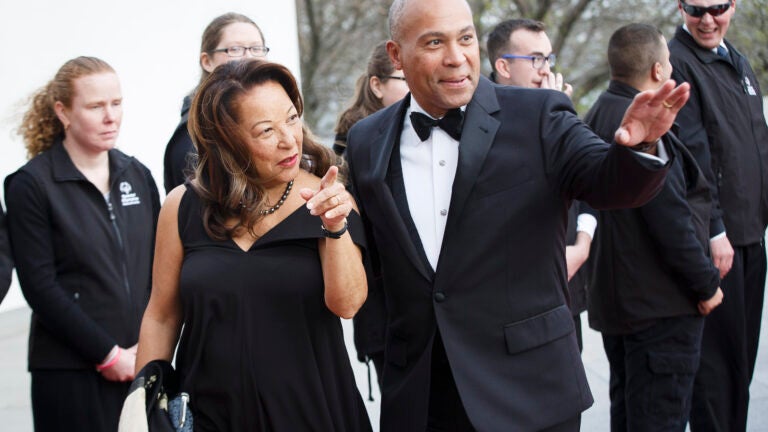 Deval Patrick may himself be unsure if "there is a place for" him in the field of Democratic candidates running for president in 2020. But his wife, Diane, has reportedly embraced the idea — even if it took some persuading from none other than Michelle Obama.
The New Yorker published a lengthy profile of the former Massachusetts governor on Monday, and buried about two-thirds of the way through is the detail that the former first lady "recently met with Diane, to persuade her to embrace a Presidential run by Patrick," according to unnamed people close to both families.
According to those same sources, Diane agreed to do so.
Patrick has openly acnkowledged that he's considering a run for president, and he has reportedly gotten a lot of private encouragement from President Barack Obama's inner circle. But Patrick's ultimate decision, which is said to come by the end of the year, leans most heavily on his wife's endorsement.
"I will not be a candidate without Diane at my side, full-throated and enthusiastic," he told The New Yorker in Monday's article, which focused on the 62-year-old's presidential prospects.
Despite helping her husband on the campaign trail, Diane was no fan of life in the political spotlight during his two terms as governor. The now-67-year-old kept her senior position at a powerful Boston law firm, in addition to the duties of being the state's first lady. Within a few months of Patrick's first term, Diane was hospitalized for exhaustion and depression, after being the subject of some negative media attention. However, she later bounced back and embraced her role as first lady to be an outspoken advocate for survivors of domestic abuse.
Michelle Obama's meeting with Diane wouldn't be the first time an Obama nudged Patrick toward the Oval Office.
In 2014, the then-president said the outgoing Massachusetts governor — with whom he has shared a "genuine friendship" dating back to first meeting in Chicago in the 1990s — "would make a great president or vice president, but … it sounds like he would like to take a little bit of a break."
Apparently, four years has been long enough.
As Obama reportedly holds private meetings with a number of prospective Democratic candidates — Patrick among them — looking at a 2020 run, Valerie Jarrett and David Axelrod, two of his close friends and advisers, have been repeatedly cited in articles promoting the idea that Patrick's uplifting message would be the "remedy" to President Donald Trump. And they're hardly the only ones. Politico reported in 2017 that Obama himself had "privately encouraged him to think about it"; last month, The Atlantic asserted without any qualifiers that Patrick "is the preferred choice of his old friend," the former president.
And during Obama's visit to Boston last May to receive the Profile in Courage Award at the John F. Kennedy Library, Diane told reporters that she was eager to see Michelle, according to the aforementioned article in Politico.
"I want to know how life is after the White House," she said, before quickly adding: "Not for any personal reasons."