Politics
Elizabeth Warren calls for increased regulations on Uber, Lyft, and the 'gig economy'
The Massachusetts senator called out ride-hailing services like Uber and Lyft, who are free from the obligation of providing traditional benefits to their drivers.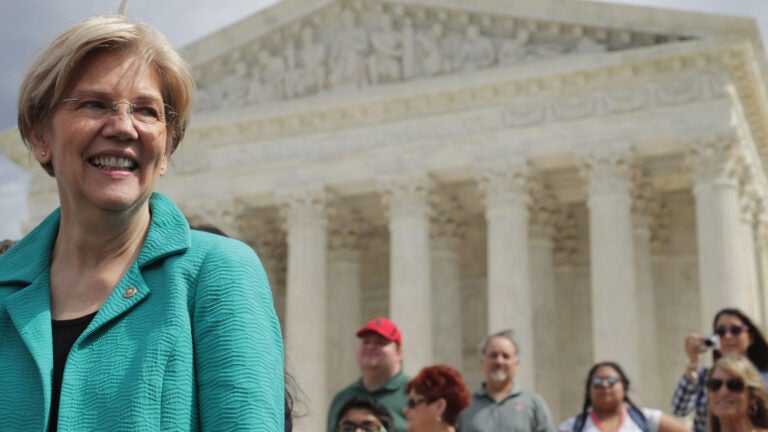 During their rise to prominence in the last few years, ride-hailing companies have battled state and local legislators as well as taxi cab companies. Now, their latest opponent could be Massachusetts Sen. Elizabeth Warren.
On Thursday, Warren delivered a speech at the New America Foundation's annual conference in Washington, D.C., to raise issues with the so-called "gig economy," a collection of services and goods provided by online companies with workers filling part-time, hourly, or independent contracting roles. These employers, she said, offer more flexibility and choices for workers and consumers, but can also take advantage of their employees statuses, escaping obligations to provide retirement savings, paid leave, and insurance — the types of benefits that build a safety net for workers and their families.
While Warren praised the technological innovations that kickstarted such services — including ride-hailing apps like Uber and Lyft — she also warned that such unregulated companies could rob workers of a chance to adequately take advantage of the very wealth they're creating.
"Just as this country did a hundred years ago, it's time to rethink the basic bargain between workers and companies," Warren said. "As greater wealth is generated by new technology, how can we ensure that the workers who support this economy can share in that wealth?"
The senator's proposed solution includes additional regulations for companies to comply with, like the automatic withholding of taxes for independent contractors, hourly employees, and gig workers, providing universal catastrophic insurance coverage, and guaranteeing some type of paid leave.
"These three—Social Security, catastrophic insurance, and earned leave—create a safety net for income," she said. "Together they give families some protection in an ever-more-volatile work environment, and they help ensure that, after a lifetime of work, people will face their last years with dignity."
While Warren commended Uber and Lyft for fighting against the monopolies and inefficiencies of the traditional city cab system, she noted that the services seemed just as poised to battle regulations that she believes would benefit both the companies' employees and customers.
"But as the dispute in Austin, Texas, has demonstrated," she said, "the companies fought just as vigorously against local rules designed to create a level playing field between themselves and their taxi competitors, and they have also resisted rules designed to promote rider safety and driver accountability."
Earlier in May, both ride-hailing apps suspended service in Austin in response to a safety measure requiring the companies to fingerprint drivers. They argued that the preexisting background checks into drivers were sufficient to uncover any past records, and that fingerprint requirements would slow the process of adding new drivers. Similar battles exist closer to home, with Massachusetts considering a bill that would prohibit the services from operating at Logan Airport and the Massachusetts Convention Center, and Portsmouth, New Hampshire, citing drivers who fail to abide by additional background checks put forth by the city.
Warren noted that the Industrial Revolution ushered in a similar situation, and that government regulations like minimum wage, child labor laws, unions, and Social Security bolstered, rather than inhibited, economic growth.
"These changes didn't happen overnight. There were big fights – over decades – to establish that balance," Warren said. "Most workers aren't asking for the moon. They want to be able to take care of their families, buy a home, send their kids to college, and save a little money for retirement."