Local
'Environmental racism'? Officials frustrated by pile of asbestos-contaminated debris in Chelsea
"It was never our intention to leave the community uninformed ... Our communication did not live up to our standards."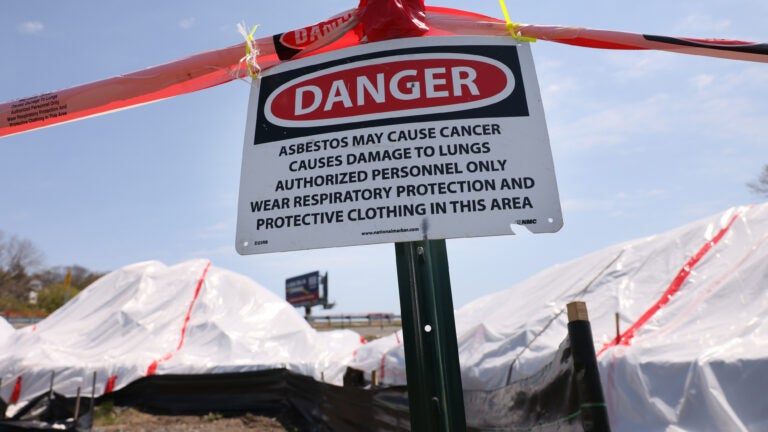 Officials in Chelsea are infuriated after the state left a pile of asbestos-contaminated debris near a public housing complex, which some advocates are calling "environmental racism."
The debris is off Route 1 northbound at the Route 16 exit, according to WBZ.
It is from the replacement of the Belden G. Bly Drawbridge on Route 107 over the Lynn-Saugus line, according to a letter from MassDOT Highway Administrator Jonathan Gulliver to Chelsea City Manager Thomas Ambrosino.
In the letter, Gulliver apologizes "that this situation caught you and other Chelsea officials unaware."
"It was never our intention to leave the community uninformed and even though this situation developed quickly our communication did not live up to our standards," Gulliver wrote in the letter, dated Wednesday. "I apologize, and you have our commitment that MassDOT is taking steps to ensure that this does not happen again in Chelsea or any other community."
Gulliver also assured Ambrosino that the community is not at risk, and the department is working to remove the pile. A double cover was placed over the pile on Wednesday.
A small part of the debris was found to have some pieces of pipe and building components in which officials determined asbestos debris was present. A disposal plan was drawn up with the state Department of Environmental Protection. The contaminated material is less than 10 yards, according to Gulliver.
"The testing, handling and proposed removal of the stockpile has been carried out in full compliance with all applicable regulations in collaboration with the DEP," Gulliver wrote. "Tee volume of asbestos debris within the stockpile is small and does not present a threat to public safety or health."
This spot is just "one of many" across the state that MassDOT uses as a "laydown space" for construction, state officials said in an email. They began to stockpile soil there in late summer of last year.
"MassDOT will be removing the material and restoring the interchange area as soon as possible," the email said, noting the state plans for this to start within the next few weeks.
The situation initially garnered the attention of environmental group GreenRoots.
"We are in utmost frustration, disgust and disbelief that the State of Massachusetts has contributed to further environmental racism and classism for the already disproportionately burdened environmental justice community of Chelsea," GreenRoots Executive Director Roseann Bongiovanni said in a statement shared on Twitter.
The group demanded that the rubble be removed, and asbestos testing and remediation take place. GreenRoots also requested an apology.
"Our residents, who are majority BIPOC and low-income folks, continue to sacrifice their health and environment for the region's benefit," the statement said. "The outright disregard from the State in relation to the lack of environmental justice protections is infuriating and asinine."
Newsletter Signup
Stay up to date on all the latest news from Boston.com