Local
Nantucket votes in favor of allowing everyone to go topless at the beach
The measure passed with a vote of 327-242.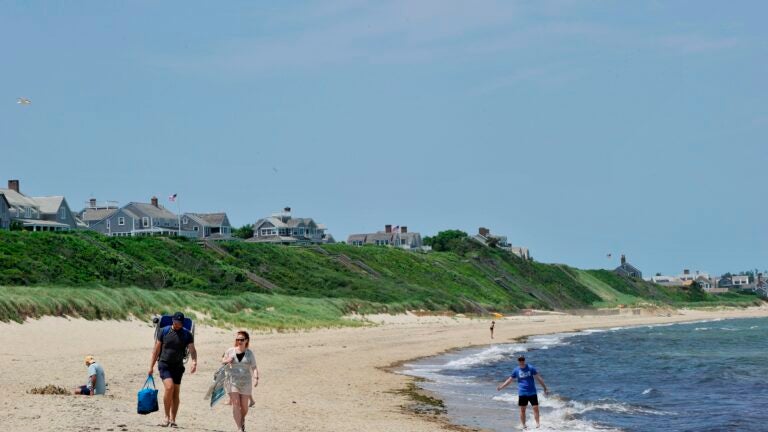 A seventh-generation Nantucketer's proposal to allow all people to go topless at the town's beaches was passed with a vote of 327-242 at the annual Town Meeting Tuesday night, according to WCVB.
The measure will still need a favorable review by the state's Attorney General before it goes into effect, according to the Nantucket Current.
Current state law does not permit women to go topless on beaches. Anyone who intentionally exposes their genitals, buttocks, or female breasts in a manner that is intended to produce "alarm or shock" can be charged with open and gross lewdness and lascivious behavior.
The penalty for this offense could be up to three years in prison and a fine of up to $300.
Dorothy Stover proposed a bylaw amendment called "Gender Equality on Beaches" that reads in part: "In order to promote equality for all persons, any person shall be allowed to be topless on any public or private beach within the Town of Nantucket."
The measure was among 107 articles on the warrant, which voters began taking up Monday.
Stover, an island native, is the daughter of a former town clerk and runs the Nantucket Love School.
"The seed was planted years ago when I saw a cartoon,'" Stover told the Boston Globe. "I saw a cartoon that showed a man and a woman, where they have the exact same body.
"And she's topless and he's topless at the beach. And the man says, 'You're so indecent!' And she's like: 'Me! Look at you!' And then last summer I was at the beach and I was like, 'Oh, I'd just like to be topless. I want to lay out topless.'"
Town Meeting picked up at 5 p.m. in the auditorium of Nantucket High School, 16 Broad St.
"We have the exact same makeup — men have mammary glands and nipples — and so I started reaching more into it and men can go topless but we can't," Stover told the Current. "It blew my mind that we're still in this space. But it's turned into an equity issue, and I know I'm not the only one who thinks this."
On Tuesday, some town residents said they were unhappy with the decision.
"I don't believe women need to be topless in public in order to be equal. I fear Nantucket is losing all its charm," Sue Brandt, 63, commented over Facebook.
"This is a mistake and I personally believe this won't make it through the statehouse," Amy Eldridge, 47, commented.
"I might be the wrong generation. I am for equality for women but the norms in America are not the same as in Europe. We did not grow up with topless women. There is too much anxiety in the world right now. Trying to explain sexuality to our grandchildren should not have to happen on the beaches of Nantucket," Jackie Kramer, 76, commented.
But some were supportive of the measure.
"I believe in equality! That is why I emigrated here from Bulgaria 18 years ago. I will not go topless, but I'd like to have the right to do so," Bisy Stancheva, 41, commented.
"To the individual who objected at the Town Meeting by saying that we need to focus on decency and sensibility rather than sensationalism, I have the following to say, the human body IS decent and sensible! It's been a big day for people to deem what is legal and illegal for women to do with their own damn bodies. May 3rd 2022, the day it is decided that I may go topless to the beach in the town where I live, but that I may not have control over my own reproductive health. Explain the sensibility, please?" Sarah Fraunfelder, 45, commented.
"My 3 school aged children very quickly became accustomed to seeing nudeness on beaches when we lived in Europe without even thinking twice about anything unacceptable. They just needed an explanation and understanding. I would imagine we would adapt just as Europe does," Libby Moncad, 34, commented.
"A new world order A world where status, gender & ethnicity doesn't matter is the goal… Just humans enjoying the Earth & each other… That's the society I want for my children & their children…. This a small step in the right direction," Lisa Marie Coull, 41 commented.
"My three teenage boys will be thrilled to feel as if we are overseas! I'll pass but it doesn't bother me to be around others who are topless," Kaye O'Shea Jabren, 48, commented.
Others seemed on the fence about the measure, or wanted to come to a compromise.
"It's not for me but the each their own. I just worry with everyone having a cell phone that pictures may end up where they shouldn't be and could be used to bully or worse," Gwen Comatis, 51, commented.
"I think this should be restricted to one or two beaches, I don't believe that women should go topless on every beach – it not a matter of being treated equally, we have different body parts therefore it's obvious that there should be different laws. Fabrizia Macchiavelli," 53, commented.
See below to catch up on other measures covered during the first night of Town Meeting:
Newsletter Signup
Stay up to date on all the latest news from Boston.com