Local
Boston due for wintry storms in coming days
Oddly enough, Hawaii has it worse. The Aloha State has been under a blizzard warning since Friday.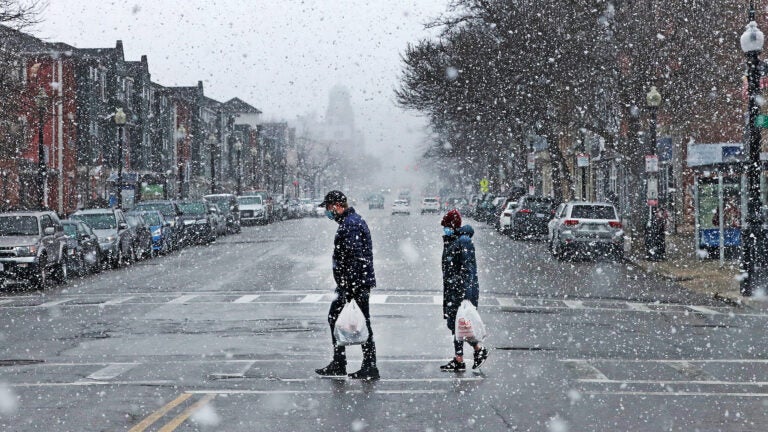 December is in full effect in the Boston area, with chilly temperatures and messy weather due this coming week.
"Talk about weather whiplash," the National Weather Service's Boston bureau tweeted early Saturday. "An active weather pattern over the next few days could bring damaging wind gusts, thunderstorms, well above normal temperatures, and then the season's first widespread accumulating snowfall to interior southern New England."
Daily Local Weather Forecast
Sunday will be mostly sunny and cold with a high of 42. Monday brings unseasonably high temperatures, with a high near 67 and a chance of a thunderstorm. Wind gusts could reach as high as 50 mph.
On Tuesday, things brighten up with sunny skies, although temps will drop back down to the 40s.
The peak of the work week will see a mix of rain and snow, according to NWS Boston, with snow accumulation possible on Wednesday morning before mixing with rain later in the afternoon and into the evening. Thursday may bring morning snow showers that continue into the evening. The wintry weather will persist on Friday, when the Boston area is due for more rain and snow, with temps in the 40s.
The waffling weather follows a particularly frigid couple of days. The NWS reported temperatures around the Boston region Friday night were 10 to 15 degrees colder than Thursday night, with temps hovering between 15 and 25 degrees, not considering wind chill.
Weird weather news: Hawaii braces for blizzard
Bostonian newlyweds looking to get leid are better off hunkering down for a staycation this weekend. Hawaii, a state mostly known for its sunny days and Aloha ways, is in full-on blizzard preparedness mode.
The island state has been under a blizzard warning since Friday.
"Blizzard Warning for Hawaii, and before most of the continental US? Snow accumulations of (one foot) or more and wind gusts over 100 mph are expected on the summits of the Big Island this weekend," the NWS tweeted.
Hawaii has seen more snow this season than Denver, Colorado, and according to the Iowa mesonet data site, it's been more than three-and-a-half years since the NWS in Honolulu issued a blizzard warning in the tropical islands.
The Aloha State is one of two U.S. states under a blizzard warning — as of Friday, Alaska was also on watch. Though that state is no stranger to snow, this weekend's forecast was particularly daunting, with dangerous travel conditions.
According to meteorologists, much of Alaska was colder than normal in November, with near-record levels in the state's west and southwest areas. One local weather expert said on Twitter that a few locations were more than 20 degrees colder than usual last month.
Newsletter Signup
Stay up to date on all the latest news from Boston.com